In 2017-18, the Ottawa Senators were shocked to learn that Erik Karlsson, who had just led the team to the 2017 Eastern Conference Final, was rumoured to want out. It didn't help that the team was also surprisingly terrible, having won just 12 of their 37 games by January 2018, but the problems ran far deeper. By the end of the season, it was revealed that there were tensions between young sniper Mike Hoffman and Ottawa's captain, forcing the team to send their superstar to the San Jose Sharks and start a long, painful rebuild.
It wasn't supposed to be long and painful, though. Ottawa's farm system boasted several top prospects that many expected would become NHL stars and lead the team through this difficult time. However, that didn't happen, and the rebuild became a much darker time in the Senators' history. Looking back at the team's top seven prospects from 2017-18, we can start to see what went wrong.
Thomas Chabot
Analysts weren't kind to the Senators' farm system in 2017-18. Dobber Prospects ranked the prospect pool 22nd out of 31, while Last Word on Sports ranked it slightly higher at 19th. But there was one caveat, according to Last Word on Sports' Ben Kerr, who wrote, "the Senators have one of the best prospects in hockey in Thomas Chabot. The defenceman had an incredible season and shows all the signs of being a potential superstar."
Picked 18th overall in 2015, the defender became a World Junior hero, leading the 2017 Canadian team with 10 points in seven games and was the main driving force on the Quebec Major Junior Hockey League's (QMJHL) title-winning Saint John Sea Dogs.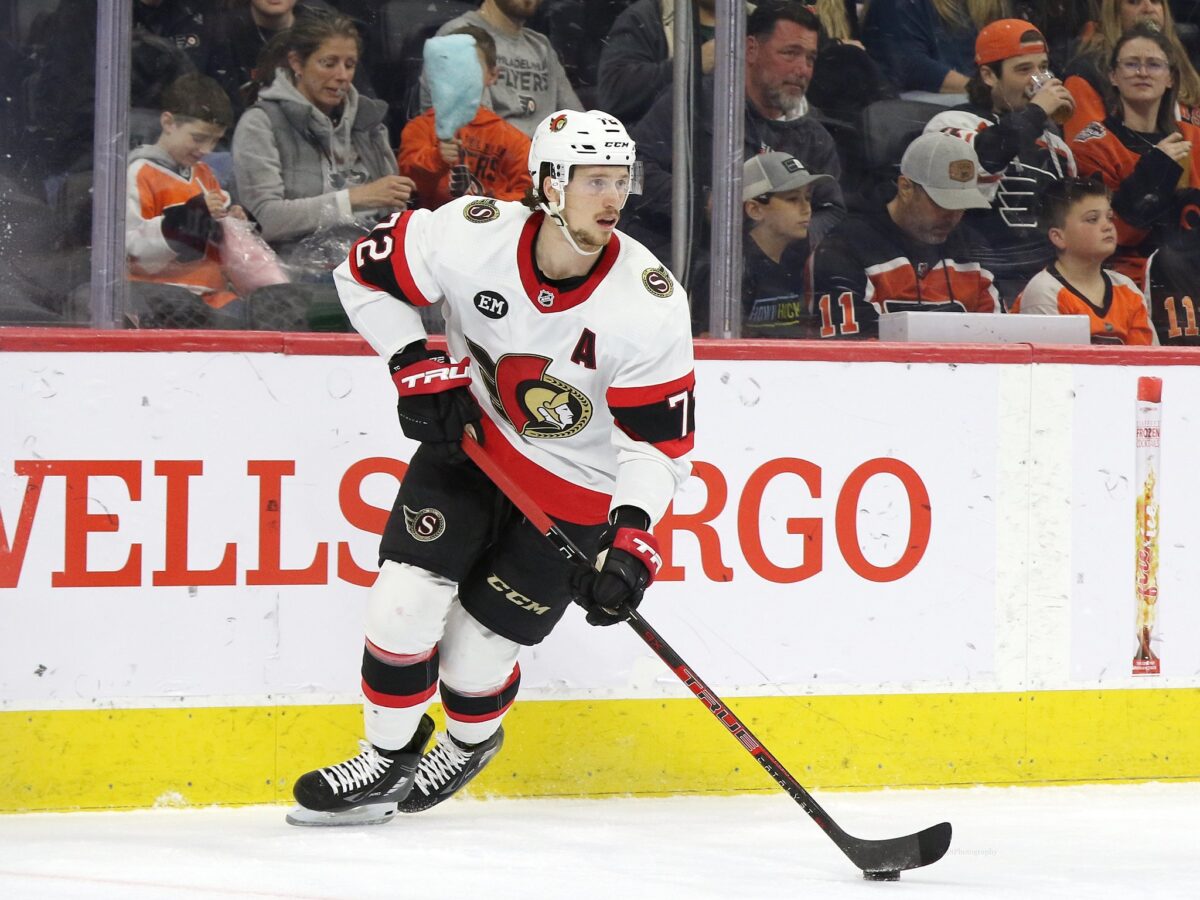 In 2017-18, Chabot finished his much-anticipated rookie season with 25 points in 63 games to rank second on Ottawa's defence behind Karlsson. He also calmed everyone's nerves after Karlsson left, putting up a massive 14 goals and 55 points in 2018-19 despite the floundering team around him.
But Chabot has struggled to repeat those numbers in following seasons after shouldering much of the defensive responsibility on a defensively abysmal team. In 2019-20, he set a franchise record, playing nearly 38 minutes in a single game that the Senators still lost. But injuries have also slowed the young defender; since 2019-20, he's missed at least 11 games each season and topped out at 41 points. While he is still an incredibly talented player, some of the sheen has worn off in the years following his breakout, largely due to how he was used during the Senators' dark years.
Colin White
Just three picks after the Senators took Chabot, they grabbed another potential star in Colin White. A standout with Boston College, he was ranked higher than his future teammate on most draft lists in 2015. TSN's Craig Button saw him as someone who, "…will not put himself ahead of the team and he finds ways to contribute in every area of the game. Steady, consistent and purposeful. No lack of skill but he's not flashy with it. Solid second-to-third line centre."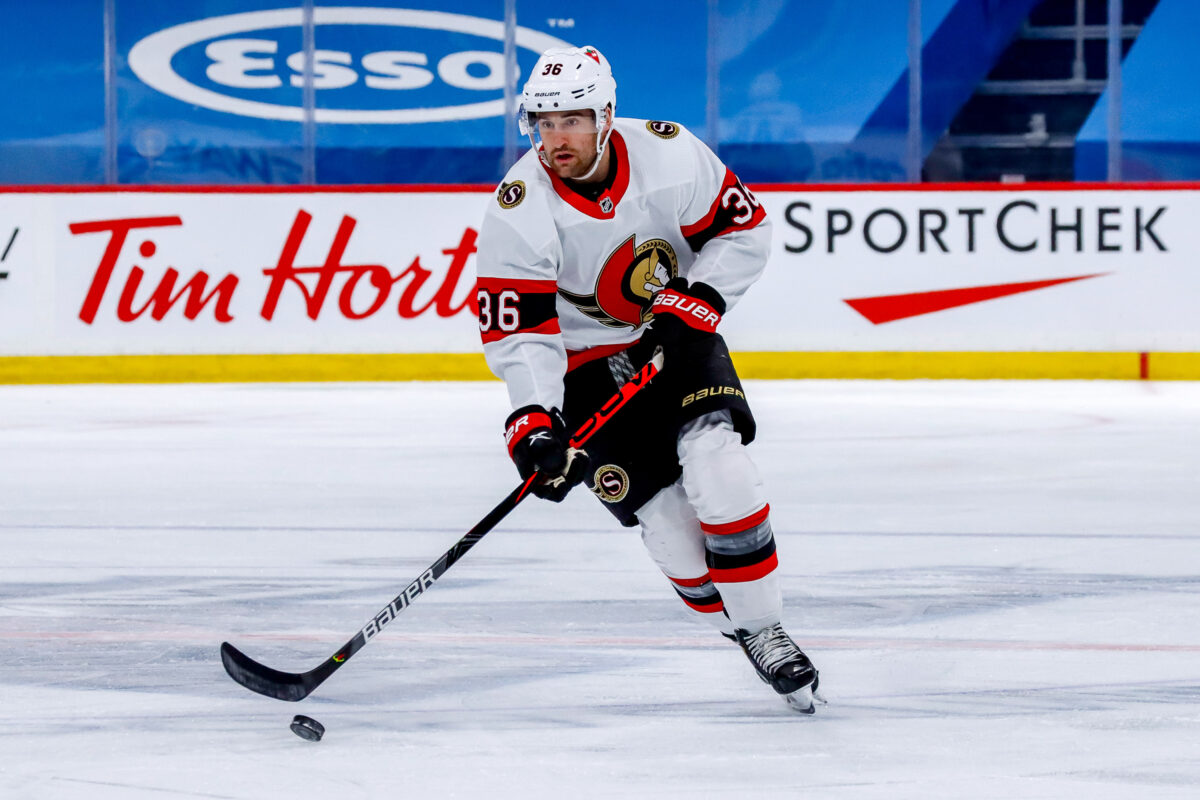 Yet White looked more like a future first-liner at the 2017 World Juniors, where he led the American squad with seven goals in seven games, including the game-tying goal against the Canadians in the Final that propelled them to their first gold medal since 2013. He left Boston College for the NHL at the end of the season, and many expected him to be a prominent member of the 2017-18 team, but he didn't get a chance to play a full season until 2018-19 when he 41 points in 71 games, which encouraged Ottawa to give him a handsome extension to the tune of $28.5 million over six years.
However, injuries and consistency issues derailed his next two seasons, and White put up just 41 points in 106 games. Unable to justify paying the struggling forward nearly $5 million a season, the Senators bought him out at the end of 2021-22. He signed a one-year deal with the Florida Panthers but continued to struggle and has since signed a professional tryout with the Pittsburgh Penguins ahead of the 2023-24 season.
Logan Brown
Often considered the third member of the Senators' triumvirate along with Chabot and White, Logan Brown was a dominant two-way center with the Ontario Hockey League's (OHL) Windsor Spitfires. Standing 6-foot-6 and after a 21-goal, 71-point season in 2015-16, Ottawa jumped on him with the 11th pick in the 2016 NHL Draft. But, just like White, injuries and consistency issues derailed a promising career. However, with Brown, it happened a lot sooner; he played just 35 games in the OHL in 2016-17 and 32 games the following season.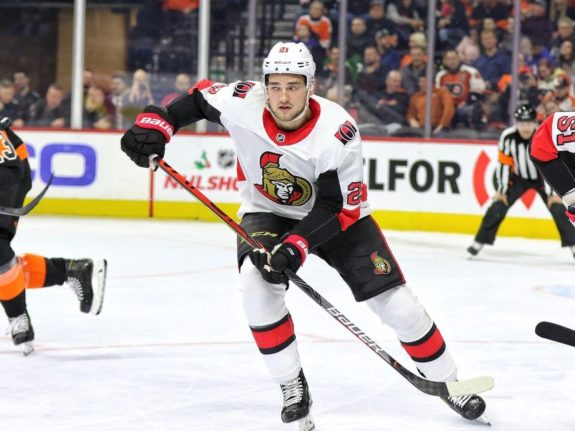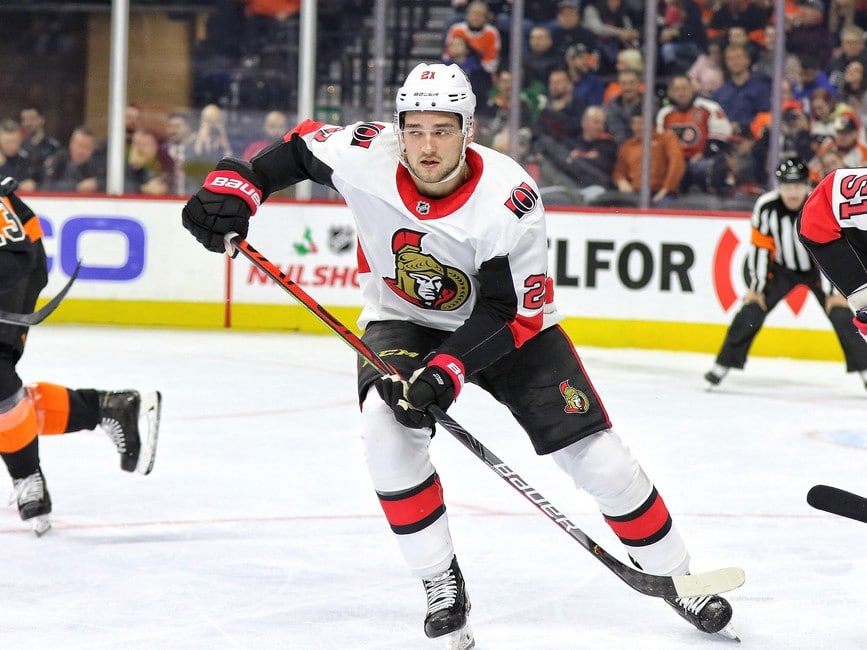 It was a concerning trajectory, and after praising Chabot, Kerr wrote, "the reality is that Brown struggled last season and is not on the same plane as the top two prospects in the system. He needs a bounce-back year as questions have begun to emerge." That bounce-back never materialized, and in 2021-22, the former first-rounder was flipped to the St. Louis Blues for depth scorer Zach Sanford, who lasted just 62 games in Ottawa before being traded again for a 2022 fifth-round pick, which the Senators used to select Cam O'Neill. As for Brown, he is now on his third team after signing a one-year, league-minimum deal with the Tampa Bay Lightning for 2023-24.
Filip Chlapik
A second-round pick in 2015, Filip Chlapik emerged as a dark horse to make the Senators in 2017-18 after putting up an incredible 34 goals and 91 points in 52 games and 19 points in 13 playoff games with the QMJHL's Charlottetown Islanders. He made his NHL debut on Oct. 26, 2017, and recorded an assist despite playing just under seven minutes. He was returned to the AHL immediately after but was a frequent call-up and still finished the season as Belleville's leading scorer.
Related: Matt Duchene Trade Analyzed
---
Latest News & Highlights
---
While Chlapik was surely expecting to see his role and presence grow in the NHL, the Senators had different plans and continued to utilize him sparingly. It reached a breaking point during the pandemic-shortened 2020-21 season. Despite being assigned to the team's taxi squad, he saw just seven minutes of NHL action. That was the last straw.
"After that trip, they just sent me down. So that was the moment I was like, 'Screw it, I'm done,'" Chlapik said to Ian Mendes of The Athletic. "It was the first time I quit something, but it was better for myself. I just couldn't do it anymore. I was just too unhappy" (from "'Screw it, I'm done': Filip Chlapik explains how and why things ended with the Senators," The Athletic, 04/11/2021).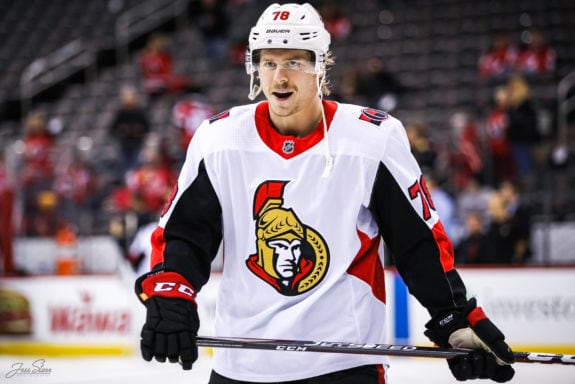 The tough decision paid off, as Chlapik is much happier now. In 2021-22, he led his Czech team with 31 goals and 70 points in 53 games and was named Czech Player of the Year. He then moved to Switzerland for the 2022-23 season, where he finished with a team-leading 24 goals. The 26-year-old has returned to Czechia for the 2023-24 season, and it seems highly unlikely he'll ever be back in North America.
Marcus Hogberg
In 2016-17, the Senators finally got Marcus Hogberg to come to North America. A third-round pick in 2013, he had become one of Sweden's top young goaltenders, and even though Ottawa had several promising netminders in their system, they didn't have anyone quite like Hogberg. For starters, he stood 6-foot-5 without skates, but that wasn't uncommon for Ottawa; Matt O'Connor was 6-foot-6 and Chris Driedger was 6-foot-4. But none had the resume of Hogberg, who had earned a starting job in the Swedish Hockey League (SHL) with a .932 save percentage (SV%) over 33 games.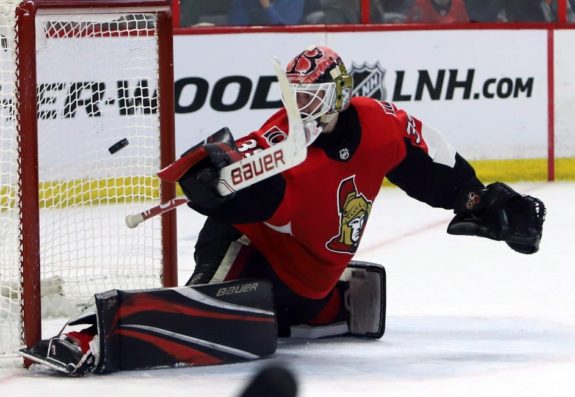 Hogberg's first forays into North America didn't go smoothly, but his numbers improved in both his second and third seasons in the league, leading to several NHL call-ups. In 2019-20, he was brought up to fill in for an injured Craig Anderson, and he put together a solid run; in 24 games, he had a .904 SV% and a 3.12 goals-against average, making him the team's second-best goalie behind fellow Swede Anders Nilsson.
But just as he was starting to gain momentum, Hogberg lost it all in 2020-21. In March, he temporarily returned home for a personal matter, limiting himself to just 16 games between the NHL and AHL. While there was still hope he'd rekindle his mojo, it never happened, and by 2021-22, he was back home permanently.
Shane Bowers
The Senators proved that they could find good value in the first round with Chabot, White, and Brown, but scouts were skeptical of the selection of Shane Bowers at 28th overall in 2017. He was a safe pick, demonstrating an excellent two-way presence and a strong character, but Corey Pronman's draft grade was less optimistic, saying, "I see the great speed and the potential he has, but there is a lack of a "wow" factor for me, making it hard for me to love him as a first-rounder, even if I think it was reasonable."
However, Bowers didn't last long with his new team, as he was part of the package used to acquire Matt Duchene from the Colorado Avalanche in Nov. 2017. Despite plenty of opportunities to crack the lineup, his only NHL appearance in four years with the Avalanche came in 2022-23 and lasted less than two minutes. With his contract expiring, the Avalanche shipped him off to the Boston Bruins, who flipped him to the New Jersey Devils a few months later. At 24 years old, he has yet to show any offensive upside but still has a one-year deal with the Devils for 2023-24.
Ben Harpur
While analysts generally praised the Senators for their first-round picks, they were far more critical of their later-round selections. However, one of the few players who was worth mentioning was defenceman Ben Harpur, a 2013 fourth-rounder. In his preseason prospect watch, NHL.com's Christ Stevenson wrote, "Harpur stands out, and not just because of his [6-foot-6, 222-pound] size. The 22-year-old developed a bit of a mean streak in the AHL last season (81 penalty minutes), and his 25 assists showed he has the ability to contribute offensively."
From 2017-19, Harpur played 92 games with the Senators but put up just one goal and six points. He spent all of 2019-20 in the minors before being traded to the Toronto Maple Leafs for Nikita Zaitsev and Connor Brown, among others. Since then, he's been a replacement-level player, appearing for the Nashville Predators and New York Rangers.
A Poor Foundation for a Rebuild
There are many reasons why the Senators fell apart so dramatically in 2017-18, but one of the biggest was the lack of stars in their prospect pool. Just six years later, only Chabot has found his way into a key role on the team, which goes to show how heavily management relied on their top prospects to become future stars.
Brown and White succumbed to injuries from, in part, playing too much too soon, while other promising players, like Chlapik, struggled to earn ice time, leaving them frustrated and disillusioned. It's important for teams to find promising players in the later rounds rather than relying on first-round picks, and had the Senators not picked Drake Batherson in the fourth round of the 2017 Draft, they could have been in a much worse position today.
---

---