Leon Draisaitl is one of the best players in the NHL. He's had a remarkable hockey journey with the Edmonton Oilers so far, and he's far from finished. The upcoming 2023-24 regular season will be his 10th in the NHL, and what a career the 27-year-old, 6-foot-2, 208-pounder has forged on Canada's prairies. 
---
Latest News & Highlight
---
This season marks a significant milestone in his career. The German-born hockey sensation's name has become almost as synonymous with this current Oilers team as Connor McDavid's. That's saying something! Together that twosome has been lighting up the hockey world for eight seasons together.
Three Key Takeaways from Looking at Draisaitl's Career
Draisaitl was selected by the Oilers in the first round (third overall) during the 2014 NHL Entry Draft. It didn't take him long before he hit NHL ice, playing seven games during the 2014-15 season. Once he found his NHL legs, he's been unstoppable. He's dominated.
Related: Oilers' McDavid: 1 Milestone For Each Month of 2023-24 Season
In this post, I hope to take an opportunity to celebrate his remarkable journey and accomplishments. As I look at his statistics, it's easy to see at least three key takeaways from his career.
Takeaway One: Draisaitl Has Been a Consistent Scoring Threat 
Draisaitl's career statistics show just how powerful of a scorer he's been. Over the course of his decade with the Oilers, he's played 638 regular-season games. In those games, he's scored 306 goals and added 438 assists (for 744 points). What makes him special is his consistency as a scorer. Season after season, he's ranked among the league's best scorers.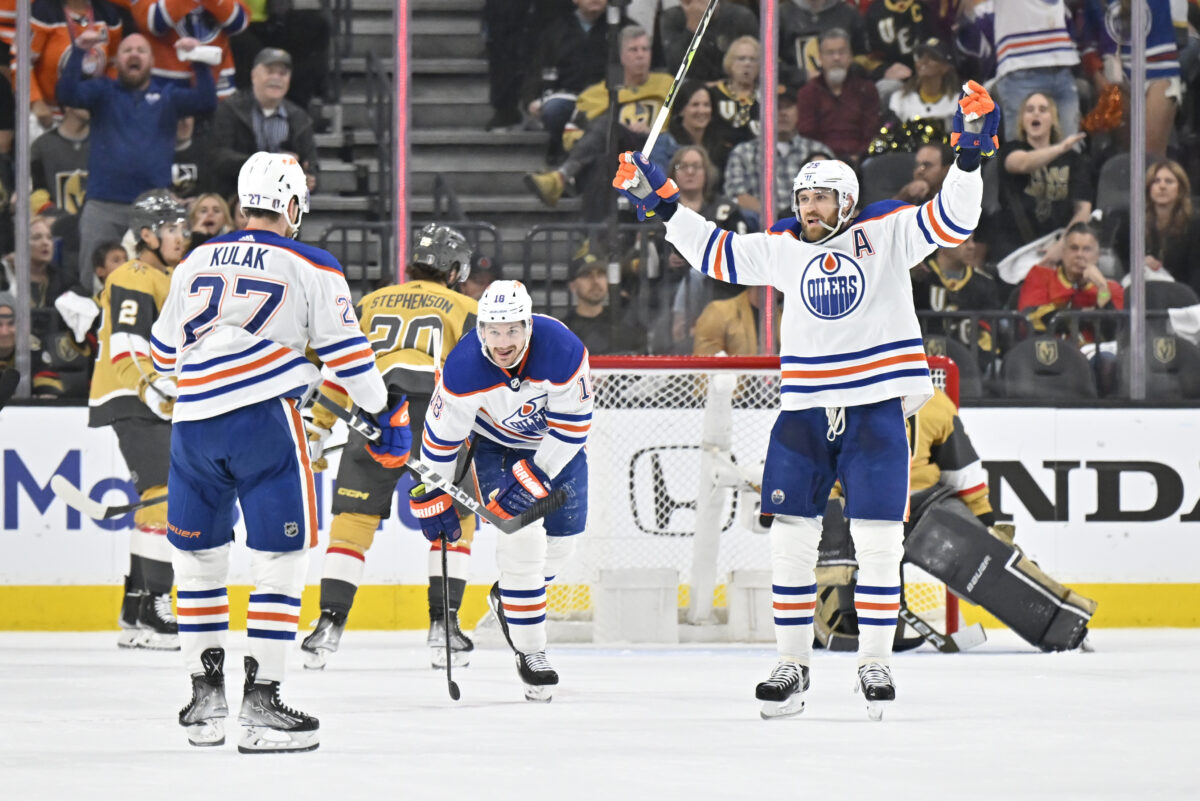 In the 2018-19 season, Draisaitl scored an impressive 50 goals and totaled 105 points. The following season, he didn't hit 50, but he registered more points (with 43 goals and 67 assists for 110 points) in just 71 games. In the COVID-shortened 2020-21 season, he even improved his game. In only 56 games, he scored 31 goals and 53 assists for 84 points. In 2021-22, he hit his high of 55 goals, adding 55 assists for 100 points. Then, last season, he exploded with 52 goals but almost an assist-per-game rate, with 76 assists in 80 games.  
Takeaway Two: Draisaitl Has Become a Playmaking Wizard
Last season's assist total suggests just how good Draisaitl is as a playmaker. Obviously, Draisaitl's goal-scoring ability is remarkable; however, his playmaking skills are equally strong. He has a total of 438 assists during his career, which shows how strong he's been as a setup man. 
Related: 3 Risky Oilers Trade Options During Win-Now 2023-24 Season
His NHL peers believe that Draisaitl is the best pure passer in the league, and his vision and passing ability not only lead to his own mounting point totals but also work to elevate the performances of his teammates. His ability to be both a scorer and a playmaker cements his status as a complete forward. He's more than capable of dictating the pace of the game.
Takeaway Three: Draisaitl Has a Huge Playoff Impact 
All the totals I have noted thus far refer to Draisaitl's contributions during the regular season; however, he's become even more valuable during the postseason. He can literally carry a team to victory. In 49 playoff games, he has shown his postseason strength by scoring 31 goals and adding 46 assists (for 77 points during postseason play). He has the unique ability to elevate his game during the most difficult play. There's no wilting in his game!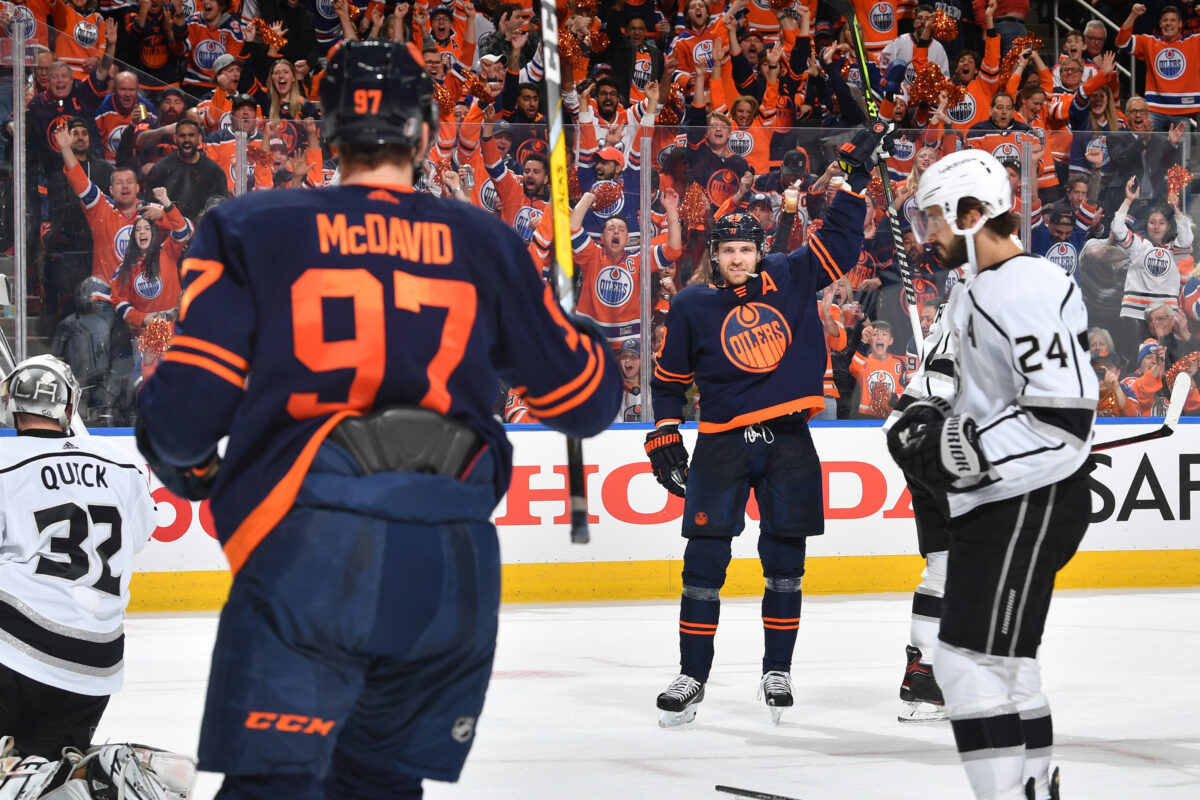 In fact, two seasons ago, Draisaitl played a key role in guiding the Oilers through the playoffs. Game after game, he demonstrated his clutch play in critical moments. Even more astounding is that he was basically playing on one leg and through continual and tremendous pain. 
Specifically, Los Angeles Kings defenseman Mikey Anderson hauled Draisaitl down from behind during a scrum and injured Draisaitl's ankle in Game 6 of the Oilers' opening-round series. Only later, after the postseason was in the books did Draisaitl fess up about the injury. He joined Sportsnet's Elliotte Friedman and Jeff Marek on the 32 Thoughts Podcast where he talked about what he was going through.
"Obviously it was a high ankle sprain. I think everyone knew that. The second I would catch it in a game, just a toe would get stuck or I twisted in a direction where normally it does nothing, the pain would just shoot right up my body and take all my energy out. It was definitely painful, very painful. There was a lot of treatment going on." 
Related: NHL Insider Believes Leon Draisaitl Will Stay With Oilers
He added that a lot of players were playing through injury as well. But in his case, he noted with a sense of self-deprecating humor that, "it took me a little while to get the hang of it with changing my game a little bit. The game after I was trying to push off, I just had no pop, no jump and I was getting frustrated with it. I was like 'I can't beat guys, I don't know what to do now.'  I'm not the best skater in the world to begin with, but I just had to change my game a little bit, and slow it down even more, if that's even possible."
What Will Draisaitl's 10th Season Look Like?
In 2023-24, Draisaitl enters his 10th season with the Oilers. What can fans expect? The answer is simple: Oilers' fans are fortunate in that they'll continue to view excellence and an unwavering commitment to greatness — not just from this one remarkable player, but from another as well. That's McDavid.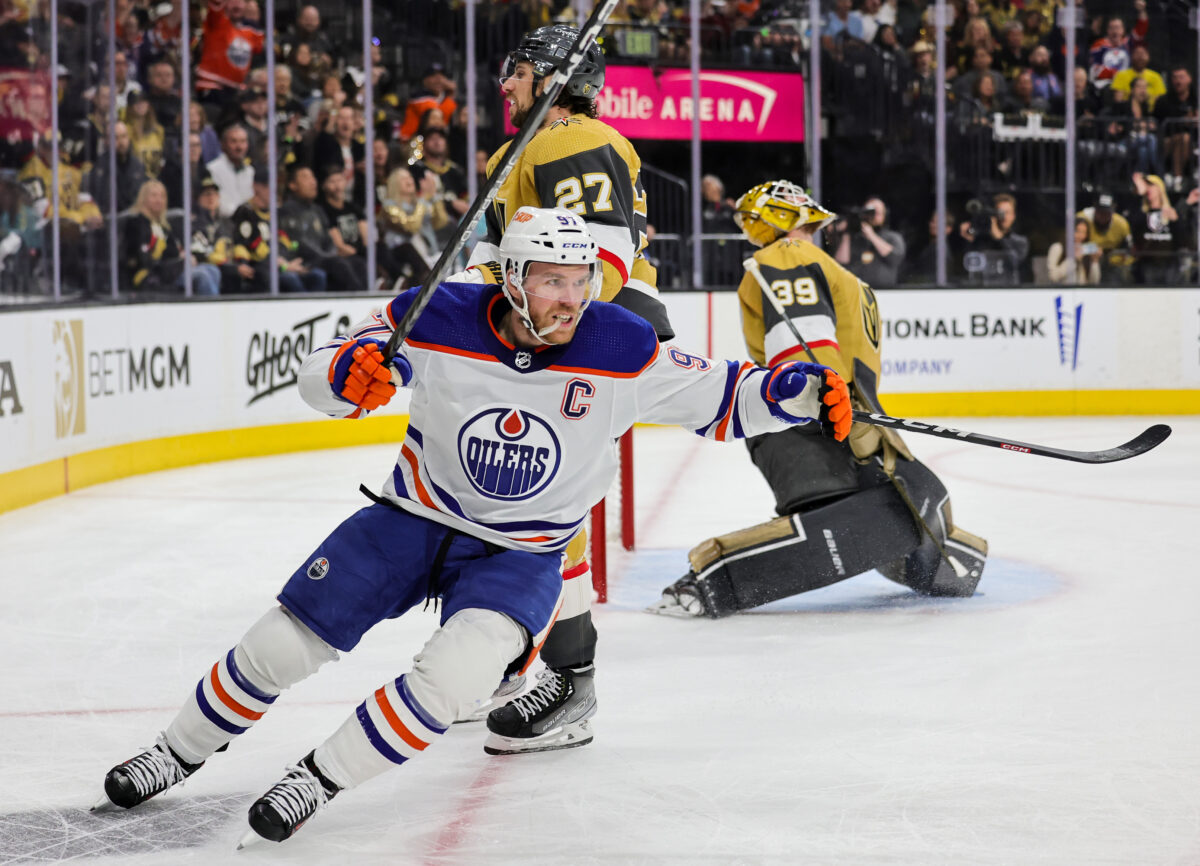 Both these hockey journeys are happening together, which gives Oilers' fans something worth watching game after game. Draisaitl also serves as an inspiration to young hockey players globally. He's an example of what a player can achieve with dedication, skill, and an unrelenting drive toward excellence. 
In Draisaitl's case, his impact on the ice goes far beyond his statistics, although these statistics are awesome. He contributes significantly to the overall success and competitiveness of his team.
The Oilers' Season Promises to Be a Good One
As Draisaitl and the Oilers prepare for another season, the team's passion, focus, and determination will be seen at work in the way that their game is played. Night after night, the Oilers and their fans come ready to be stunned by the magic they see on the ice.
Related: 9 Cool Things About Dave Semenko: Edmonton Oilers' Enforcer
In that magic, Draisaitl helps lead the way. Can the Oilers achieve an even longer journey for a Stanley Cup? It would be great to see one land back home in Canada. The Oilers have as good a chance as any NHL team.
---

---