Who's going to be the first NHL coach to get fired?
That's always a hot topic around this time of year — approaching the quarter-mark of the season — but there's no definitive answer right now.
No imminent firings. Nobody necessarily on the hot seat.
From the outset, Alain Vigneault appeared the likeliest candidate — and there were rumours that a home loss to Vegas on Halloween would have ended his reign — but the Rangers rallied and went on to win six in a row. So, Vigneault is seemingly safe again, for the time being.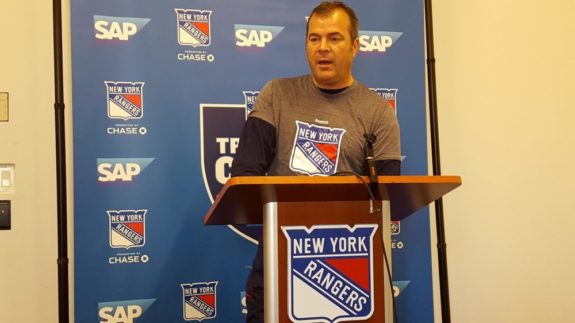 The obvious place to look is the bottom of the standings, but Rick Tocchet is new to the Arizona Coyotes this season and should have a long leash there. Goaltending was largely to blame for the Coyotes' dreadful start, but Antti Raanta is healthy now and Arizona finally got its first regulation win in its 21st game after setting an NHL record for futility. The season may already be a write-off for the Coyotes, but as long as there's progress going forward, Tocchet should stick around.
Ditto for Phil Housley in Buffalo, where the Sabres' defence has been decimated by injuries and the first-year head coach can't really be blamed.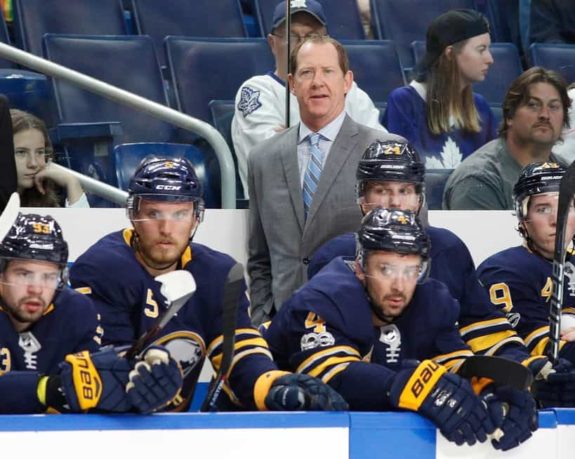 Another newbie, Florida's Bob Boughner will also presumably get the benefit of doubt until at least Christmas, if not a full season — though his Panthers aren't gaining much traction either.
Edmonton is married to Todd McLellan on a lucrative long-term contract and the Oilers probably don't see coaching as the reason for their poor start. However, Darryl Katz has deep pockets and hasn't spared any expense in trying to turn the Oilers into a winner, so if this road trip goes badly and things don't get better soon, anything is possible.
But the chances of Edmonton canning McLellan, as of today, would seem slim to none — less than 10 per cent, to put a number on it. He's not the problem, not what's holding the Oilers back. Most are pointing the finger above McLellan, at general manager Peter Chiarelli.
If Not Them, Then Who?
The other Alberta team has been enjoying more success — three games above .500, yet with just six regulation wins to Edmonton's four thus far — but a little birdie tells this writer to keep an eye on the Calgary Flames and Glen Gulutzan. This is only his second season as bench boss there and things appear to be going well — certainly better than last year's start — but Brad Treliving is all-in after trading the Flames' first-round pick in 2018 for Travis Hamonic. Treliving has a history with Dave Tippett from Arizona, but Darryl Sutter has a history in Calgary and that's apparently the fallback plan.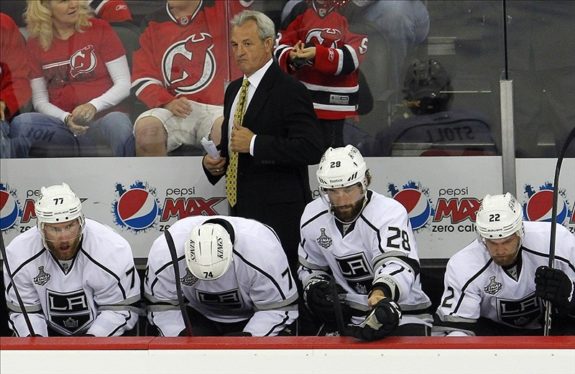 For now, Gulutzan and Dave Cameron are getting by and getting decent results, but if the Flames start struggling, don't be surprised if Sutter surfaces in Calgary again. You heard it here first, if and when that happens.
Rookies on the Ropes?
Looking elsewhere, there are a few first-time head coaches at the NHL level who could be nearing the end of their initial tenures.
Jeff Blashill in Detroit, Dave Hakstol in Philadelphia, and Bill Peters in Carolina — not necessarily in that order.
All three teams are doing OK, but just OK through 20 games. The Red Wings, Flyers and Hurricanes haven't spent much time occupying playoff spots between them, but they have stayed within striking distance.
Are those rosters, as constructed, capable of more? That's debatable, as to whether those coaches are getting the most out of their teams and maximizing their potential. That is ultimately for the general managers and ownership to decide.
Detroit had its quarter-century playoff streak halted on Blashill's watch last season, and it's uncertain whether Ken Holland is embracing the rebuild or trying to start a new streak this season. He has a decision to make on Mike Green, whether to trade the pending free agent ahead of the deadline or try to extend him. That will be telling on Detroit's direction, but even if the Red Wings are rebuilding, is Blashill the man to oversee that process?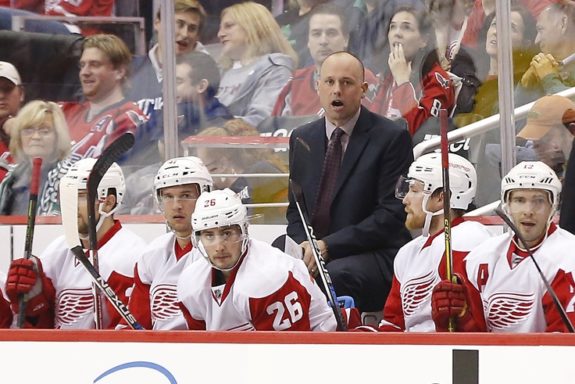 If not, Todd Nelson guided the farm team — the AHL's Grand Rapids Griffins — to a Calder Cup championship last season and he's deserving of another NHL opportunity after a successful, albeit short, stint in Edmonton.
If Detroit is "going for it" this season, there has been some speculation that Holland could turn to Tippett in hopes that his experience would get the Red Wings back to the postseason.
Either way, Blashill's days could be numbered in Detroit, unless the Red Wings get on a roll sooner than later. They do have points in four straight and in six of eight November games.
Philadelphia has one of the league's most potent top lines and a much-improved power play this season, but that credit may be bestowed on new assistant coach Kris Knoblauch rather than Hakstol. The latter is testing Ron Hextall's patience — though, in Hakstol's defence, he's working with a green defence group and a mediocre, inconsistent goaltending tandem.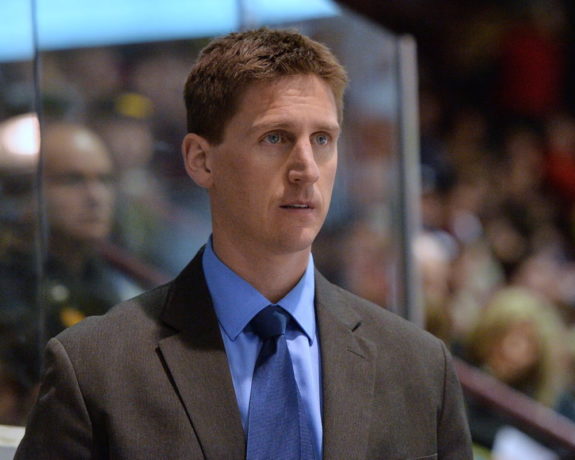 Still, if Knoblauch is responsible for the offensive surge — and he did turn OHL Erie into an offensive juggernaut — then perhaps he's ready for full responsibility. That hire did seem like a succession plan, so if Hakstol faltered again and the Flyers continued to sputter, Knoblauch would be in place to take over.
Carolina was pegged by many — especially within the analytics community — to take a big step forward this season as a potential playoff team. Peters has produced impressive underlying numbers with his systems through three-plus seasons in charge, and it was hoped an extra save here or there from Scott Darling would make the difference for the Hurricanes. They still haven't been getting that save with enough consistency, and Ron Francis might eventually turn his attention to the coaching staff.
As for a replacement in Carolina, how about Ralph Krueger? This is a team with a lot of European talent present and future, and Krueger did a masterful job in coaching Team Europe to the final at last year's World Cup of Hockey. Another guy who didn't get a fair shake in Edmonton, Krueger's name has surfaced for a few recent vacancies and it sounds like he's considering a return to the NHL.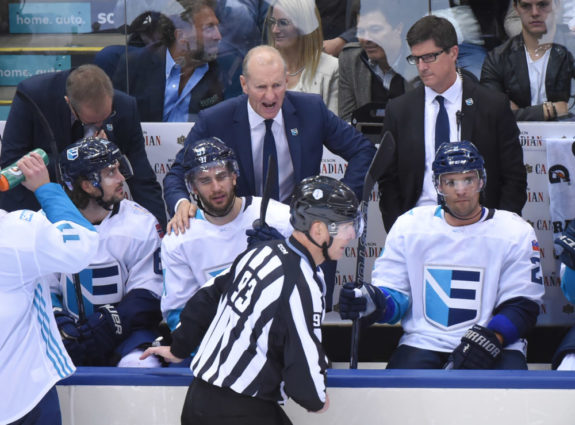 Carolina could be a good fit for Krueger, and there is family history within the organization since the Hurricanes drafted Krueger's son, Justin, in 2006 and he played two seasons for their AHL affiliate, the Charlotte Checkers, as a stay-at-home defenceman from 2011-13 before returning home to Germany.
The question may be whether Carolina's ownership is willing to make a change or whether it could afford Krueger's perceived high asking price. He's compensated handsomely in his current role as chairman for Southampton FC in the English Premier League — yes, Krueger's serving in an executive role for a soccer team — but that club sold an 80 per cent share of ownership to a Chinese businessman in August. Southampton is middle of the pack this season, so there could be changes coming and Krueger might be a casualty of the new regime.
If he ends up on the sidelines, there will certainly be NHL interest in Krueger and Carolina could be a suitor if Francis wants to move on from Peters at some point.
Could It Be Quenneville?
Sometimes, the longest-tenured coaches run the risk of getting stale. After all, this is a career where people are hired to be fired.
Chicago's Joel Quenneville has been employed for five seasons longer than anybody else — winning three Stanley Cups since 2008 (2010, 2013 and 2015) — so some are starting to question his shelf life despite those championships.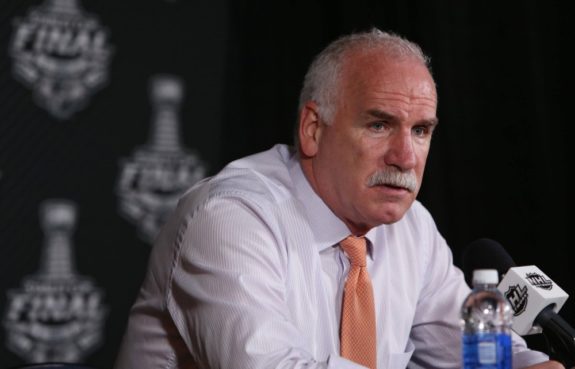 The Blackhawks are coming off a playoff flop, getting swept by Nashville in the first round, and have been inconsistent this season — hovering around .500 to date, in and out of a wild-card spot depending on the day.
In the offseason, there were rumblings of tension between the head coach, Quenneville, and the general manager, Stan Bowman. That stemmed from forced changes to Quenneville's staff — Mike Kitchen was let go, replaced by Ulf Samuelsson — and a couple controversial trades that sent Patrick Kane's wingman Artemi Panarin to Columbus for Brandon Saad and defensive stalwart Niklas Hjalmarsson to Arizona for Connor Murphy.
https://twitter.com/ChiSportUpdates/status/856623755623268353
"There's no validity to it," Bowman says of the Kitchen firing being a warning shot to Joel Quenneville. Read @BrianHedger's story: https://t.co/8O8PUefwUF

— Mark Lazerus (@MarkLazerus) May 13, 2017
Plus, it's worth noting that Quenneville wasn't hired by Bowman. He was Dale Tallon's man, though Bowman was Chicago's assistant GM at that time — taking over for Tallon in July 2009. Maybe, just maybe, Bowman will want his own guy in place at some point.
Still, it seems unlikely that Quenneville would be fired any time soon — ballpark those odds around 30 per cent for now, inching closer to 50 if the Blackhawks can't find a way to string wins together.
The question becomes: Who replaces Quenneville in Chicago? Those are massive shoes to fill, especially midseason, and the dressing room is full of his foot soldiers. Scotty Bowman, Stan's dad, won't be coming out of retirement at age 84, but it would almost have to be somebody with that kind of presence, to command that level of respect.
Another option would be promoting assistant coach Kevin Dineen — he's been a head coach before and been in the running for recent jobs around the league — but would the message and the approach change enough from Quenneville to Dineen? It worked for Los Angeles.
A Matter of When?
It's always a matter of when, not if, an NHL coach will be fired. Has there ever been a full season without a single coaching change? Not in recent memory, not since the turn of the century, and presumably not in the expansion era.
Last season, five teams fired their coaches midseason — starting on Nov. 27, with Florida's strange dismissal of Gerard Gallant. That was followed by the New York Islanders turfing Jack Capuano on Jan. 17; the St. Louis Blues sacking Ken Hitchcock on Feb. 1; the Boston Bruins bouncing Claude Julien on Feb. 7; and the Montreal Canadiens curbing Michel Therrien on Feb. 14.
Without doing any research, that seems about average for the number of coaching changes in a season. If the over/under is set at five, definitely take the under for this season. And it's doubtful we'll see a firing before Dec. 1. Maybe by the New Year.
Odds of next NHL coach fired, per @BovadaLV pic.twitter.com/p0Pzq9YFyy

— Rick Carpiniello (@RickCarpiniello) October 12, 2017
Those were the bookie's odds to start the season. As of Nov. 20, smart money might be on Gulutzan, Hakstol, Quenneville and Blashill in that order if you're a betting man (or woman).
Jack Adams Candidates
All that speculation is premature. Reality is, all 31 coaches appear safe for now — for the foreseeable future.
In the present, there are clearly more Jack Adams candidates than firing candidates. The spotlight, in terms of coaching, should really be on those thriving instead of those simply trying to survive.
The frontrunners for the Jack Adams — the coach of the year award — have to be Gallant in Vegas and Mike Yeo in St. Louis. Those two should be on every ballot at American Thanksgiving.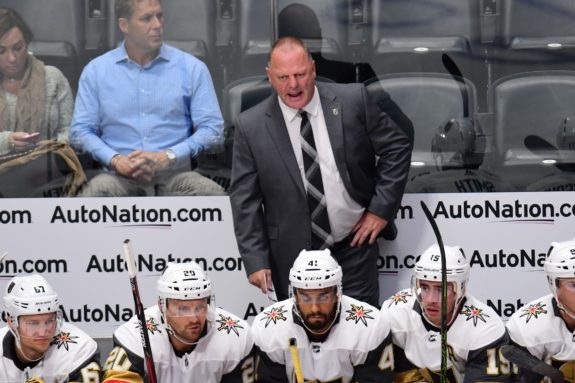 A strong case can be made for a half-dozen head coaches to round out that ballot: Travis Green in Vancouver, John Stevens in Los Angeles, Doug Weight with the Islanders, John Hynes in New Jersey, Jon Cooper in Tampa Bay and perhaps Paul Maurice in Winnipeg, almighty Mike Babcock in Toronto or even Guy Boucher in Ottawa. In that order, for this voter, but all deserving in their own right for their work to date.
That battle is ongoing, while it will continue to be battle for others to remain employed over the next 60 games. Stay tuned!
Larry Fisher is a senior writer and head scout for The Hockey Writers, having been an at-large contributor for THW since August 2014. Fisher covers both the NHL and the WHL, specializing in prospects and NHL draft content, including his annual mock drafts that date back to 2012. Fisher has also been a beat writer for the WHL's Kelowna Rockets since 2008, formerly working as a sports reporter/editor for The Daily Courier in Kelowna, British Columbia, Canada from 2008-2019. Follow him on Twitter: @LarryFisher_KDC.