Emotions ran high as Randy Carlyle made his long-awaited return to Toronto on Monday night, a city that will forever be divided on his place in their history. Yet as much as Carlyle tried to make the game at hand about the Anaheim Ducks, there was simply no running away from the convenient narrative. Seemingly outmatched by the Maple Leafs' speed at times, the Ducks managed to scratch out a victory thanks in large part to the strong goaltending performance of John Gibson.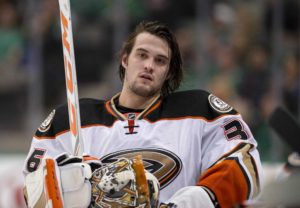 Goaltending hasn't exactly been a strong suit for Anaheim this season. Backup Jonathan Bernier faltered against the moribund Detroit Red Wings on Saturday night, a far cry from the hot start he had to the season. He'll get another crack at it tonight against his hometown Montreal Canadiens. Like Carlyle in Toronto, Bernier should see swaths of media upon his arrival to Montreal (though Toronto probably wasn't all that different for him).
The Ducks managed to out-duel a pacy possession team in Toronto, winning the shot attempt battle 40 to 34 at even strength. Montreal, though not as speedy (especially with Alex Galchenyuk out), should present a tough task for Anaheim with the unflappable Carey Price staring them down.
---
Anaheim Ducks at Montreal Canadiens
Bell Centre – 7:30 p.m. EST
Broadcast channels –  RDS, SNE and PRIM
2016-17 Season Series: November 29 – Ducks 2 – Canadiens 1
Anaheim Ducks – 17-11-5 – 39 Points
Road Record: 7-7-4
Hot Players: Rickard Rakell, Cam Fowler
Key Injuries: Nate Thompson, Simon Despres (both on LTIR)
Projected lines:
Forwards:
Rickard Rakell-Ryan Getzlaf-Corey Perry
Andrew Cogliano-Ryan Kesler-Jakob Silfverberg
Nick Ritchie-Antoine Vermette-Ondrej Kase
Joseph Cramarossa-Logan Shaw-Jared Boll
Defense:
Cam Fowler-Sami Vatanen
Hampus Lindholm-Josh Manson
Korbinian Holzer-Kevin Bieksa
Starting Goaltender:
Jonathan Bernier (Likely)
Montreal Canadiens – 20-7-4 – 44 Points
Home Record: 14-2-2
Hot Players: Carey Price, Jeff Petry
Key Injuries: Alex Galchenyuk, David Desharnais, Greg Pateryn
Projected Lines:
Forwards:
Max Pacioretty – Tomas Plekanec – Alexander Radulov
Arturri Lehkonen – Philip Danault – Andrew Shaw
Paul Byron – Torrey Mitchell – Brendan Gallagher
Daniel Carr – Brian Flynn – Michael McCarron
Defense:
Alexei Emelin – Shea Weber
Andrei Markov (questionable) – Jeff Petry
Nathan Beaulieu – Zach Redmond
Starting Goaltender:
Carey Price (Likely)
[irp]
Game Notes
[miptheme_dropcap style="normal" color="#222222″ background=""]1)[/miptheme_dropcap]Though he's tailed off after a scorching start, Shea Weber has been a solid presence for the Canadiens, forming a surprisingly competent pairing alongside Alexei Emelin. Weber, often decried by the analytics crowd over the summer, has actually posted one of the best possession ratings of any Habs' defenseman.
[miptheme_dropcap style="normal" color="#222222″ background=""]2)[/miptheme_dropcap]Though white-hot from a goal-scoring standpoint, Rickard Rakell's even strength game has inexplicably tanked since his return. Whether it's the shift back to the wing or perhaps getting accustomed to Carlyle's directives, Rakell has struggled mightily from that standpoint: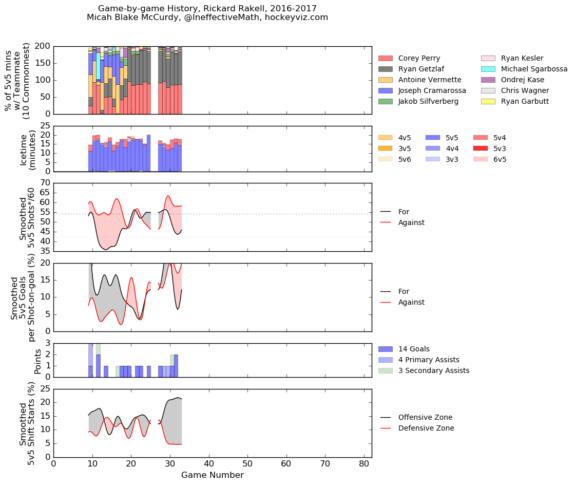 [miptheme_dropcap style="normal" color="#222222″ background=""]3)[/miptheme_dropcap]Ondrej Kase continues to impress as a rookie. He tallied a nice assist on the Ducks' tying goal against Toronto, working around multiple Leafs' defenders before feeding a streaking Nick Ritchie in the slot. He now has the best possession rating of any Ducks forward.
[miptheme_dropcap style="normal" color="#222222″ background=""]4)[/miptheme_dropcap]Cam Fowler blasted home an absolute rocket of a game winner against Frederik Andersen, marking his second consecutive game with a goal:
https://twitter.com/myregularface/status/811048952753692672
[miptheme_dropcap style="normal" color="#222222″ background=""]5)[/miptheme_dropcap]Kevin Bieksa left the game early against Toronto after taking a puck to the face off a deflection in the second period. He was only held out for precautionary reasons, so expect to see him back in the lineup against Montreal.
---
Anaheim has largely gotten by thanks to a dominant power play as of late. Their even strength game, once written off thanks to Carlyle's presence behind the bench, is beginning to rebound after a bad stretch in November.
A solid all-around performance against a quality Eastern foe would go a long way in cementing their position among the Pacific Division's upper class (if there is such a thing). Easier said than done against a ticked off Price.