A loss last night could have cemented the Vancouver Canucks status as a seller at the trade deadline. Instead, a win tonight could bring them within two points of a playoff spot.
Although this team is no better than last year's, a weaker Western Conference means the Canucks are still sniffing around the playoff picture. Part of that has been because of Ryan Miller's play, and he will start on the second night of back-to-back games tonight.
Miller hasn't gone back-to-back this season, but is 2-2-1 as a Canuck with two shutouts and a .923 saves percentage in second games.

— Ben Kuzma (@benkuzma) February 19, 2017
Miller lost during the Canucks previous matchup against the Philadelphia Flyers, but he was rock solid against the Flames last night, making 35 saves in a 2-1 overtime victory. Even though they are playing on the second night of back-to-backs, the Canucks will look to take advantage of a struggling Flyers team tonight.
The Flyers are stuck in the logjam that is the Eastern Conference, but their recent play hasn't inspired much confidence. They lost to both the Calgary Flames and Edmonton Oilers already on this road trip, and they only have one regulation win in the month of February. Still, they are rested and haven't played since Thursday, something that could work in their favour on Sunday night.
The #Flyers are 0-for-2 so far on their Western Canada road swing following losses to Calgary and Edmonton. Out-scored 9-4 overall.

— Daniel Fung (@daniel_fung) February 19, 2017
Philadelphia Flyers at Vancouver Canucks
Sunday, Feb. 19, Rogers Arena, 7:00 p.m. PST
Broadcast Channels: SN360, CSN-PH
2016-17 Season Series: Jan. 12: Canucks 4 – Flyers 5 (SO)
Philadelphia Flyers: 27-24-7, 61 Points, 12th in Eastern Conference
Hot Players: Wayne Simmonds (3 goals in last 4 GP)
Key Injuries: Jordan Weal, Travis Konecny
Projected Lines
Forwards
Brayden Schenn  – Claude Giroux – Wayne Simmonds
Dale Weise – Sean Couturier – Jakob Vorachek
Michael Raffl – Nick Cousins – Matt Read
Chris VandeVelde – Pierre-Edouard Bellemare – Roman Lyubimov
Defence
Ivan Provorov – Brandon Manning
Shayne Gostisbehere – Mark Streit
Radko Gudas – Michael Del Zotto
Starting Goaltender
Michal Neuvirth
[irp]
Vancouver Canucks: 26-27-6, 58 Points, 11th in Western Conference
Hot Players: Bo Horvat (7 points in last 7 GP), Alex Edler (6 points in last 7 GP)
Key Injuries: Sven Baertschi, Anton Rodin, Erik Gudbranson, Derek Dorsett, Jack Skille
Projected Lines
Forwards
Daniel Sedin – Henrik Sedin – Markus Granlund
Alex Burrows – Bo Horvat – Jannik Hansen
Loui Eriksson – Brandon Sutter – Jayson Megna
Brendan Gaunce – Michael Chaput – Reid Boucher
Defence
Alex Edler – Troy Stecher
Luca Sbisa – Chris Tanev
Ben Hutton – Nikita Tryamkin
Starting Goaltender
Ryan Miller
---
Game Notes
[miptheme_dropcap style="normal" color="#222222″ background=""]1)[/miptheme_dropcap] Since their stunning 11-game winning streak back in December, the Flyers have really fallen off a cliff. They have only eight wins in 26 games since the end of their winning streak on December 14. Only four of those wins have come in regulation, with two coming in overtime and two coming in the shootout.
[miptheme_dropcap style="normal" color="#222222″ background=""]2)[/miptheme_dropcap] One of those eight wins was a shootout victory against the Canucks on January 12. Special teams was a problem for Vancouver in that game, as it has been all year. The Canucks went one for eight on the power play in that game, while allowing two goals on four shorthanded opportunities. Losing the special teams battle cost the Canucks a win.
[miptheme_dropcap style="normal" color="#222222″ background=""]3)[/miptheme_dropcap] The Canucks power play has improved slightly since Jan. 12, posting an 18.2% success rate since January 12. That is no thanks to Jayson Megna, who has logged a ton of power play time, but has only one secondary assist on the man advantage this season. He is the only Canuck to log over 50 minutes of power play time without registering a primary point.
Megna is on PP1 because willie is the ultimate tank commander @TronArmy pic.twitter.com/DpH2vwLGWa

— We are all Botch (@talkingwild) February 19, 2017
wonder if willie ever looks at that whiteboard, sees megna on pp1 and says "what am i doing?"

— Jason Botchford (@botchford) February 19, 2017
[miptheme_dropcap style="normal" color="#222222″ background=""]4)[/miptheme_dropcap] While the power play is improved, the penalty killing has dropped off dramatically. Since Jan. 12, the Canucks penalty killing is struggling at 74.3%, tied for 29th in the NHL over that span. Bo Horvat has struggled on the penalty kill this season, and his 9.82 goals against per 60 while shorthanded is 11th worst in the NHL, according to Corsica.
[miptheme_dropcap style="normal" color="#222222″ background=""]5)[/miptheme_dropcap] In September, I wrote a piece on five teams who could miss the postseason this year (Minnesota, what was I thinking?) It's good for a laugh if you want to read, but one team I picked was the Flyers. Their mediocre blueline has been a problem, exacerbated by Shayne Gostisbeher's sophomore struggles. They also have a very top-heavy offence, with only four players scoring more than 10 goals on the season. In comparison, the offensively-weary Canucks have seven players with more than 10 goals.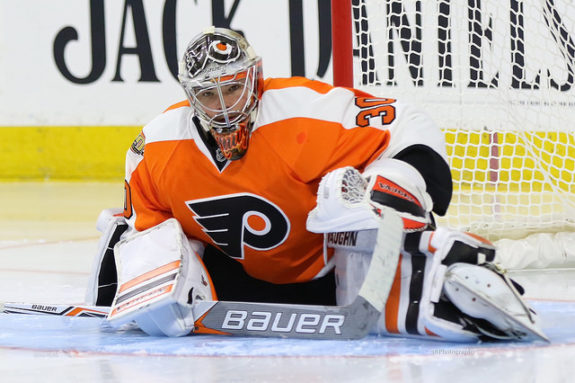 [miptheme_dropcap style="normal" color="#222222″ background=""]6)[/miptheme_dropcap] In a bit of a surprising announcement, the Flyers confirmed that Michael Neuvirth will get the start in net. He started in the Flyers last game, and allowed an embarrassing six goals against the Oilers. However, Steve Mason was pulled in Philadelphia's last game against Vancouver, and Neuvirth was perfect in relief. Flyers head coach Dave Hakstol is probably going with his gut since the Flyers are desperate for any kind of spark at the moment.
KPU Journalism Graduate. Trevor has been writing for The Hockey Writers since October 2014. He has contributed articles related to the Ottawa Senators, Vancouver Canucks, and other issues/stories regarding the game of hockey. Trevor currently lives in White Rock, B.C.