The St. Louis Blues have made multiple significant moves to improve their team for the 2021-22 season. Their lineup is going to be much different and they are looking to be better than they were last season, which shouldn't take much.
O'Reilly and Perron Lead the Forward Group
David Perron-Ryan O'Reilly-Pavel Buchnevich
Brandon Saad-Robert Thomas-Vladimir Tarasenko
Klim Kostin-Brayden Schenn-Jordan Kyrou
Logan Brown-Tyler Bozak-Ivan Barbashev
Starting with the first line, there's reason to feel supremely confident in the defensive ability of these three. We already know that Ryan O'Reilly and David Perron have been magical together, and I think Pavel Buchnevich can fit perfectly with them.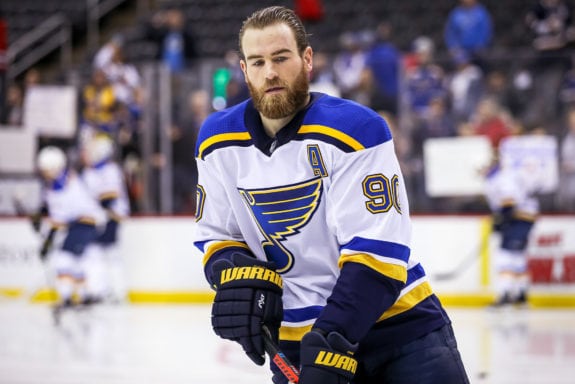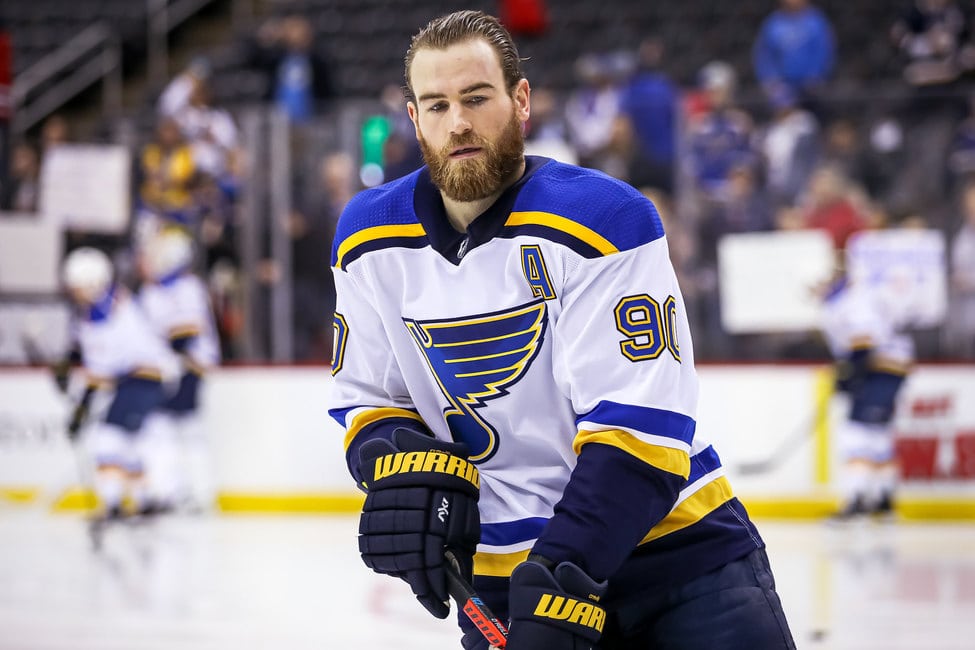 Their defensive ability as forwards is off the charts, but their offensive output is just as impressive. Over the last three seasons, we have seen two twenty-goal seasons from Buchnevich, albeit on a different team. Perron and O'Reilly both have two twenty-goal seasons over the last three as well.
The first line has a chance to be magical, and I expect this to be the one that head coach (HC) Craig Berube goes with to start the season.
After the first preseason game, I'm convinced that the second line of Brandon Saad, Robert Thomas, and Vladimir Tarasenko can be lethal. If Thomas can stay healthy, his passing ability is off the charts and would help two proven goal scorers next to him. The key to success for this line is being healthy.
The defensive potential in this top-six is significant, they'll have at least four two-way forwards and two playmakers, but all of them can put up points.
As for the "third" line, this will play like a second line, as they have a ton of skill. With the potential emergence of James Neal in the preseason, there is a chance that Klim Kostin doesn't make the opening night lineup. But I'll bet that he does as he deserves a true chance here and now is the time.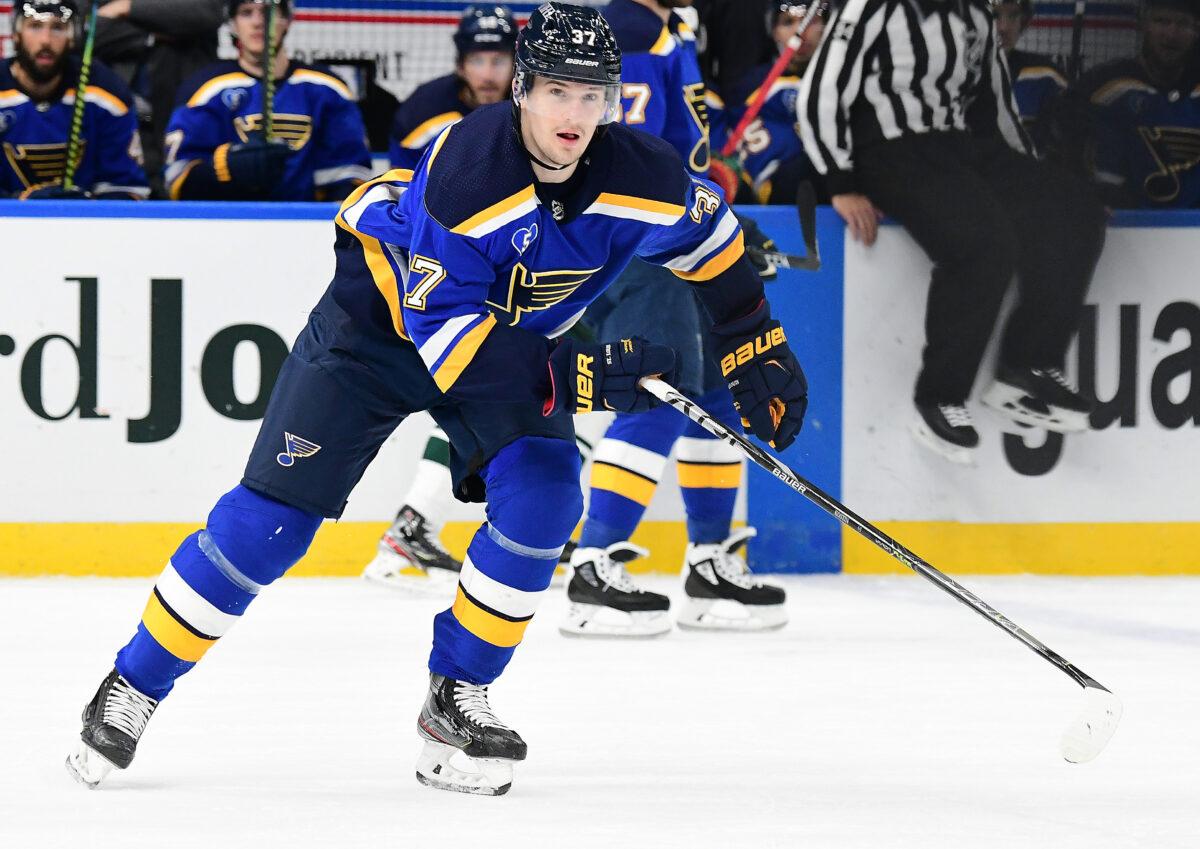 I like the idea of Brayden Schenn and Jordan Kyrou being together, as it could help Schenn find his game after a mediocre 2020-21 season. Kyrou broke out last season and I see him as a 50-plus point scorer this season if healthy of course.
I just don't see how the Blues could justify not giving Kostin a legitimate chance this season, he is still young, but he's been developing for a long time now. The fourth line is where there will be a lot of decisions made as to who plays on it to start the season.
With Oskar Sundqvist likely to miss time to start the season, there will be a spot open for a multitude of players. The Blues traded Zach Sanford to the Ottawa Senators for St. Louis native Logan Brown, a young first-round center. I think he will be in the lineup and play on the wing here.
I get that Brown has struggled mightily at the NHL level with one goal in 30 career games, but he's in a better situation now. He will likely feel more comfortable back home in St. Louis, which should help him in playing better. Staying healthy will also be a priority for him.
They brought back Bozak for a reason, they like what he brings, which lines him as the perfect center for this line. He has had great chemistry with Thomas over the past couple of seasons, which makes me believe that he could help Brown a lot.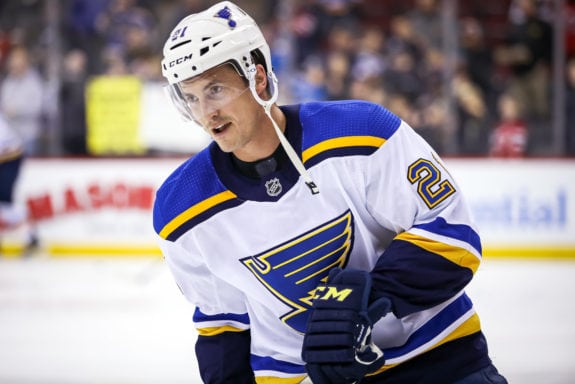 This leaves Barbashev as the other winger for this line, which is perfect as he is a fourth-line hitter with skill. This line could be really good when it comes to defensive ability. We won't see much scoring from this line, but they will be hard on pucks, which is what the Blues ask for.
Veteran Leaders in the Defensive Unit
Torey Krug-Justin Faulk
Marco Scandella-Colton Parayko
Scott Perunovich-Robert Bortuzzo
The Blues' defensive pairings will be the most interesting thing about this team to start the season. They have all players returning other than Carl Gunnarsson and some younger players ready to play.
The first pairing had a lot of success last season and they should be together again. I think we saw Torey Krug and Justin Faulk take on more two-way responsibility than ever before. They both have an offensive ability that they've shown throughout their careers.
Krug has scored over 30 points in all eight of his full seasons, while Faulk has done it six times in his 10 seasons. While they have had down seasons with the Blues to this point, they should bounce back into form with a normal season coming.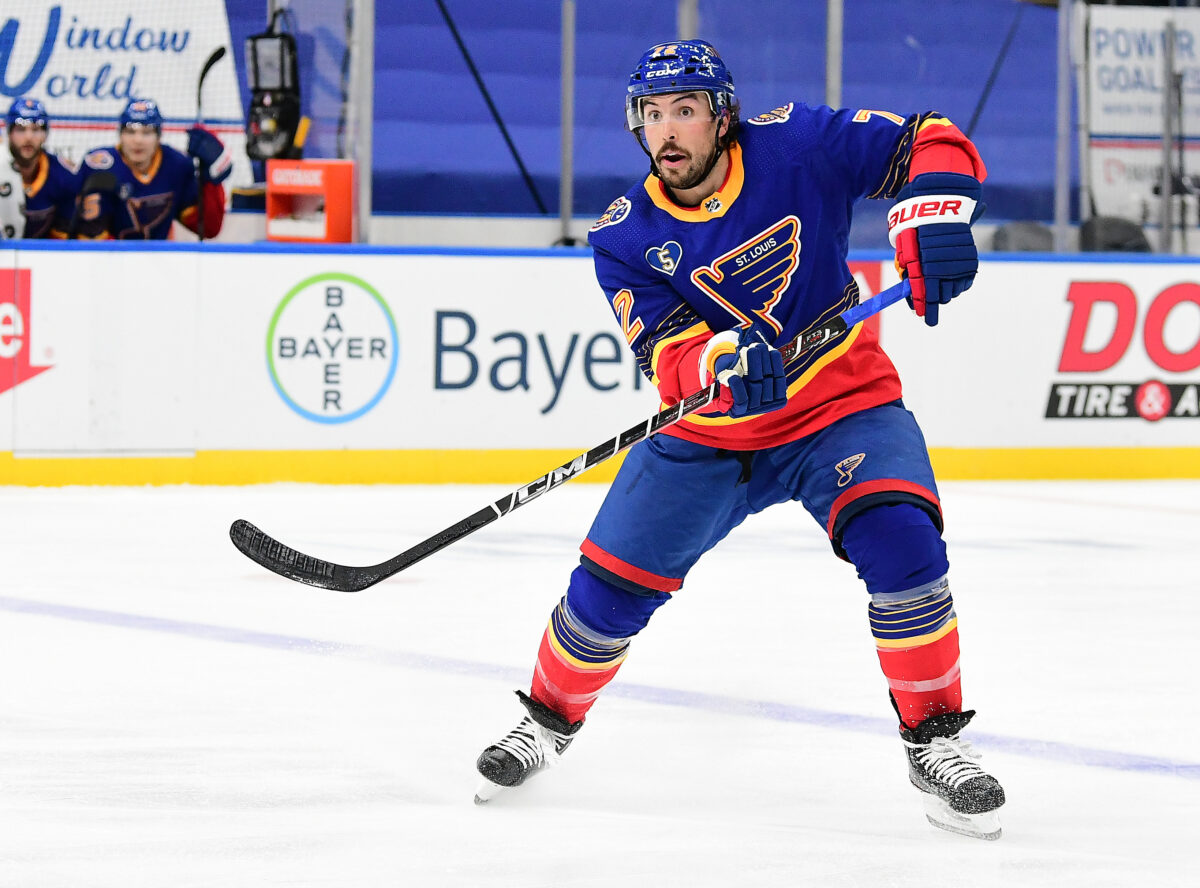 Both of these guys are true leaders, and they lead by example. Putting them together makes a lot of sense and I expect Berube to do so.
The second pairing has been a rollercoaster duo for their season and a half. They were terrific together when Marco Scandella was traded to the Blues at the 2019-20 trade deadline. Since the bubble, it's been a mess for both players, especially Scandella.
Colton Parayko signing an eight-year extension signals that the Blues believe he is ready to return to his 2019 Stanley Cup form. I have my worries about these two being together, but the Blues need a shutdown pair and this is the way they can get it.
Even though this is a projection, I think that it would be a missed opportunity to not have Scott Perunovich in the lineup. We've already seen in camp and the preseason that he's a dynamic player on the back-end.
Putting him with Robert Bortuzzo can really work well with the toughness and guidance for a rookie like Perunovich. It would be disappointing to see Perunovich not crack the lineup, but it wouldn't surprise if he starts the season in the American Hockey League (AHL).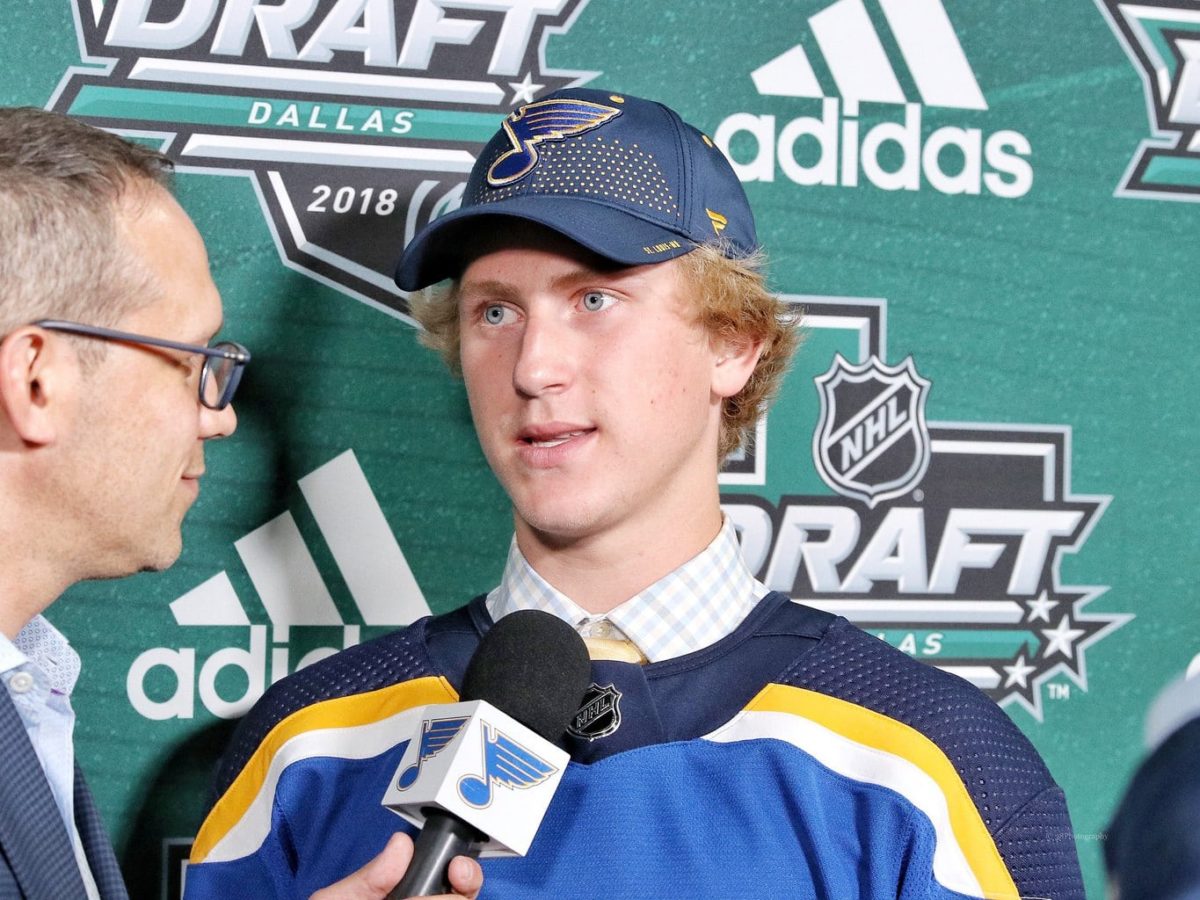 If Perunovich isn't in the lineup, it's likely to be a battle between Niko Mikkola and Jake Walman, both played solid hockey last season. The Blues could use another dynamic playmaker alongside Krug in this group, Perunovich is that player.
Bounce Back Seasons Needed in Net
Jordan Binnnington
Ville Husso
The clear-cut duo in net will be Jordan Binnington and Ville Husso. There isn't a lot to say about them, other than the fact that they need to bounce back.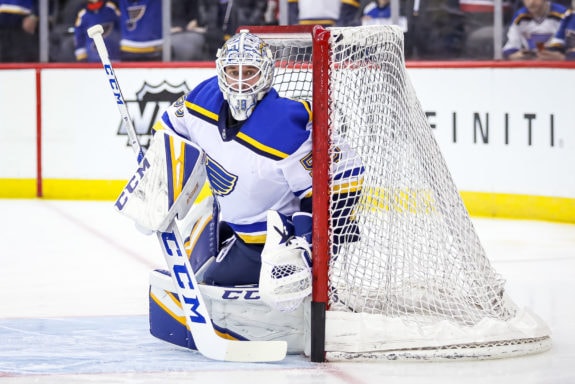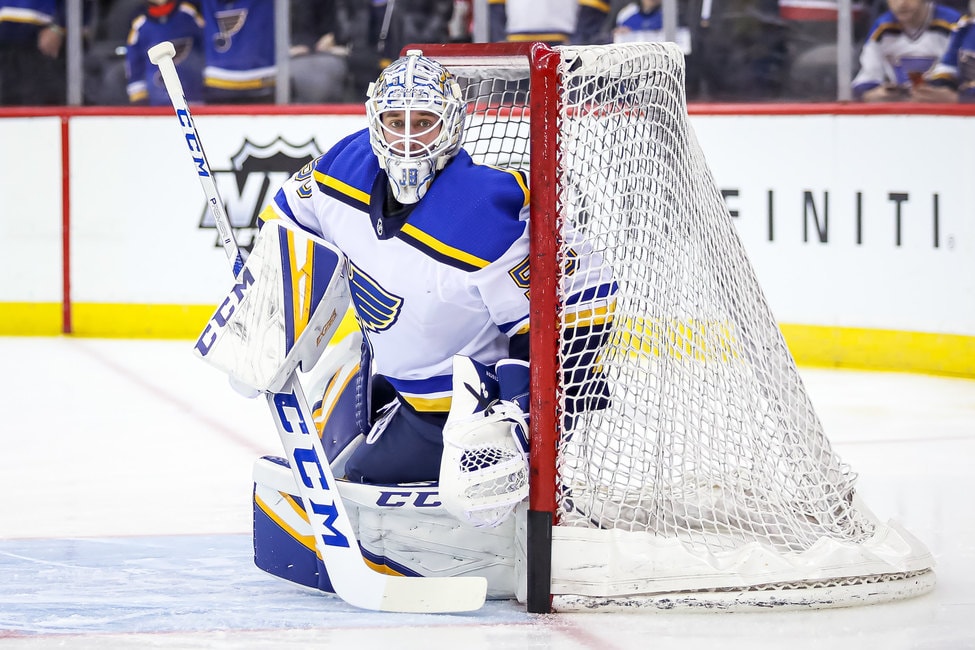 The main job for Husso is to play better to take pressure off Binnington, the defense in front of them has to be better as well. Binnington's save percentage (SV%) has gone from .927 in 2018-19 to well under that over the last two seasons at .912 and .910.
The Blues' success is going to be dependant on defense and goaltending, I have zero doubt about that. In comparison to last season, I'm not sure the Blues are as likely to wear teams down as they'd like. Either way, with changes to the team and system, the expectation is to be a contender.
---
---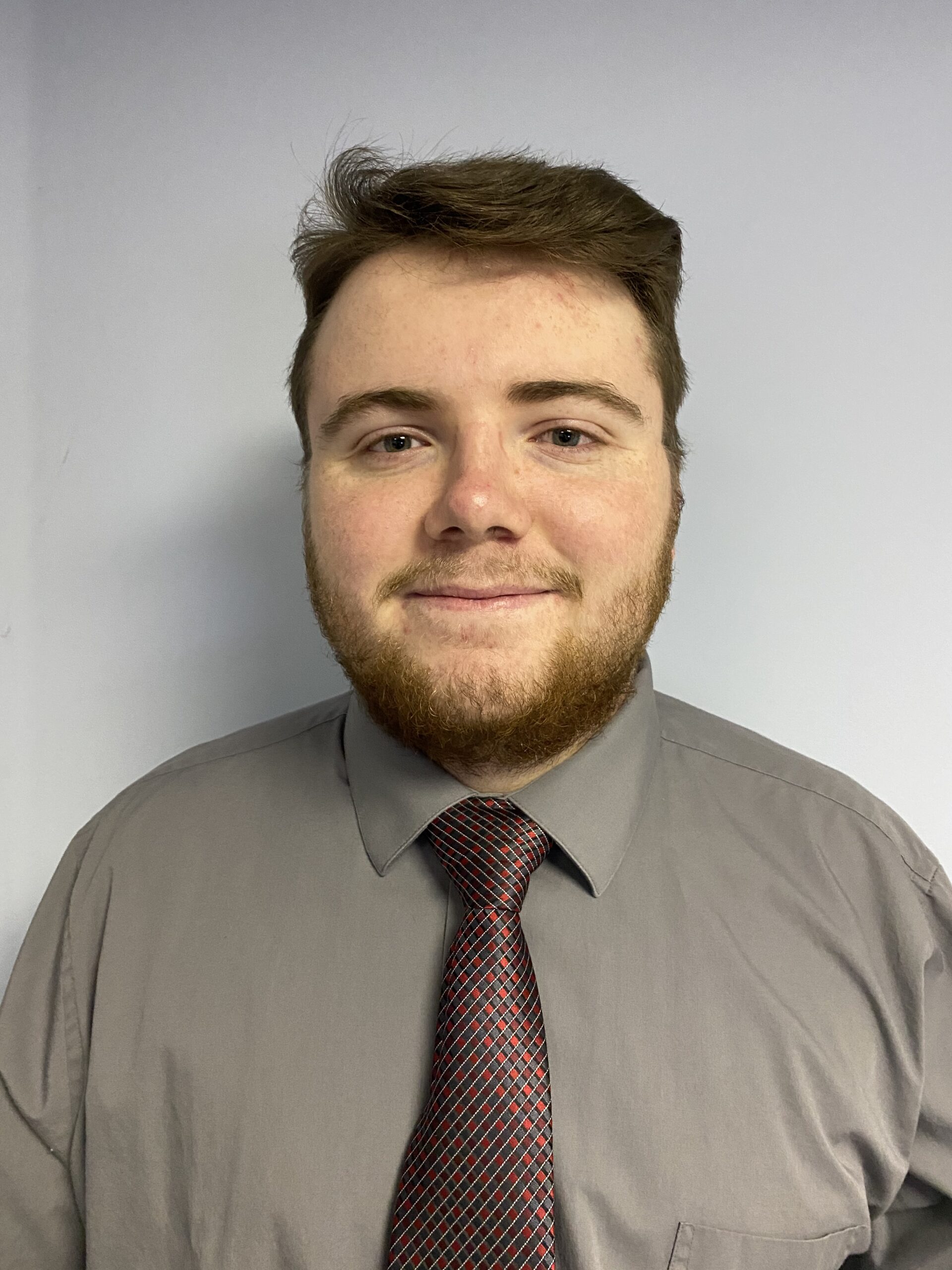 Ethan Carter has been writing at The Hockey Writers for over three years now. He also co-hosts The Blue Note Podcast for the Bleav Network, which covers the Blues and the NHL multiple times per week.