Team Canada had themselves a very eventful Saturday. After revealing that a staff member had tested positive for COVID-19, its stacked roster took to the ice for a scrimmage during their World Junior Championship selection camp. Also, the United States Hockey League (USHL) has finally kicked off its season and a recent draft pick of the Montreal Canadiens is off to a fantastic start.
Team Canada Scrimmages After Positive Test
Saturday was a very busy day for Team Canada, both on and off the ice as they are in the midst of the World Junior Championship selection camp. Scott Salmond, senior vice-president of national teams, revealed there was a positive COVID-19 test within the camp.
"Hockey Canada confirmed earlier today that a non-core member of its National Junior Team staff has tested positive for COVID-19. Upon learning of the positive test this morning, our staff took immediate action and implemented all precautionary measures to avoid risk of exposure to our players, coaches and support staff. The staff member who tested positive, as well as a number of colleagues who have been in close contact with that person, were placed in quarantine at the team hotel in Red Deer. Tonight's Red-White game will proceed as planned, as protocols have dictated that the health and safety of the athletes has not been compromised."
It was later reported by Ryan Rishauq of TSN that two members of the coaching staff, Michael Dyck and Jason Labarbera, are among those who are in self-isolation after close contact with the staff member who tested positive.
This announcement came right before the puck drop of Team Canada's first intrasquad game of the camp. A pair of 2019 draftees, Dylan Cozens (Buffalo Sabres) and Philip Tomasino (Nashville Predators) each had a goal and an assist to lead Team White to a 4-2 victory over Team Red.
Jakob Pelletier, the Calgary Flames' 2019 first-round draft pick, led the way for Team Red. He had a goal and a primary assist in the third period to make the score a bit closer before the final horn sounded.
Team White finished the game with a 27-25 advantage in shots on goal, despite being outshot 18-15 over the final two periods. These two groups will meet again tonight in Red Deer, AB before closing out this set of intrasquad games on Tuesday.
Still Holding Out Hope for Lafreniere
No matter who makes it out of the selection camp, Canada's World Junior Championship roster is going to be stacked. Recent high draft picks like Quinton Byfield, Bowen Byram, Cozens, Kirby Dach, Jamie Drysdale and Dawson Mercer are all but guaranteed roster spots.
This embarrassment of riches could even get better if Team Canada can add 2020's first overall pick, Alexis Lafreniere. When the camp roster was first released at the end of October, his name was not included. However, Hockey Canada president Tom Renney said New York Rangers general manager Jeff Gorton was "open minded" to the idea of him playing in the tournament.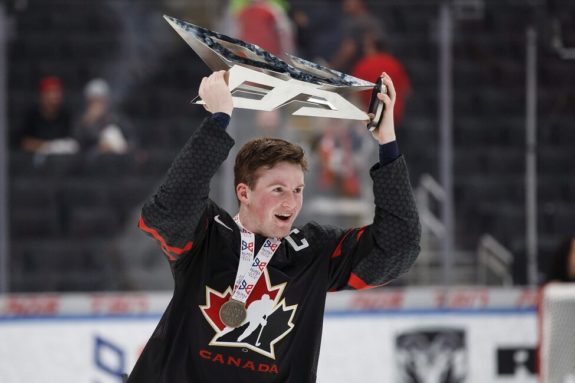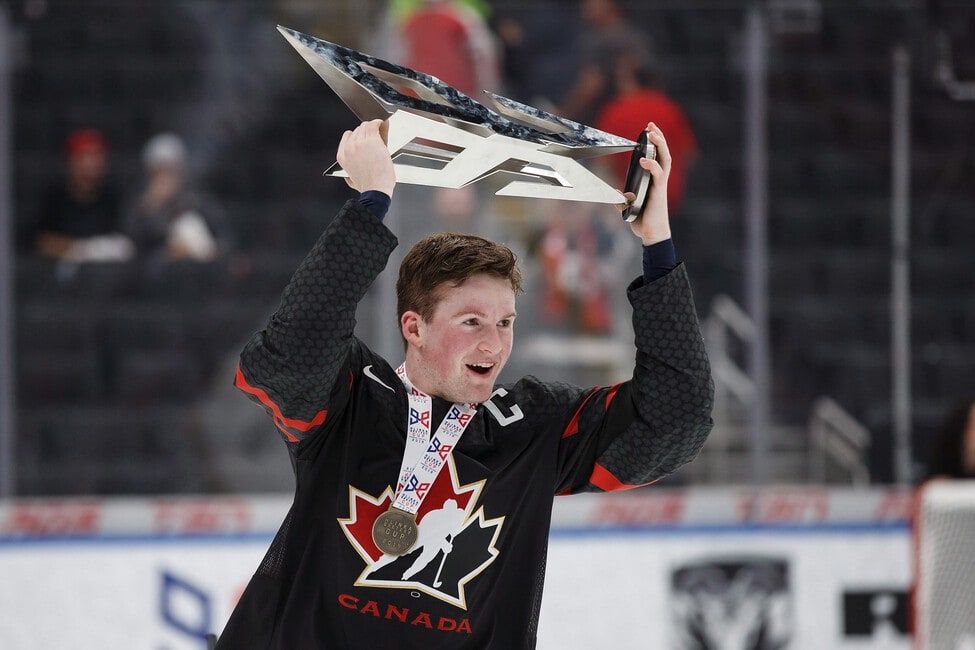 Salmond disclosed last night that there was still no update on whether not Lafreniere will join the team. It appears that the deadline date for him to join the camp is Dec. 6. According to Jackie Spiegel, the IIHF requires all teams must be together for one week prior to entering the Edmonton bubble on Dec. 13 and each player must have three negative tests before. Stay tuned.
Farrell Off to Hot Start
While most of the junior hockey world is focused on Team Canada, the USHL season has begun south of the border. Last season, the Chicago Steel were the class of the league with an explosive offense. They boasted five of the top seven scorers in the league, including the top three.
One of those players, who seemed to get overlooked at times, was Sean Farrell. He finished seventh in USHL scoring with 15 goals and a league-leading 41 assists. He rode his huge season into the 2020 NHL Entry Draft where he was drafted in the fourth round (124th overall) by the Canadiens.
He has returned to the Steel for the 2020-21 season and looks to have picked up right where he left off last season. In his first three games, Farrell has three goals and five points.
The 19-year-old winger was the hero in Saturday night's 4-3 victory over the Green Bay Gamblers. He played a season-high 23:39, produced two scoring chances, and got three shots on goal, two of which came on the power play. He scored the game-winning goal in the shootout to improve the Steel's early-season record to 2-1-0.
Farrell's five points have him tied for eighth in USHL scoring. His teammate Matthew Coronato is tops in the league with eight points, just one point ahead of his linemate, Mackie Samoskevich, who are both eligible for the 2021 NHL Entry Draft.
All stats provided by Hockey InStat.
---