With the regular season wrapping up this weekend, the American Hockey League has begun to announce league awards and All-Stars. The Providence Bruins had one player named as a second-team All-Star, Austin Czarnik.
The honor speaks to Czarnik's development during his time in Providence which puts him among the season's 12 elite players. The AHL All-Star game tends to be prospect heavy, leaving out a couple of veteran players. However, the year-end teams are typically a collection of vets and prospects that are legitimately the league's best.
Czarnik the League's Top Center
Czarnik won second team all-star honors at center. The argument could be made that he deserved to be on the first team. Phil Varone, tied for the league lead in scoring, was named as the first team all-star at the position. Varone is on one of the league's best teams in Lehigh Valley and has been atop the leaderboard for the league's top scorers most of the season.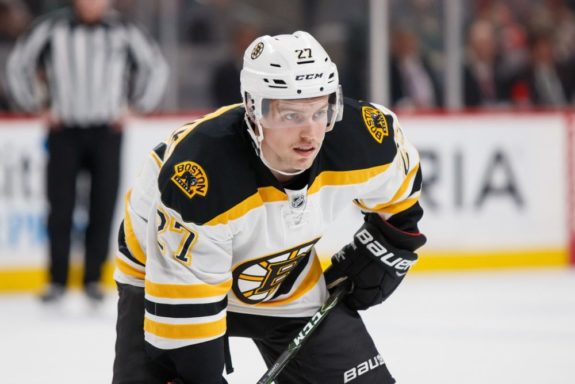 Czarnik is actually having a more prolific season in terms of scoring than Varone, with 23 goals, 43 assists, and 66 points in 62 games to Varone's 23-47-70 line in 73 games. He's remained consistent throughout the year while Varone has recently cooled off. It should be noted that Varone's Lehigh Valley team has been comfortably atop the division while the P-Bruins have been jockeying for playoff position.
Czarnik signed with Boston after an impressive college career with the University of Miami Redhawks. The Washington Township, Michigan native has provided a consistent offensive threat in the P-Bruins lineup. His consistency is more impressive when travel is taken into account. Czarnik hasn't let his play slip despite multiple call-ups over the last two seasons. In fact, the taste of NHL hockey seems provide a boost to Czarnik when he returns to Providence. He doesn't let his play slip.  In only his third professional season, it's clear Czarnik is pushing for a job somewhere at the next level.
.@AHLBruins forward Austin Czarnik, who ranks third in the AHL in scoring this season, has been named to the league's Second All-Star Team: https://t.co/qKGx3mhkNJ

— Boston Bruins (@NHLBruins) April 6, 2018
Czarnik was an impact player immediately after signing with the Bruins at the end of his 2014-15 senior season with Miami. He led the AHL in rookie scoring in 2015-16 with 20 goals, 41 assists, and 61 points in 68 games. Czarnik would lose out on rookie of the year honors to Mikko Rantanen and teammate Frank Vatrano who both appeared in significantly less games than Czarnik. While his performance was overlooked, his rookie season provided a glimpse of the elite offensive skill Czarnik possesses. For Czarnik, to come into the league and be in the conversation with a top prospect like Rantanen speaks to how quickly he adjusted to the professional game.
Proven in AHL, Czarnik Needs Opportunity
Czarnik would get a crack at the NHL roster the next season, and impressed in pre-season before suffering a concussion after a questionable hit from Philadelphia's Radko Gudas. He would go on to play 49 games for the Bruins in the 2016-17 season but was out of the mix by playoff time. In fact, it was Czarnik's former Miami teammate that was a playoff hero for Boston, netting two goals in an elimination-game overtime victory against Ottawa. Czarnik would appear in 22 games for the P-Bruins in 2016-17, putting up a 6-17-23 stat line.
Call it bad luck, but the Bruins organization seemed to have an influx of NHL-ready young talent this season. In previous years, it may have been a prime opportunity to crack the Boston roster. The combination of young players developing and the diminutive Czarnik's style perhaps not well suited for a bottom-six forward role landed him back in Providence. He's responded with the best year of his career and the second team all-star selection.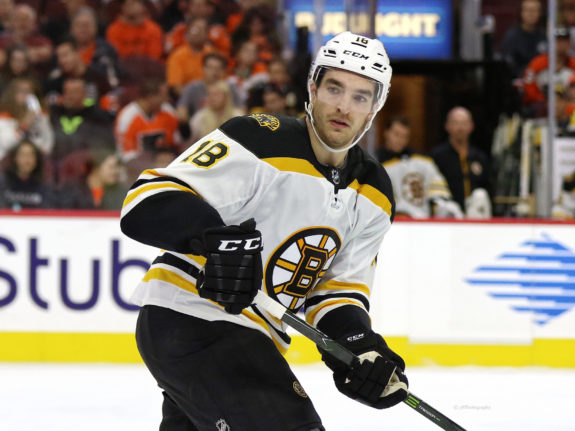 The P-Bruins head into the playoffs with one of the league's elite playmakers. He's helped bring along Providence rookie Ryan Fitzgerald since they have been paired together on a line with AHL-veteran Jordan Szwarz. With that line likely drawing an opponent's best defensive matchup in the playoffs, 2016-17 league MVP Kenny Agostino should get his chances playing on the second line. The P-Bruins will need Czarnik's line to score t win a playoff series, but his presence has a nice trickle-down effect on the lineup.
After the playoff run in Providence, it will be interesting to see where Czarnik goes from here. He's slated to become an unrestricted free-agent. He's proven himself to be an elite forward at the AHL level. The question will be whether there is opportunity for him in the Bruins organization? His limited opportunity but steady improvement in three seasons must have Czarnik thinking he can break through to the NHL given the right opportunity. If that opportunity is with the Bruins remains to be seen.