There is growing recognition that the problems facing the Montreal Canadiens are less about attitude and more about personnel, or the relative lack thereof. Last season the Habs simply did not have the talent on the blue line to limit scoring chances. At the other end of the ice, the team couldn't score often enough to compete most nights. Despite Antti Niemi's career-saving performance, many recognize his opportunity came on the back of the worst season of Carey Price's career.
Fans can't help but notice that despite the challenges in Montreal, former Canadiens tend to go on to succeed on other teams. Don't believe me? Here are five former Habs who are making an impact so far in the first round of the 2018 NHL Playoffs.
1. Joe Morrow (D), Winnipeg Jets
When defenseman Joe Morrow scored against the Minnesota Wild with 6:13 left in the third period, he secured the Winnipeg Jet's first playoff victory in franchise history. Morrow was acquired at the trade deadline this year from the Canadiens in exchange for a fourth-round draft pick. His goal this week was the biggest of his career. It was perhaps more than that.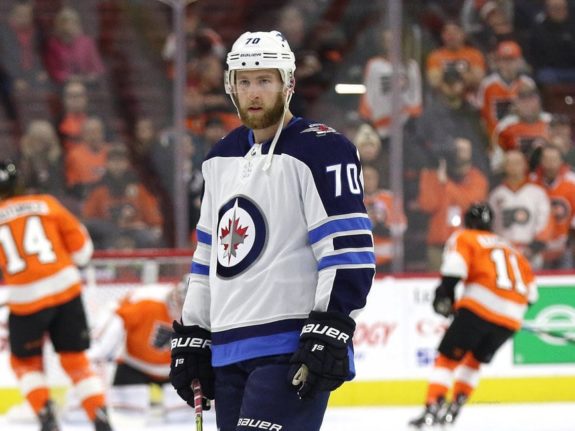 Morrow explained it this way:
I've had a major roller-coaster of an NHL career so far. To have a little, I don't even know if you want to call it a Cinderella story of a night tonight, it makes you feel good. It makes all of the bad times and all of the times you've battled so hard to try and get an opportunity, it makes them go away. It washes them away and you get to enjoy it in front of a crowd like this and a city like this.
Morrow was just one of many part-time defensemen who couldn't crack the Canadiens roster this year. I'm sure he's ok with that now.
2. Devante Smith-Pelly (RW), Washington Capitals
Smith-Pelly was a second-round selection by the Anaheim Ducks in the 2010 draft. The 25-year-old has been a durable addition for Washington and played in a career-high 75 games during the regular season. He was a Montreal Canadien back in 2015 before being traded to the New Jersey Devils. That season he scored a combined career-high of 14 goals in 64 games. The next year he was bought out by the Devils after scoring just four goals and contributing five assists in 53 games. The Capitals are his fourth team since he joined the league in 2011.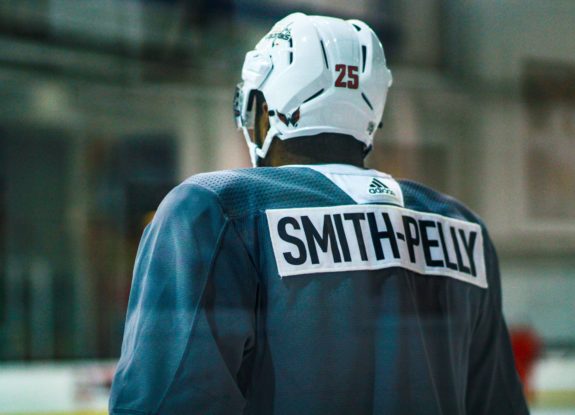 Four years ago, Devante Smith-Pelly was described as a "playoff revelation"  after he scored five goals in 12 games during his postseason debut with the Anaheim Ducks. This week, Smith-Pelly scored a huge third-period goal in Game 1 against the Columbus Blue Jackets. While the goal gave the Capitals a 3-2 lead, the Jackets kept pressing. They first tied the game and went on to win it in overtime. Nevertheless, Smith-Pelly has earned his keep so far these playoffs.
3. Mikhail Sergachev (D) Tampa Bay Lightning
Playing an average of 15 minutes a night, rookie defenseman Mikhail Sergachev scored nine goals and contributed 31 assists this season. Once a blue-chip prospect for the Canadiens, Sergachev was drafted ninth overall in the 2017 draft. He scored 10 goals and 43 points for the Windsor Spitfires in 50 games and helped the team to win the Memorial Cup. In the short term, there is no question who won last summer's trade between Montreal and Tampa Bay.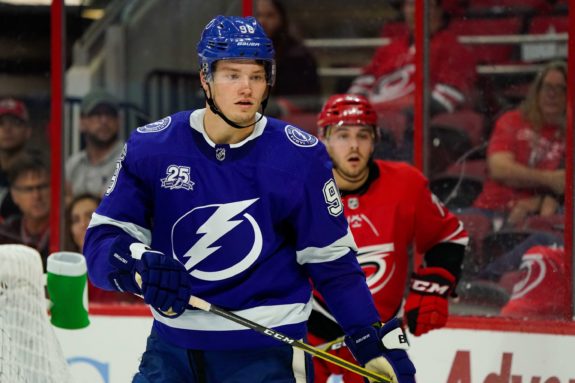 Last June, the Canadiens traded top defensive prospect Mikhail Sergachev for Jonathan Drouin. While the underperforming Drouin may still improve, Sergachev has looked very, very good this season. So far in this year's playoffs, he picked up an assist on Yanni Gourde's second-period goal against the New Jersey Devils in Game 1. More offensive contributions are expected.
4. Lars Eller (C), Washington Capitals
Lars Eller played six seasons and 442 games for the Canadiens, amassing 156 points. Traded during the 2015-16 season, the 27-year-old center was sent to the Capitals in exchange for Washington's 2017 and 2018 second-round picks. It is strange to think that a team so bereft of depth at center would trade away someone so young, and with so much potential. Marc Bergevin did.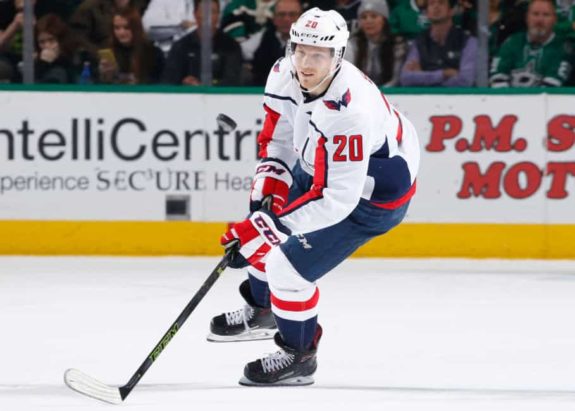 This year, Eller centers the Caps third line, and despite his relative lack of ice time, he had a career year with 18 goals and 20 assists over 81 games. His contributions are highly valued in Washington, so much so that in February the Washington Capitals re-signed Eller to a five-year, $17.5 million contract extension. Eller tends to play more of a shutdown role and while he has no points so far in this young postseason, he remains an essential player for the Caps.
5. P.K. Subban (D), Nashville Predators
No list of former Habs is complete without P.K. Subban. He was traded on June 29, 2016, to the Nashville Predators in exchange for Shea Weber. No, most fans aren't over it. In Montreal, it is the wound that will not heal. It doesn't help that since the trade Subban has 26 goals, more than 100 points, and was an important part of a Stanley Cup contending team. Over the same time period, Shea Weber has fewer than 60 points. Of course, Weber played injured for the first few months of the season and hasn't suited up for the Canadiens since Dec. 16. Fans hope Weber's foot injury heals fully before next season. Meantime, many are watching Subban and the Preds.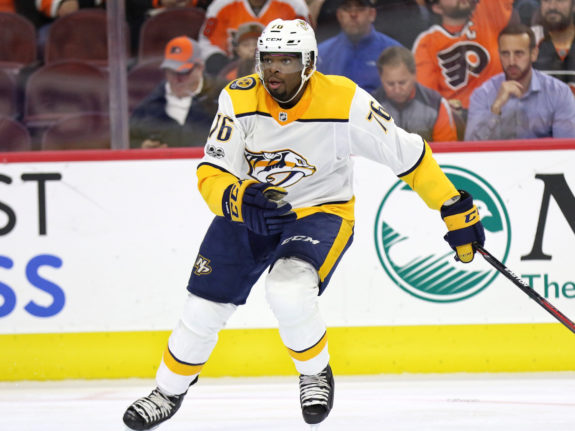 Despite his offensive acumen, last year Subban was asked to play a shutdown role in the playoffs. He was matched against the likes of Jonathan Toews, Vladimir Tarasenko, and Ryan Getzlaf. Subban and his partner Mattias Ekholm limited those offensive threats to just three goals over 16 games. No small feat. Moreover,  Subban was on the ice for only six goals against at even strength throughout the Preds Cinderella run to the Stanley Cup Finals.
This year the Predators are facing more pressure as they enter the postseason having won the Presidents' Trophy. Is Subban up to the pressure? All signs point to yes. For Andrew Berkshire, the playoffs are where Subban thrives.
It's high time that Subban gets some of the respect he deserves as not only an offensive defenceman, but an all-around powerhouse at the position. The data has been saying he's among the top-three defenders in the world for the past six or seven years. Perception needs to catch up with that reality.
Ya, but character…I mean attitude… I mean….sigh.
More Former Habs and Looking Forward
Of course, there are other former Canadiens still playing hockey this postseason. Stu Cowan provided a useful list last week.
Some former #Habs you can watch in #NHL playoffs: P.K. Subban & Alexei Emelin (Predators), Lars Eller (Capitals), Mikhail Sergachev (Lightning), Torrey Mitchell (Kings), Sven Andrighetto & Mark Barberio (Avalanche), Tomas Plekanec & Ron Hainsey (Maple Leafs). #HabsIO #GoHabsGo

— Stu Cowan (@StuCowan1) April 8, 2018
Let's hope some version of the current Canadiens roster gets to see the postseason next year. In the meantime, the Montreal mystique lives on in the players who once donned the bleu, blanc, et rouge. That's what Habs fans like me keep telling ourselves, anyway.