The Calgary Flames are one of the surprises of the 2014-15 NHL season and a main reason for their contention for a playoff spot has been defense and goaltending. One half of their goaltending duo, Karri Ramo suffered a hard luck 1-0 loss (28 saves) at Madison Square Garden on February 24 before rebounding to snap the New Jersey Devils four-game win streak with a 3-1 win (26 saves) the very next night. The win momentarily elevated the Flames into the last playoff spot in the Western Conference.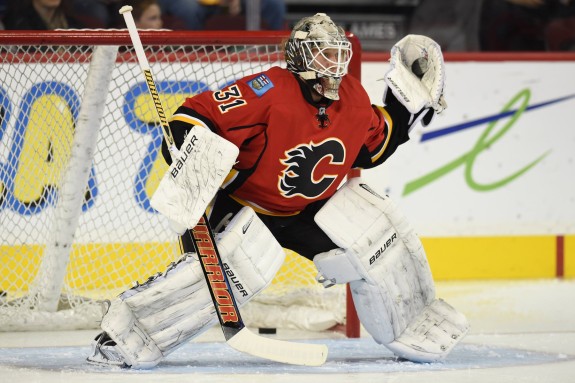 Ramo has been one half of a dynamic goaltending duo this season in Calgary and after the win in New Jersey The Hockey Writers caught up with the 28-year-old Finnish netminder to talk about the surprising Flames, his early NHL days and West travel vs. East travel among other topics.
The Hockey Writers: How nice and different is it for your team to be playing road games (at NYR, at New Jersey, at NY Islanders, at Philadelphia aka all bus trips) that are in such close proximity to one another?
Karri Ramo: Yeah it's real nice for a change to just be bussing around 20 minutes or whatever it is from hotel to hotel and the rinks are nearby. It's nice to not have to fly every game; flying takes away a little bit from your (body's) recovery and from your sleep. Last night we were at our hotel before 11pm (after the game at MSG) — to wake up in your bed after a nine, ten-hour sleep is really nice; it's a little easier to get ready for the next game.
Karri Ramo makes a stellar save against the New York Rangers:
THW: You know a little something about that travel luxury of being in the East having played with the Tampa Bay Lightning organization, correct?
KR: Yeah we had a little bit of those kinds of trips. But when you are in the same time zone all the time, it's a lot easier than when you have to miss, even if it's one hour, some time; you feel it in your sleep time.
THW: What memories do you have from playing for Tampa?
KR: That's where I played my first game for my first team, so I pretty much remember everything from that time. I remember the old Meadowlands Arena here in New Jersey and I think my last year with Tampa was the first year this building opened. I never had the chance to play at the Meadowlands but I was backing up for the playoffs. (Coming to) all of these cities is really familiar for me.
Another highlight-reel save by Kari Ramo earlier this season in Nashville:
https://www.youtube.com/watch?v=uA_ent-X1lE
THW: You didn't get to start one of those playoff games?
KR: No, no; I didn't even have one regular season start and I was backing up in the playoffs. That was huge experience for me.
THW: You were backing up (Nikolai) Khabibulin at that time?
KR: No, it was after the lockout so Khabibulin had went to Chicago and Holmqvist was starting that year, Johan Holmqvist. Marc Denis was there too a couple of years. Maybe those were two years after the lockout?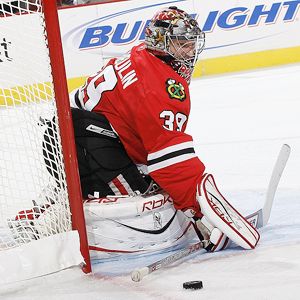 THW: Back in the present, you Calgary team has surprised a lot of people this season; what has been the secret to success for you guys?
KR: It's pretty simple — everybody has to pitch in every game. Everybody has to play tough, play hard and we have to be a hard team for other teams to play against. So far we've been doing a pretty good job of that.
THW: This season Jonas Hiller and yourself form a really nice partnership in the crease for the Flames; how has it been working alongside him?
KR: He's an excellent goalie partner; his background is in Europe, which is similar to me. That gives us a lot of things to talk about and he's a really good teammate too.
THW: How much does that help having a guy with a similar background to you?
KR: There are things to talk about because he has more experience than me and it's easier to talk to him because we both have European backgrounds. I learn a lot from him, but he's also just a good, stand-up guy.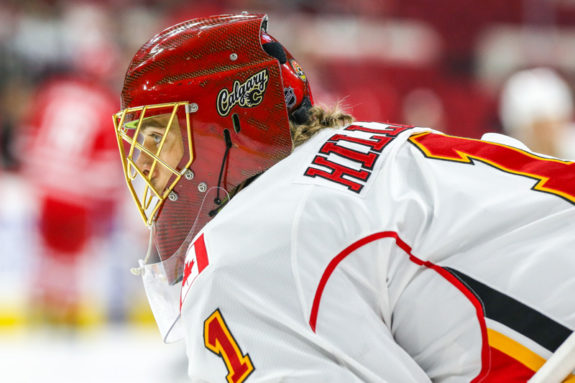 THW: You guys have about 20 games left and tonight's win has you in a playoff position; how excited are you as the season winds down about your team's chances?
KR: Well obviously it's really fun to play in great games when there is something on the line; it makes it pretty easy for everybody to get fired up to play these games. Right now we are on one of our last long road trips, it's really good for team building. The trade deadline is so close too; we don't know what will happen. But whoever is here this is a huge stretch for us right now, we just have to enjoy it.
Dan Rice can be reached via Twitter: @DRdiabloTHW or via Email: drdiablo321@yahoo.com