With a 6'3", 213 lb. frame, 24-year-old defenseman Luke Witkowski fits exactly the requirements that the Tampa Bay Lightning have been building their team the past few seasons — big and tough to play against. Last season, his first as a pro, he led the Syracuse Crunch in penalty minutes (204) which was also the most among AHL rookies. He's also been very durable for a guy that plays a rugged game: in two of his four college seasons he appeared in every game and last season with the Crunch saw action in all 76 of their matches.
This season the former sixth round pick and Holland, Michigan native played in his first ten NHL games with the Lightning (January 20-February 16), averaging 14:44 in ice time with an even rating and seven penalty minutes. Recently The Hockey Writers spoke with Luke Witkowski about his NHL debut, the progression of his game as well as being a Michigan kid and having Red Wings' great Stevie Y as your GM.
The Hockey Writers: As a kid from Michigan it must have been pretty cool to play four years in college for Western Michigan University, right?
Luke Witkowski: I grew up an hour away from Western Michigan; I think the first game I went to I was nine-years-old. To be so close to home, and to have so many friends and family at every game was just awesome. I think (the state of) Michigan has seven college hockey teams in it, so my parents got to come to a lot of games.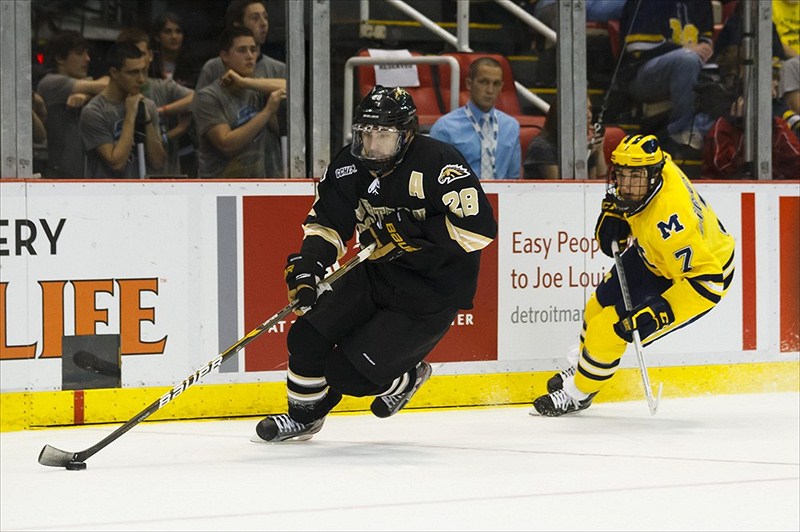 THW: Who was your favorite player growing up? Was it a Red Wings player?
LW: I always looked up to Nicklas Lidstrom; the calmness in his game, the way he played, how long he played in the NHL; and all for the same team
THW: A former Detroit great Steve Yzerman is currently the GM of Tampa, as a kid from Michigan how cool is that for you?
LW: The first time you meet him you're like 'wow, that's the captain of the Red Wings'; the first time I met him he knew me personally: first name, last name. You realize how humble he is, you see why he was who he was and for so long.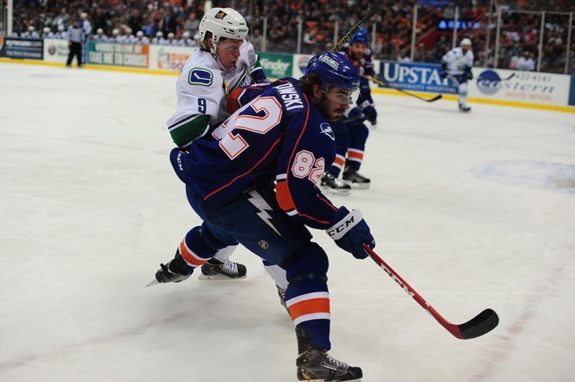 THW: You were drafted by the Tampa Bay Lightning in Round 6 of the 2008 NHL Draft, what are your memories of that day?
LW: I was actually at my grandparent's 50th wedding anniversary, so I wasn't at the draft but I was with all of my family. I got a call from my agent at the time and he told me that I had been drafted by Tampa Bay. It was pretty awesome to be with all of my family and have them all share that moment with me; looking back it was a great day.
THW: This is your second full season with the Syracuse Crunch, how do you feel your game is progressing?
LW: I feel like I've progressed every year, not even just pro. I'm calmer in the D-zone, making the quick play and not trying to do too much, it's all coming along well.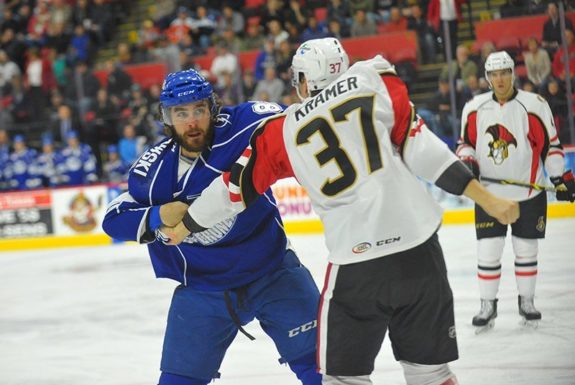 THW: You played ten games earlier this season with Tampa, what was the message the staff gave you when they sent you back to Syracuse?
LW: They had real good things to say and that I need to work on my rush work (3-on-2's, etc.). Overall it was real positive and I think a step in the right direction.
A good spirited first NHL fight for Luke Witkowski; love the show of respect at the end too:
THW: We see that you have seven penalty minutes during your NHL stint; that means you fought someone. Who was it and how did it go?
LW: It was against Anaheim, we were in Tampa; it was against Pat Maroon, who actually used to play in Syracuse. It was a good first fight I guess.
We've peaked as a species. http://t.co/Q7mObwTVY8 pic.twitter.com/01JgEwUbzT

— Yahoo Sports NHL (@YahooSportsNHL) March 12, 2015
THW: You're an outdoorsman, your fans that follow you on social media know that; have you seen what someone did with taxidermy squirrels involving the AHL?
LW: (laughs after seeing picture) I don't know that I would ever do that, but that is very creative.
You can follow Luke Witkowski on Twitter: @L28witko
Thanks again to our buddy Kristen Denick (Sponsorship Services Intern for the Syracuse Crunch) for helping to put this together for THW.
Dan Rice can be reached via Twitter: @DRdiabloTHW or via Email: drdiablo321@yahoo.com
Dan Rice is in his 9th year of reporting for THW & has covered NJ Devils home games for 15+ years at various websites. He began his journey working for legendary broadcaster/writer Stan Fischler from 2002-04 & completed an internship at the ECHL; he also has been writing features for the NWHL (nwhl.zone) website since 2016.