What you are about to read may shock you. Let's call it "priceless." Matt Duchene of the Colorado Avalanche can attempt to keep a straight face when giving an interview despite the chaos which surrounds him. After all, he is a professional, right? Sure, good luck with that in your dressing room, Matt. We've all heard of those silly locker room antics, but when members of your own team's equipment staff are amazed by the on-goings, then you know it's special.
Duchene tried so hard to maintain his composure when The Hockey Writers met up with him after the morning skate on February 8, 2014 when the Avs faced the New York Islanders (the day before the 2014 Olympics began in Sochi). For these kids, it was like the last day of school before Spring Break and everyone was giddy. The 23-year-old Duchene regrouped after some distractions to answer questions about himself, as well as what it's like to play for the most tight-knit and free-spirited team in the National Hockey League.
The Avalanche Spirit: As High As The Rockies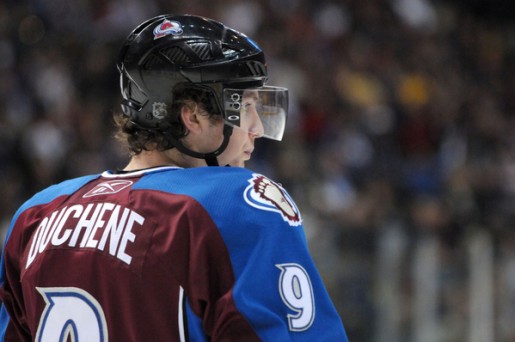 Matt Duchene was one of four Avs to go to the Olympics and the Canadian returned with a Gold Medal in tow. The third overall pick in the 2009 NHL Entry Draft and the Av's regular season's leading scorer, he started the season off well, but went through a slump in January, only scoring one goal for the whole month. Then, an injury sidelined Duchene, preventing him from playing the first five games of the post-season against the Minnesota Wild. We don't really know what could have been for the team from the Mile-High City had Duchene been healthy from the beginning of the playoffs.
What we DO know is that the Colorado Avalanche is a youthful, fun-loving team, with lots of energy and excitement. Since Jack Adams Award nominee, Patrick Roy, emerged onto the scene, the mood has been positive and lively. No doubt that he made the boys work hard if he took the team from worst place, at the end of the '12-'13 season, to best place, at the beginning of the '13-'14 season. This team is like a close-knit family or a group of college fraternity brothers. Naturally, with any fraternity gathering comes a whole host of tomfoolery.
First, came the monkey-like howls on the ice when someone scored during a morning skate drill. Then, came the dressing room concert, which echoed through the hallways of the Nassau Coliseum. There are details—some of which you will read, below—but other elements cannot be put into print. Just know that this team has some of the funniest, most amusing, and most hard-working bunch of kids in the NHL. Note: this will be an unconventional Q & A format, including commentary from The Hockey Writers—in order to give you a play-by-play analysis of what is happening in the background—during the interview. FYI, this interview took place prior to the release of the boys' lip-synced video to Imagine Dragons' song, "Radioactive."
The Conversation
The Hockey Writers: What's it like for you, being compared to the likes of Patrick Kane, Sam Gagner, and Steven Stamkos?
Matt Duchene: Oh, those are good ones! I don't think I score nearly as well as Stamkos, but Kane and I have some similarities in our puck possession. [Kane] is one of my favorite players to watch in the league. I have a long way to go before I'm at his level, but those are nice comparisons.
During the interview, suddenly, a chorus of Biz Markie's 1989 hip hop song, "Just A Friend," breaks out in the showers: "You, you got what I need, but you say he's just a friend, And you say he's just a friend, oh baby…You, got what I need, but you say he's just a friend, But you say he's just a friend, oh baby…You…" The peanut gallery—a.k.a. the rest of the boys still in the dressing room—start giggling. Duchene preserves his focus, as neither he nor we have noticed the singing. Luckily, our recording devise has picked up the vocals. The best part: the song came out before any of these guys were born.
THW: You have said that you model your game after Sidney Crosby. Talk about how you do so.
MD: I try to bring speed to the neutral zone, play hard down low on the puck, take pucks to the net, and be a good passer.
THW: Coach Roy says that he lives his life full of passion, on and off the ice. What do you see in him that proves his passion?
MD: He just loves the game; you can tell by the way he talks about [hockey] and the way he teaches us.  He's a great guy, and to watch what he does [is great].  He's such a winner and I'm always taking things in when I'm around him.  
THW: (Trying to project our voices, since the shower concert keeps getting louder) How have Patrick Roy and Joe Sakic brought renewed exuberance to the team? Are there more team dinners at Coach's Roy's house, is there more joking around, etc.?
MD: Haaaahahaha!  It's a more relaxed atmosphere and more of a winning atmosphere, too.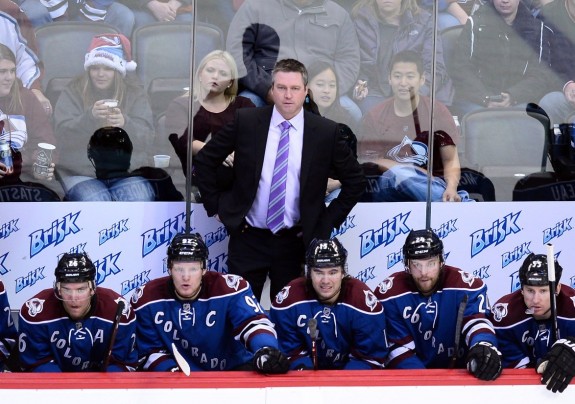 In the process of asking my next question, the concert in the shower goes into full swing, and the belting choristers have moved on to "Ain't No Mountain High Enough" by Marvin Gaye and Tammi Terrell from 1967. "'Cause baby, There ain't no mountain high enough!! Ain't no valley low enough!! Ain't no river wide enough!! To keep me from getting to yoooou!!!!"
MD: Haaaahaha…hahahaha, (still trying to finish answering the previous question about how Roy and Sakic have brought renewed exuberance to the team, but simply cannot keep from laughing) it's…it's been a great year for our team, on and off the ice.
THW: Haha, this is pretty fantastic!
MD: This doesn't happen all the time!
THW: (Holding the microphone an inch away from our faces due to the hyena-like cackles arising from the surrounding peanut gallery, which was responding to the cacophony coming from the showers)  Although you have struggled in scoring goals during the past few weeks, you are tallying more assists. What's the solution for you to score your 100th goal?
MD: Haha, just keep shooting, I guess! This is the biggest slump I've ever been in, in my life, goal-scoring-wise. I'm shooting the puck more, getting better shots than I ever have. It's just a weird scenario and the coaches are happy with me. I'm doing a lot of good things that are resulting in goals, maybe not off of my stick, but other people's sticks. I know it's gonna come; it's only a matter of time. I just have to stay positive and keep doing what I'm doing. It's very frustrating and something I've never been through, to this extent, but it happens through everybody's career.
That evening, during the 2/8/2014 Avalanche @ Islanders game, Matt Duchene did score his 100th goal. You're welcome, Matt! By now, the vocalists have advanced to the "boy bands" genre, starting with Backstreet Boys' song, "Everybody (Backstreet's Back)" from 1997. One Avalanche player in the shower took the solo, just like a Backstreet Boy, and the rest took the chorus.
Solo:                Everybody

Chorus:          Yeaaaaah!

Solo:                Rock your body

Chorus:          Yeaaaaah!

Solo:                Everybody

Chorus:          Yeaaaaah!

Solo:                Rock your body right

Chorus:          Backstreet's Back, ALRIGHT!
They weren't half bad.
THW: Having been in the same Draft class as John Tavares, do you have any funny stories, gossip, or any stories of pranks you pulled on him, which you can share with us?
MD: (Chuckling) Oh, no, nothing like that. We roomed together for the [2009 NHL Draft] Combine and for the [2009 NHL] Draft. We've become good friends, of course we're going to play here tonight (the Avalanche played the Islanders on 2/8/2014), and we'll be teammates after tonight [in the Olympics for Team Canada]. We train together a bit and we're always competing against each other. We have great chemistry together on the ice, too, so if we end up [together] on a line in Sochi, I know we'll be pretty successful. He's a cool guy to compete against and we push each other in the summer when we skate together.
To round out the morning, the boy band in the showers bid us farewell with their rendition of *N Sync's "Bye, Bye, Bye" from 2000. "Don't really wanna make it tough, I just wanna tell you that I had enough. It might sound crazy, But it ain't no lie, Baby, bye, bye, bye!" As we walked towards the exit of the dressing room, 18-year-old Nathan MacKinnon just giggled like a school boy. Outside of the dressing room, the equipment manager looked up in disbelief and said, "Were those the boys, singing in there?!"
Playfulness + Passion = Poised for Perfection
Now you have an inside look—rather, sound—of a team full of tough hockey players under the tutelage of Roy and Sakic. The Avalanche players are incredibly laidback and can make fun of themselves, but they also know when play time is over. When it's game time, they form an exceptionally skilled hockey team, mature beyond their years.
We saw Matt Duchene battle through a scoring drought, which was one of the toughest times of his career. Then the Avalanche feuded with the Wild in a hardy round one Stanley Cup Playoff campaign which went the distance, only to lose in overtime of the seventh game. Yet, despite these rocky times, the boys are resilient and found a way to resuscitate their passion for hockey and their morale. During the off season and entering next season, the team camaraderie will be important. However, as long as Patrick Roy remains coach, the very essence of team spirit shall keep the Avs thriving for years to come.