Defenseman Peter Harrold has been in the NHL for 8 seasons now that the 2013-14 season is over, and he still has yet to play a full 82-games. Whether it's been injuries, finding himself on a roster as the odd-man out or in the AHL, he hasn't been able to find that consistency to stay in an NHL lineup. The closest he came to having solidified a roster spot was playing 69 games for the Los Angeles Kings in 2008-09 and then playing in 17 of the New Jersey Devils 26 playoff games in 2012; he only played 11 regular season games that season.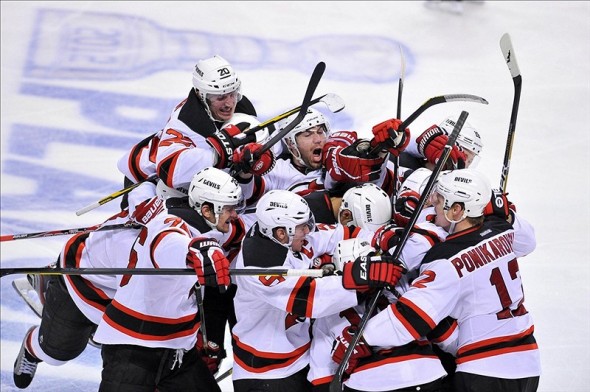 Harrold played four seasons at Boston College (2002-06) where as captain of the team in 2006 the school made their 19th Frozen Four appearance. Despite a career-high in points that season (30) he was undrafted and signed with the Kings on April 12, 2006.
At the end of the 2013-24 season the Hockey Writers spoke with Peter Harrold (who is married to the daughter of former NFL player Dwight Clark of the San Francisco 49ers) about playing in the NHL on the same team with some college teammates, what it was like to play in the Finals against his former team and what he needs to work on this summer.
The Hockey Writers: You only played in 33 of 82 games this season due to injury and lineup decisions, how do you feel you played when you did?
Peter Harrold: Pretty well; I think my offensive production wasn't where I wanted it to be. But I think when called upon I stepped in and played pretty well.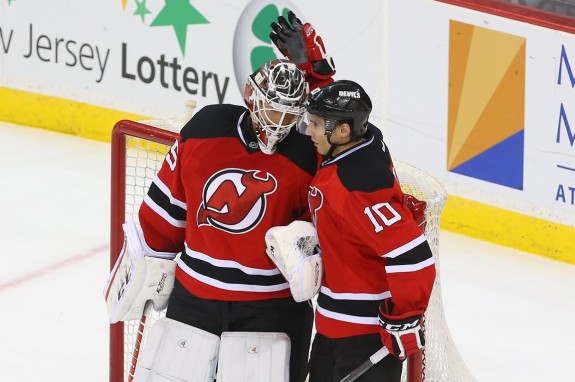 THW: A couple of your teammates here in New Jersey were also teammates in college right?
PH: Yup, I played with Schneids (Cory Schneider) for two years, I think; and I played with Gio (Stephen Gionta) for all four.
THW: What was it like then, and how cool is it or how fortunate do you feel to all be on the same team again?
PH: I think we all know we are pretty fortunate; it's relatively rare. Gio was my roommate during junior and senior year at Boston College. It's pretty special to be able to share moments with those guys; especially going to the Finals with Gio in 2012. It's really nice.
Peter Harrold assists on Stephen Gionta's goal in Game 7 vs Florida in 2012:
THW: What was it like to play in the Stanley Cup Finals against a team that didn't want you or your services anymore?
PH: It was a little odd playing against guys that you came up in the league with. I still have friends there, but obviously once those games start, there's only one goal and my only friends are my teammates. Kind of like the friendships were off for a week and a half or two weeks though.
THW: When Cory was traded here last summer, did you call him or did he call you first?
PH: I called him actually right after I saw what happened while watching the draft; I was pumped for him. I mean, it looks like he's going to get an opportunity to play here, he's a great goalie and a good guy; I was excited for him.
THW: Are there things you want to work on in your game this summer before coming back for training camp in September?
PH: Yeah I think you can always improve in a lot of areas. I think offensively I have to work on getting more shots on net and I think that's probably the biggest area for me (to work on) right now.
Peter Harrold hits the post with the shot…maybe he's right and needs to work on it:
THW: What's the strangest thing someone has asked you to sign?
PH: Asked me to sign? (laughs) I think their skin, with a permanent marker, is pretty odd.
Dan Rice can be reached via Twitter: @DRdiabloTHW or via Email: drdiablo321@yahoo.com