With the news of Alexander Ovechkin's leg injury, at the IIHF World Championship, it makes you wonder when NHL Owners and General Managers will finally wise up and forbid their players from playing in these tournaments. Not only are they doing nothing for the teams that pay them, it's hurting those organizations when they suffer season ending injuries while representing their countries.
Ovechkin's injury isn't the first time a face of an NHL franchise has gotten banged up during this tournament. Eric Staal, of the Carolina Hurricanes, suffered a third degree MCL sprain while playing in this tournament last season. The injury put his availability for the start of the 2013-14 season in jeopardy. For a short time, before the MRI, it sent a shockwave of doubt that Staal could have been lost for a big part of the season; if it was a torn ligament.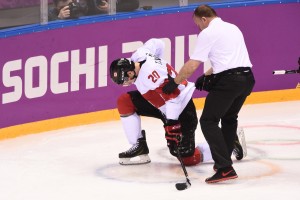 If Ovechkin did tear a ligament in his knee, it wouldn't be the first time in 2014 that a team has lost it's captain due to an international tournament. During the Sochi Olympics, the New York Islanders saw their captain, John Tavares, fall to a season ending MCL and meniscus tear in his left knee. Islanders general manager Garth Snow spoke out afterwards on his disappointment of having his star player in the Olympic Tournament saying:
"Are the (International Ice Hockey Federation) or (International Olympic Committee) going to reimburse our season-ticket holders now?" Snow told Newsday. It's a joke. They want all the benefits from NHL players in the Olympics and don't want to pay when our best player gets hurt. It wouldn't matter if we were 10 points up on a playoff spot or 10 points out. We lost our best player and he wasn't playing for us." (H/T NY Daily News)
Snow is right. Those people have already spent thousands of dollars on the team didn't get to see their star player for the rest of the season, after being injured in a non-Islanders game. It cheats their fans out of money they've already spent to see their best player. It's not Tavares' fault he tore his knee. But, it is the fault of the the league and organization for allowing him to play in this tournament.
Hopefully, when the 2018 Winter Olympics come around the NHL doesn't elect to participate. Before the '14 games the NHL deputy commissioner Bill Daly said the league isn't commited to the next winter games saying: "It was a big challenge coming to Sochi and it certainly would be a big challenge if we were to go to South Korea. Player insurance is always a factor with the magnitude and length of player contracts these days, an incredible number of assets at risk. So we haven't really given any serious consideration to South Korea at all." (H/T TSN.CA)
From Staal, to Tavares and now Ovechkin, the NHL needs to smarten up and keep their players from these tournaments. They're not doing anything for the league, and its owners. Plus, they're robbing their fans from seeing the players they pay to see at the games and on television.
Follow me on Twitter by clicking here:@tjmcaloon
Give the podcast a subscribe by clicking this link: T.J. McAloon on iTunes