In November, Arizona State University announced its highly successful club hockey team would join the NCAA by 2017. The move is a gradual one, with the team finishing its current season in the ACHA before introducing a hybrid schedule the following season.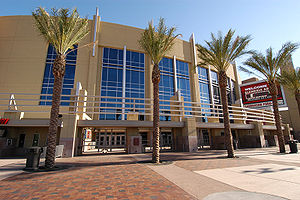 ASU's announcement raised the possibility of NCAA expansion to additional non-traditional market schools. There's also potential for the creation of a Pac-12 hockey conference. Such a move is partly contingent on the success of ASU's program, which will face a unique set of challenges. But Head Coach Greg Powers believes that ASU hockey already has something special, and he looks forward to what the future holds. The team's existing success and subsequent outpouring of support–especially following the announcement–have validated these beliefs.
Coach Powers was kind enough to share his thoughts on the matter, from ASU's impact on non-traditional markets to the team's biggest challenge in transitioning from club to D1 hockey. The interview can be found below.
The Hockey Writers: Gretzky joined the Kings in '88 and played a huge role in growing hockey's popularity in the Sun Belt. Do you foresee ASU having a similar impact at the college level, especially among Pac-12 schools?
Coach Powers: While nobody should or could compare impact on the game to Wayne Gretzky, we absolutely hope to have a huge impact on the growth of the game out West.  I believe we will too.
THW: The Sun Devils have long been an ACHA powerhouse. Was the idea of going D1 brought up frequently, even before the donation was finalized?
CP: For about two years now, a week didn't go by where someone didn't ask me about it, I think a lot of people have wanted this for quite a while now.
THW: There are more quality college players than ever, and ASU offers a very unique college hockey experience. Do you anticipate this will draw more recruits from "traditional" markets in the Northeast?
CP: I do, yes.  We offer THE most unique experience for college hockey players and fully intend on taking advantage of that.
THW: What will be the players' biggest challenge in moving from club to D1 hockey?
CP: Speed, Size..you name it.  It is a completely different game but I am confident we have a good number of guys who will adapt well and help us be competitive quickly.
THW: Are you pleased with the general response to the program's elevation to D1?
CP: Very, we have had so much positive buzz from media, the community, other programs, and most importantly players interested in becoming Sun Devils.  It has been incredible.
THW: There's been much discussion about the Coyotes' future in Arizona. How much of an impact will ASU's move to Division 1 have on the team?
CP: I hope only positive impact.  I believe there is plenty of room here for the NHL and NCAA Hockey.  We owe the rapid growth of the game in AZ. to the Coyotes so I sincerely hope we can successfully co-exist.
Margaret covers the Washington Capitals for The Hockey Writers. She previously wrote for FanSided and has contributed to IAAM high school sports coverage. Contact her via Twitter or email at margaretstuart16@gmail.com.