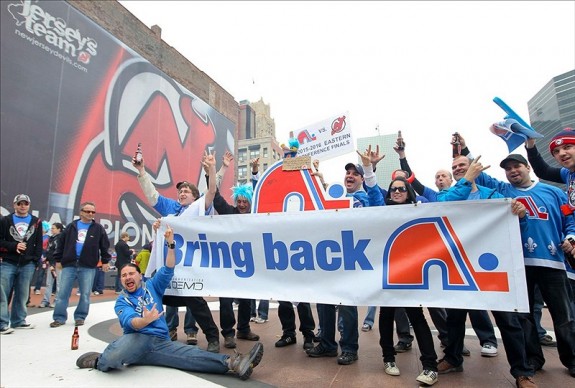 There is no way to sugarcoat this — Quebec City does not deserve an NHL team.
Not after its lack of support for the ongoing Memorial Cup.
A sparse, make that shameful crowd of 6,533 showed up to watch the host Quebec Remparts battle their arch-rival Rimouski Oceanic in a tiebreaker elimination game on Thursday. That should have been the hottest ticket in town since the Nordiques left. The Colisée Pepsi — with a capacity of 15,176 — should have been packed to the rafters, cramming in people like sardines for the third-to-last game ever played at the former home of NHL hockey. Heck, a high-stakes contest like that should have been a scalper's paradise, with the entire province willing to pay double to witness it. We're talking standing room only.
Instead, crickets could be heard from the bowels of the old building, which will give way to the shiny new 18,482-seat Videotron Centre following Sunday's championship game between the OHL's Oshawa Generals and either the WHL's Kelowna Rockets or the Remparts, who lived to see another day by beating Rimouski 5-2 to reach today's semifinal.
#MemorialCup has been great, but can't help but be disappointed in the attendance. Not much of a case for an NHL club in Quebec.

— All the cool kids have muted me (@cn_mills) May 27, 2015
For what is supposedly a passionate fan base clamouring for a return of NHL hockey — especially since Winnipeg got its beloved Jets back — the people of Quebec City aren't making a very strong case right now. Not for a population nearing 800,000. This was their opportunity to make their presence felt — literally — by selling out the Memorial Cup, which is a national championship tournament and the second-biggest showcase for this level behind only the world juniors.
This event may not have Connor McDavid, the consensus top prospect for next month's NHL draft, but it's not lacking in star power with two of the top-five picks from last year's draft — Kelowna's Leon Draisaitl, selected third overall by the Edmonton Oilers, and Oshawa's Michael Dal Colle, taken fifth by the New York Islanders — plus a half-dozen players who helped Canada capture world-junior gold in January, including Quebec's Zach Fucale and Anthony Duclair, Kelowna's Josh Morrissey and Madison Bowey, and Rimouski's Frederik Gauthier and Sam Morin. The list of future NHLers goes on and on.
Numbers don't lie
Yet, total attendance is below 60,000 after 7 of 9 games when it could be above 100,000 by this point. Six figures would certainly have sent a message to NHL commissioner Gary Bettman, that Quebec City was serious about supporting — and sustaining — the sport again.
Closer look, Quebec arena is maybe a quarter full. To see the local team in the Memorial Cup. Upper levels are closed off.

— Ross Elliott (@rossdelliott) May 29, 2015
LIES! WE WERE TOLD ALL HOCKEY RELATED EVENTS IN QUÉBEC CITY ARE AND WOULD BE SOLD OUT FOREVER. https://t.co/2xCLnB33NH

— Ben Shroyer (@BenShroyer) May 29, 2015
These numbers aren't going to get Bettman's attention. The average attendance has been 8,524 with a high of 10,970 for last Sunday's round-robin game between the Remparts and Oshawa, which the Generals won 5-4 in overtime. The only other five-figure attendance (10,277) was for Wednesday's round-robin finale between Quebec and Rimouski, which the Oceanic won 4-0 after previously defeating the Remparts in double overtime of Game 7 to win the QMJHL championship earlier this month.
Inexplicably, almost half those people forgot to return for Thursday's rematch, a do-or-die for their hometown team. Shockingly, it was the worst turnout of the tournament thus far. Sure, it was the 9th meeting between those two teams in the last 24 days and the 17th of the season — not to mention 3 of the 7 games required overtime in their league final — but that makes all the more reason to attend, does it not?
Poor excuses
Fans couldn't possibly have lost interest in that type of rivalry? No way they were sick of it? Is anybody tired of watching the Rangers-Lightning or Ducks-Hawks series? Who wants to see a Game 7 of that same old song and dance? It's getting old, right? Wrong!
The Remparts had lost six in a row at home to the Oceanic, so perhaps the locals were throwing in the towel? It was poor form, whatever the reasoning. Had Rimouski prevailed, Quebec's season was over and the Remparts would never again play in le Colisée. And they certainly won't be playing any bigger games at Videotron Centre next season, where the Remparts will be the main tenant and occupy the 25,000 square foot home dressing room, a luxury not afforded to other junior teams. Of course, the hope is they would be keeping it warm for the Nordiques — via expansion or relocation — but that is probably a pipe-dream. Wishful thinking, in reality.
Facing the facts
Sadly, the local taxpayers are going to end up footing that $400-million bill, but then again, these are the same people choosing not to support this Memorial Cup. That makes it more difficult to feel sorry for them.
Forgetting about the round-robin portion, the residents of Quebec City had a chance to get behind their team — and the tournament in general — for the playoff round, with the ultimate goal of winning over Bettman. Rest assured, he's keeping tabs on their hosting ability, just as much as he is the season-ticket drive in Las Vegas or the blueprints for a state-of-the-art arena in Seattle.
Build it and they will come — or come back — was the thought process behind constructing the Videotron Centre. But the foundation still isn't there in Quebec City, not if this Memorial Cup is any indication.
Deserving? Not from the outside looking in.
Larry Fisher is a sports reporter for The Daily Courier in Kelowna, British Columbia, Canada. Follow him on Twitter: @LarryFisher_KDC.