It's time to address the elephant in the room, R. J. Umberger might be finished playing for the Philadelphia Flyers. The team is 8-1-1 in their last 10 games without one of their best forwards, Jake Voracek, and one of their best defensemen, Michael Del Zotto, and Umberger hasn't been in the lineup since February 20th, is it a coincidence?
If you're looking at stats, Umberger has one goal in the 2015-16 season and if you're looking for the goal he scored prior to that one, it was 13 calendar months ago. Prior to scoring February 11th in a win over the Buffalo Sabres, the last goal he scored was on January 27th 2015 in a win over the Arizona Coyotes.
In 38 games this season, Umberger has one goal, nine assists, is a plus+1 skater and has accumulated 15 penalty minutes.
Advanced stats have never been kind to Umberger, who's been a negative (sub-50 percentage Corsi For) player since the 2010-11 season. However, the 2015-2016 has been the worst year of his career, he has a Corsi For percentage of 45.4, but when you look at that relative to his teammates, he's a -7.3 percentage. His previous worst season, relative, was during his final year with the Columbus Blue Jackets in 2013-14 when he was a -6.6 percentage.
R. J. Umberger Finished in Philadelphia?
NHL deputy commissioner Bill Daley just estimated that the salary cap for the 2016-17 season is going to be around $74 million. This is good news for the Flyers who currently have $62.971 million already committed to 10 forwards, five defenders and two goaltenders. And yes, that figure does include the significant raises that both Voracek and Sean Couturier will receive next season.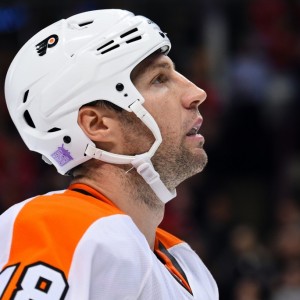 However, that does not deal with any of the Flyers five restricted and three unrestricted free agents. It's worth noting that forward Brayden Schenn is one of those restricted free agents who Philadelphia plans on re-signing long-term shortly after their season concludes, and he's in line for a big raise as well.
How does all of this effect the future of R. J. Umberger? Well at age 33, he spends most of his nights on Twitter up in the press box while counting for $4.6 million on the salary cap. It's clear that the Flyers are going with the youth movement playing young skaters like Scott Laughton, Nick Cousins and Jordan Weal over Umberger.
The sad truth is that Umberger doesn't fit with the Flyers new direction. They're a fast team now, who preaches puck possession and up-tempo play.
There's a growing sentiment among both Flyers media members and NHL pro scouts, from other teams, that Umberger has played his last game as a member of the Flyers. Can Umberger still be an effective NHL player for another team, I'm not sure, but it doesn't look like he will be getting any more opportunities with the Flyers.
His contract has a no-movement and a limited no-trade clause, 10 teams he will not accept a trade to, and at a hefty $4.6 million it will be hard to find trade partners without a large portion of his salary. At the end of the season both the retained salary of Vincent Lecavalier and Luke Schenn come off the Flyers books and they will be free to retain salary in trades again.
He now has more goals than R.J. Umberger and the same number of points as R.J. Umberger (10).

— Tim Riday (@TimRiday) March 6, 2016
This offseason I fully expect the Flyers to explore every option of moving Umberger, and if a trade isn't possible, I would not be surprised if the team bought out his contract. According to General Fanager, if the Flyers buy out Umberger's contract, they will carry a $1.6 million cap hit for the next two seasons which frees up another $3 million in cap space to improve their team.
And the Flyers might have another way of finding Umberger a new team. The NHL's long rumored expansion is finally beginning to move forward. While the rules about which players teams can and can't protect remain vague, he's a player that could be taken during an expansion draft.
The writing is on the wall, Umberger has played 333 games with the Flyers, but many expect that he's already played his final one with the team.
(Photo By Amy Irvin)