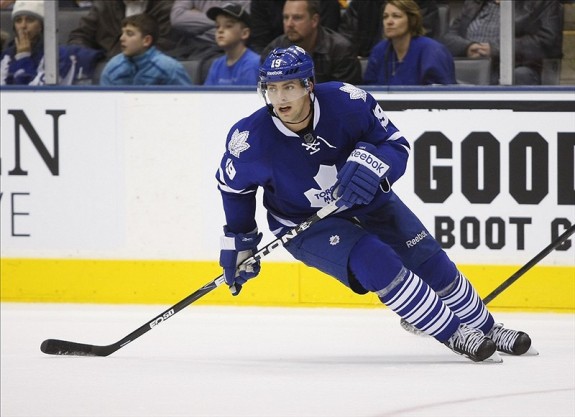 The 2011-2012 NHL season came with many ups and downs for fans of the Toronto Maple Leafs. Some moments and players provided an element of surprise, sometimes shock, while others were downright depressing and embarrassing for Leaf faithful.
With a shortened 2012-2013 campaign on the horizon, there are sure to be plenty of surprises in Leaf Land once again. Many of those surprises are likely to stem from the Leafs' roster, but some will actually be provided partly or entirely by the coaching staff. One can only wonder what head coach Randy Carlyle will be able to cook up in his first season behind the Leafs' bench.
Playoffs
We all remember the Leafs' tremendous run in late 2011, one that saw them surge to the top of the overall NHL standings. Although they are now playing under a different coach and in a new system, we know what the Leafs' forwards can do offensively.
Joffrey Lupul is capable of scoring at a point-per-game pace, Phil Kessel can top 35 goals in a season and Mikhail Grabovski makes a strong case for first line centre when playing well. Furthermore, Tyler Bozak provides a nice secondary option offensively while Nikolai Kulemin and Clarke MacArthur also have the ability to bust out on the forecheck. Now add James van Riemsdyk to the situation and this could be an offensively deadly team.
The Leafs will also receive some offence from the back-end by way of John-Michael Liles, Dion Phaneuf and Jake Gardiner. All three are also more than capable of holding down the fort defensively, especially the latter two.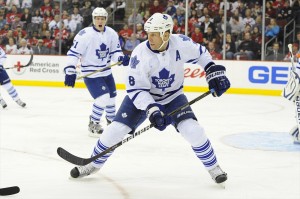 Unfortunately for the team, the Leafs' goaltending seems to having many doubting their chances at the playoffs. Whether James Reimer's struggles last season were a sophomore slump or injury related will be determined while playing this season without a veteran backup to help him along.
Paul Ranger
During the summer of 2010, Ranger made Tampa Bay Lightning general manager Steve Yzerman aware that he needed time away from hockey. It was and still is unclear why Ranger made the decision to walk away from the game but he signed a minor league deal with the Toronto Marlies in August, marking his return.
Ranger may have been a little rusty at the beginning of the AHL season but the time he has spent with the Leafs' farm team seems to have served him well:
"He just keeps getting better and better.  It's a great story for me. A guy who was off that long, to come back in day one of training camp and set the tone with his fitness level, to pick up his game this fast … it shows not only his hockey ability, but his mental fortitude." – Marlies coach Dallas Eakins
The 28-year-old is sure to get a good look at the Leafs' roster in training camp; it is currently unclear as to whether or not Mike Komisarek and Cody Franson─the latter has yet to re-sign with the club─will be back with the Leafs this season.
Ben Scrivens
The entire ordeal surrounding the Maple Leafs, Roberto Luongo and the Vancouver Canucks has seemingly blown out of proportion. The actual possibility of Luongo landing in Toronto still seems small given the asking price, Luongo's cap hit and the fact that Toronto isn't the veteran goalie's number one choice. This leaves the battle for the top spot between James Reimer and Ben Scrivens, both of whom have shown astounding potential.
Fans and media alike have all but anointed Reimer as the Leafs' number one goalie. He had a outstanding rookie season with 20 wins and a .921 save percentage in 37 games followed by an injury-riddled season in which he still managed three shutouts. Scrivens, on the other hand, has just 12 games of NHL experience, during which he posted four wins and a .902 save percentage.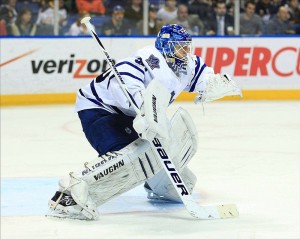 If you didn't already, maybe now you see why one would want Reimer in net. However, Scrivens may have somewhat of an upper hand.
Unlike Reimer, Scrivens has spent the entire 2012-2013 season playing competitive hockey in the AHL. Not only has he nailed down the top spot in net, Scrivens has also managed to succeed at a high level. A 14-7-1 record and a .917 AHL save percentage to go along with the fact that he is physically in shape could be enough to help Scrivens overtake Reimer in net. That won't be easy, though, so don't necessarily expect it to happen.
Keith Aucoin
Just one day after the NHL lockout came to an end, Leafs coach Randy Carlyle met reporters for the first time in months to talk about something that hadn't been mentioned for quite some time: actual hockey. During his press conference, Carlyle mentioned that only 30 players would be invited to training camp. He did not shed light on who the extras at camp would be, although you shouldn't be surprised to see Aucoin there.
That doesn't necessarily mean Aucoin would crack the Leafs' roster; he would have to out-duel the likes of Nazem Kadri, Matthew Lombardi, Matt Frattin, Mike Brown and Joe Colborne for a spot in the bottom-six.
With 37 points in 102 NHL regular season games, Aucoin has never been able to catch on in the big leagues. Not only has he failed to make a large impact offensively but his defensive talents haven't been enough to keep him around either. Now with the Maple Leafs, a team that didn't make a single playoff appearance between lockouts, Aucoin may have his best chance yet.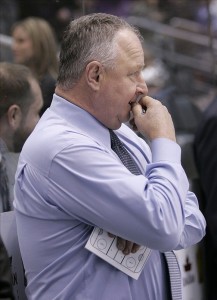 Aucoin ranks high in AHL scoring with 35 points in 33 games and will create a high level of competition among the bottom-six group if invited to Leafs camp. If he isn't, he remains a nice minor league option to be called up in the case of injury or if a different player fails to keep up in the NHL.
Honourable mentions
The fact that NHL training camps will be much smaller than they would be if we were entering a regularly scheduled season has been well documented. With that, there are few other potential surprises to arise straight out of training camp. However, that doesn't mean there won't be others.
Two less likely but possible surprises to not only appear on but also hold down a spot on the Leafs' roster this season are Mike Kostka and Mark Fraser. Both have put together solid campaigns for the Marlies thus far, potentially earning them a spot down the road if they continue to play well enough.
Kostka, an AHL journeyman defenceman, has been scoring at a point-per-game pace with the Marlies this season. Fraser, 26, has been up and down between the AHL and the NHL during his career but recently found a new home with the Marlies. With six points in 30 games, Fraser certainly isn't an offensive defenceman. He is, however, reliable enough on the back-end to get a look in the future.
Everything mentioned above are very real possibilities, whether they are players succeeding or an event happening. They aren't, however, very commonly thought of. Keep them in mind or they could most certainly come out to surprise you.
Twitter: @LukasHardonk | Email: lukas.hardonk@gmail.com | Lukas' archive
For every Leafs article on THW, follow @THW_MapleLeafs on Twitter.
Check out Maple Leafs Central, a THW Network site.