The New York Rangers avoided arbitration with their two remaining RFAs in Ryan Strome and Brendan Lemieux, finalizing the puzzle that was their 2021 roster. Awarding Strome's 59-point campaign with a two-year, $4.5 million contract ensured that the 27-year-old would remain the second-line center, while tough-guy Lemieux was brought back on a two-year, $1.5 million contract to remain New York's enforcer.
Strome took to Twitter to announce how happy he is to be returning to the Rangers, and no one can blame him as he gets to play alongside the NHL's best winger, Artemi Panarin, according to the NHL Network's rankings.
With all their free agents now under contract, it is time to look ahead to the 2021 season. Will we see any surprises in the Rangers' offense or will their lines remain relatively similar to 2019-20? Where will the players slot in on defense as this unit appears to have been downgraded slightly from last season?
Those questions will be answered by head coach David Quinn, but I will do my best to predict the future, putting together my ideal opening-night lineup.
The Four Lines We Could See Opening Night
Line 1: Chris Kreider (LW), Mika Zibanejad (C), Pavel Buchnevich (RW)
Better known as the KZB line, this trio thrived last season when all were healthy. Zibanejad tore up the league with 41 goals in 57 games, good for the highest goals-per-game average in the NHL at 0.72, despite missing time with an injury. Kreider (45 points) was on pace to finish with career marks in points and goals before a leg injury derailed the end to his season. Finally, Buchnevich flourished on the top line, ending the season with a career-high in points (46) and assists (30).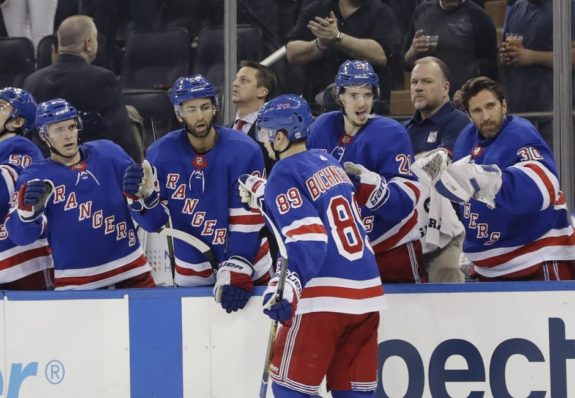 This group had phenomenal chemistry and proved they have the ability to impact the game on any given shift. They all have speed, size, and skill and benefit from their own attributes and their linemates' equally.
Line 2: Artemi Panarin (LW), Ryan Strome (C), Kaapo Kakko (RW)
The Rangers don't have a first and second line per se, but rather a 1A and 1B. Panarin and Strome developed incredible chemistry in 2019-20, racking up the points and shredding opposing defenses at 5v5. I expect Kakko to bumped up to the top-six, as his performance in the postseason was encouraging, and his talent is immense.
We saw what Panarin can do with a defensive-minded forward in Jesper Fast, so adding another offensive threat in Kakko to that line is a blueprint for increased production. If all goes well for the Rangers' top-six, we could be watching the emergence of the most dominant forward group in hockey.
Line 3: Alexis Lafreniere (LW), Filip Chytil (C), Julien Gauthier (RW)
Youth will run rampant on the third line, as Gauthier would be the elder statesman on this trio at just 23 years old. Chytil is 21 and Lafreniere 19, but this group of young guns has the ability to strike quickly. Gauthier brings the grit, Chytil brings the scoring touch, and Lafreniere will cap it off with his innate ability to do everything well in the offensive zone.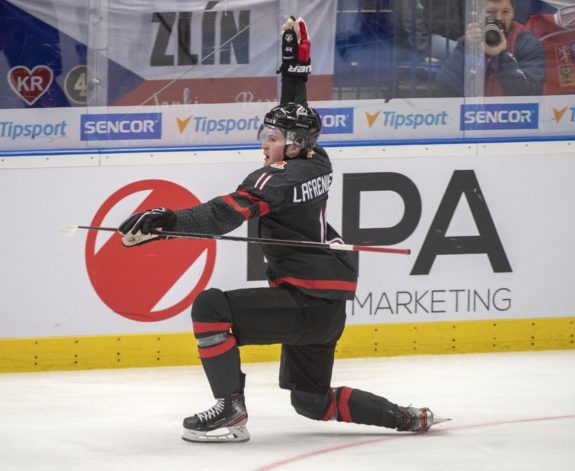 The Rangers' offseason indicates that management believes Chytil is ready to take that next step, which can be done now that he has elite offensive potential on his left-wing. Entering his third season, Chytil has a lot to prove, and I expect him to be a catalyst on what will be an excellent third line in 2021.
Line 4: Phillip Di Giuseppe (LW), Brett Howden (C), Brendan Lemieux (RW)
The fourth line is the Rangers' most uncertain, as freshly-signed players Kevin Rooney and Colin Blackwell will be competing for spots. Howden has underwhelmed in his young career, but he will be a solid fourth-liner if he takes strides towards becoming defensively responsible. Di Giuseppe earned Quinn's trust last season, so I give him the edge when it comes to the final roster spot in 2021.
As for Lemieux, his grit and physicality are necessary for a Rangers squad with predominately skilled forwards. His absence was noticeable in the first game of their qualifying-round series against Carolina, as the Hurricanes bullied the Rangers while Lemieux served a suspension. He needs to play smart, but his edginess is essential for New York's success.
Potential Defensive Pairings in 2021
Pair 1: Ryan Lindgren (LD), Adam Fox (RD)
Lindgren and Fox were the Rangers' most effective defensive pairing in 2019-20, earning high praise from teammates and the coaching staff alike. In an article by Vincent Z. Mercogliano for Lohud Sports, Quinn said of the two youngsters:
"Those two guys have been really good for a long time. Game-to-game, whichever two guys are playing the best, they're our top pair,"
Both defensemen are just 22 years old and are relatively inexperienced despite their advanced maturity levels. Fox finished fourth in Calder voting after putting up 42 points in 70 games, the most of which were played alongside Lindgren. The pair is comfortable together and complement each other's style perfectly, leading to what should be a top tandem for years to come.
Pair 2: Brendan Smith (LD), Jacob Trouba (RD)
Trouba struggled in his first season on Broadway, succumbing to an adjustment period that comes with a new city and new club. He is a veteran with a track record of success, and he will bounce back in 2021. With that being said, his role is magnified due to the uncertainty on the left side of the Rangers' defense.
Right now, I have Smith penciled in as the second-pairing LD, but that could easily change. Smith played well in the series against Carolina and has more left in the tank than newly acquired Jack Johnson. After being bounced between offense and defense for the past two seasons, solidifying his role as a defender once again may do wonders for his confidence and on-ice product.
Pair 3: Jack Johnson (LD), Tony DeAngelo (RD)
After inking a two-year deal worth just south of $5 million, Tony DeAngelo will look to continue his offensive dominance while improving on the defensive side of the puck. At 25 years old, he is still maturing as a defender and could benefit from playing alongside another veteran d-man in Johnson.
Yes, Johnson has struggled mightily in his own end and is not the same player he once was, but he can be a solid stay-at-home defenseman with DeAngelo's skating ability. Is he the answer to the Rangers' defensive troubles? No. But as a temporary replacement until Libor Hajek or K'Andre Miller is ready, a Johnson and DeAngelo third pairing will have to suffice.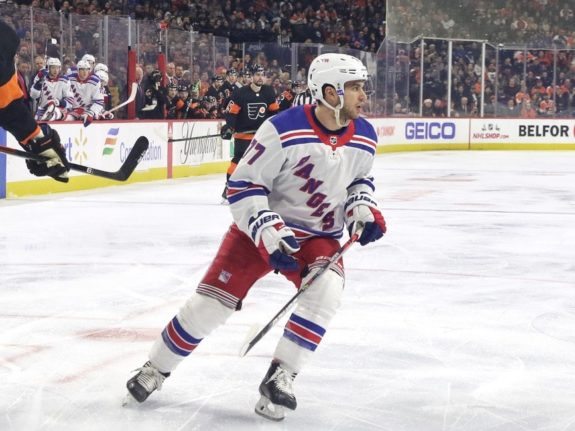 Anchored by Igor Shesterkin and Alexandar Georgiev in goal, this Rangers' group is full of potential. They are extremely young and very talented and should pose all sorts of problems for opposing defenses. There will be some growing pains and lapses in their own end, but when all is said and done, this opening-night lineup has the potential to become a playoff team in the Eastern Conference.
---
---