New York Rangers president/general manager (GM) Chris Drury acquired Vladimir Tarasenko during the trade deadline with the hope of the acquisition helping the Rangers win the Stanley Cup. It did not help the club's fortune in the 2023 Playoffs as the New Jersey Devils eliminated them on May 1 in their first-round series.
Tarasenko intends on testing the free agent market for the first time in his career. He did not rule out the Rangers as a possible destination but will consider several factors in deciding what club he signs a new contract with this offseason. He won the Stanley Cup with the St. Louis Blues in 2019 and has had consecutive solid regular seasons in terms of offensive production. He will be one of the top free agents available this summer.
If Tarasenko wants to sign with a playoff contender, the team will need to have plenty of cap space to sign him. However, some teams may be wary about adding him due to his production in 2022-23. Aside from his injury-riddled seasons in 2019-20 and 2020-21, he had his least productive year (18 goals, 32 assists) since 2013-14, his second year in the NHL. Let's take a look at three possible destinations for the 11-year veteran.
Colorado Avalanche
A year after winning the Stanley Cup, the Colorado Avalanche suffered an upset as the Seattle Kraken eliminated them in seven games during the first round. The Avalanche had a difficult regular season with several players including Gabriel Landeskog, Cale Makar, and Valeri Nichushkin missing time with injuries.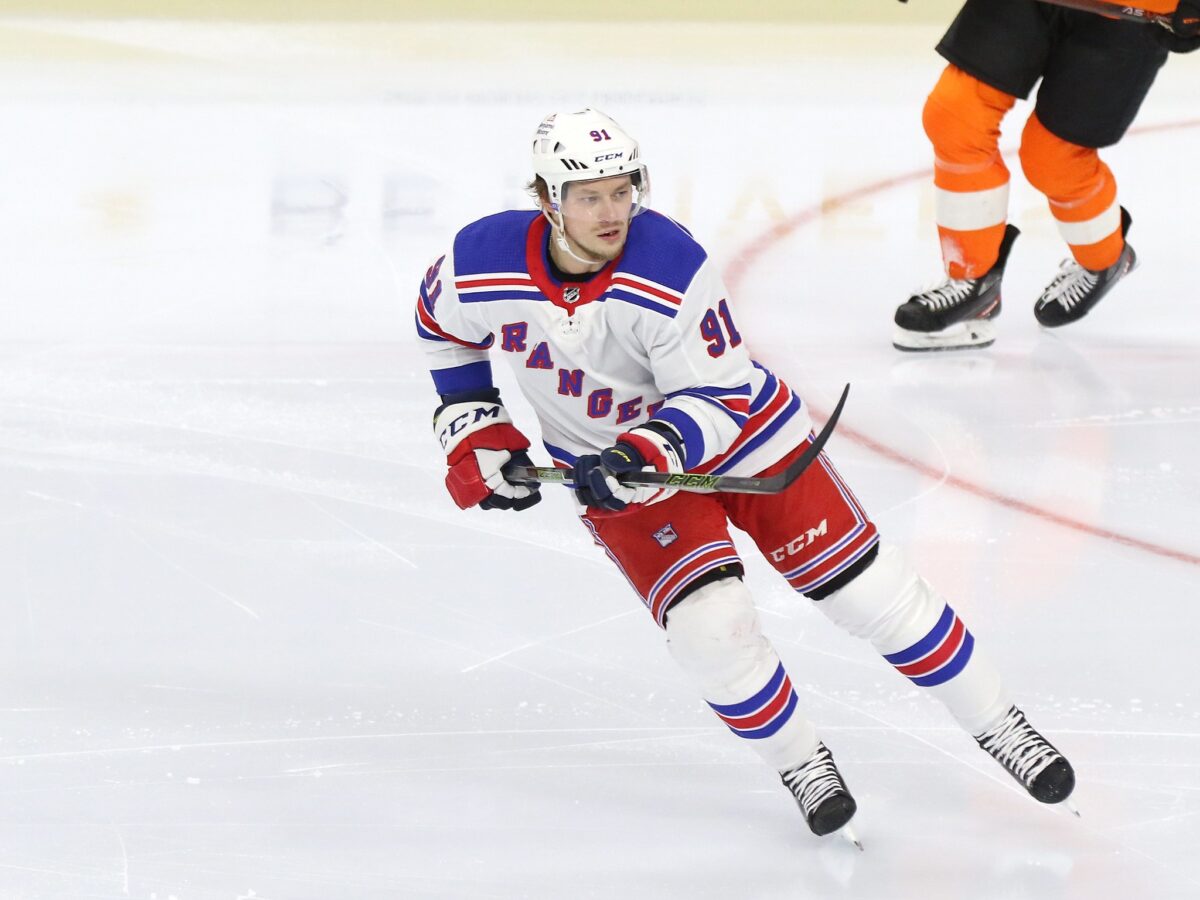 The Avalanche have seven forwards who will be free agents this offseason and the uncertainty surrounding when Landeskog will return next season. Colorado may prioritize adding a center in a trade or in free agency this summer. Tarasenko is a veteran with previous championship-winning experience that could help them remain in contention for another Stanley Cup in 2023-24.
---
Latest News & Highlights
---
Tarasenko could be a fit in the Avalanche's top six on a line centered by Nathan MacKinnon or Landeskog if he returns for their opening-night matchup in October. While the Yaroslavl native may be on the decline, he is still capable of helping a playoff contender such as Colorado remain in the mix for another run at a championship next year.
Tarasenko commented during his media availability on May 3 in regards to what is the most important thing as a free agent, "I think it's important to know, you have a family too, so it's important to be set. Of course, I want to play on a competitive team (and I was) lucky enough to win one and (I would like) to win more, if it's possible." The Avalanche are a team that will be projected to compete for a playoff spot next year that can offer him an opportunity to win another Stanley Cup.
New York Islanders
During the regular season, there was speculation that Tarasenko expressed an interest in waiving the no-movement clause in his contract before the trade between the St. Louis Blues and Rangers occurred. Just a season ago, in 2021-22, he posted the most points of his career (82). The Islanders' lack of offense has affected them in the last few years.
The Islanders have a need for goalscorers as they averaged 2.95 goals for per game played during the regular season, which was 22nd among the 32 teams. The Winnipeg Jets (21st) and Minnesota Wild (23rd) were the only two other teams that qualified for the postseason with a similar average of goals scored to New York. All three clubs are no longer in the playoffs after being eliminated in the first round. While placing an emphasis on defensive play and goaltending is important, the Islanders have ranked at or near the bottom third of the league in average goals scored for the last few years.
Related: Islanders Need To Make Changes This Offseason
Tarasenko would provide the Islanders with a solid option to put in their top six. Granted, he would not cure their scoring issues alone as they need other additions in free agency, trade, or through their minor league system. He would be on the second line with Brock Nelson given that Anders Lee and Mathew Barzal are on the first line centered by Bo Horvat. However, Tarasenko could play on the first line also.
If the Islanders want to continue to contend for a playoff spot for the next few years, they should consider signing an experienced player like Tarasenko. Signing with the franchise would also be convenient for him and his family since he has been a member of the Rangers and would not have to relocate to another state.
Vegas Golden Knights
The Vegas Golden Knights have proven to be a legitimate contender for the Stanley Cup as they have qualified for the postseason in five of the six seasons they have existed in the NHL. Due to their success, they have been an appealing destination for free agents to consider signing with. They are also in the mix to acquire good players on expiring contracts during the trade deadline.
The Golden Knights have three forwards due to be unrestricted free agents in Ivan Barbashev, Teddy Blueger, and Phil Kessel. Despite frequently being near the cap, Vegas GM Kelly McCrimmon has done a great job of acquiring talented players to keep the club in the playoff mix. Tarasenko should consider signing with the Golden Knights if the club shows interest in acquiring him during the offseason. He could excel playing with any of the centers in their top nine which include Jack Eichel, Chandler Stephenson, and William Karlsson.
Tarasenko is open to a reunion with the Rangers but that seems unlikely to occur given that they have a few restricted free agents to work out extensions with in Alexis Lafreniere and K'Andre Miller. They have several players with no-movement clauses with significantly large average annual values that make up the core of the team for the next several years as well. Tarasenko intends on being a free agent for the first time in his career and will agree to a lucrative contract with a competitive franchise during the offseason.