As with the rest of the NHL, the New York Rangers are hurtling towards the 2020-21 season, ready to use their new acquisitions. Several teams will look different, whether it be with a new starting goaltender, added rookies, or a top 2020 Draft pick, but in the Rangers' case, it's all of the above. 
To continue the list of top prospects, the additional young players mentioned below are worth watching out for in an already deep pool of talent. Only a few seasons back, the Rangers set out to refresh their roster, setting their sights on acquiring youth and hoping to develop into a club highly equipped for several Stanley Cup runs.
The front office managed to pull off a rapid rebuild, replacing every position except for a single player, Chris Kreider, who remains from the 2012-13 team. General manager Jeff Gorton and president John Davidson have done a remarkable job of acquiring a broad range of young talent, and not only should they be applauded for selecting skilled players, but most of their prospects appear to be well-rounded, hardworking individuals as well.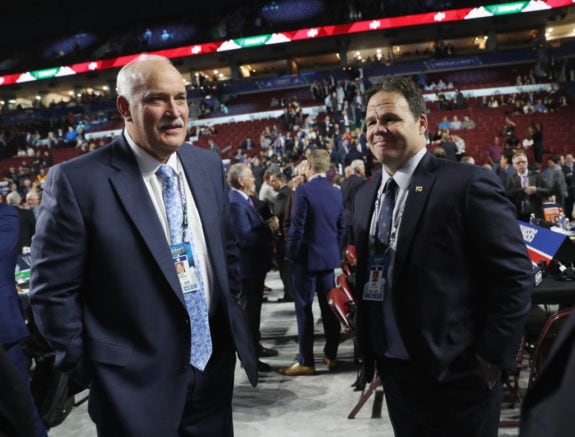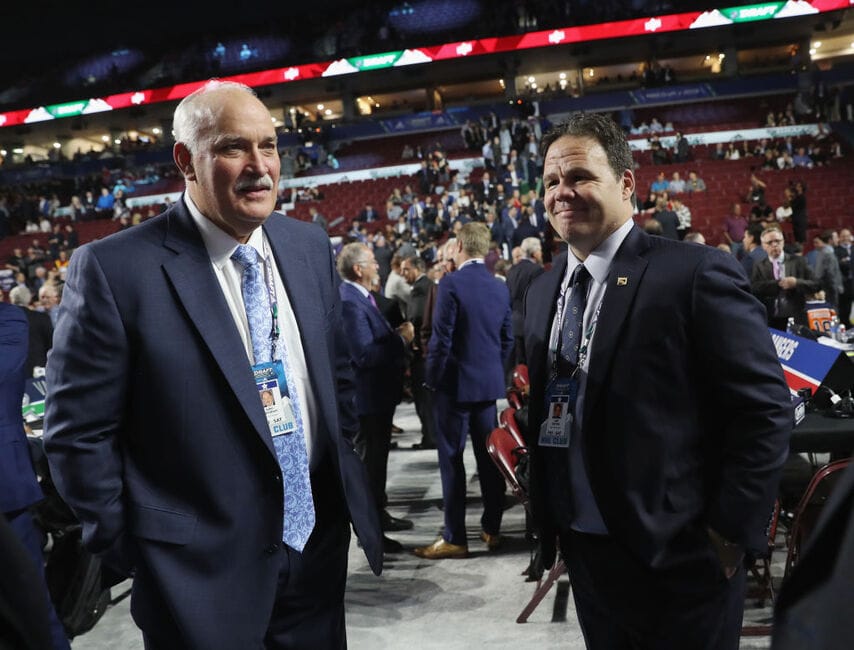 Although it's a waiting game to see if any more revisions are made to the big-league roster and if any prospects make the jump, the organization should feel comfortable with their list of assets.
Matthew Roberston (2nd Round, 49th Overall – 2019)
A little over a year ago, 19-year-old Canadian defenseman Matthew Robertson accepted an entry-level contract offer from the Rangers. He appeared in the 2019-20 NHL preseason after an impressive showing at the Rangers' Development Camp. The left-handed blueliner has been included in almost all prospect rumblings ever since.
Accustomed to playing on the left side, Robertson opens up some possibilities for defensive pairings and the option to leave young duo Adam Fox and Ryan Lindgren as is. Robertson describes himself as a two-way player who confidently shuts down opponents. 
Given his young age, he is not yet eligible to play with the Rangers' minor- league affiliate, the Hartford Wolf Pack. Rather, Robertson will continue with the Edmonton Oil Kings, his team of nearly four seasons. The Rangers quickly extended an offer to Roberston in October after he was drafted 49th overall which is something to keep in mind.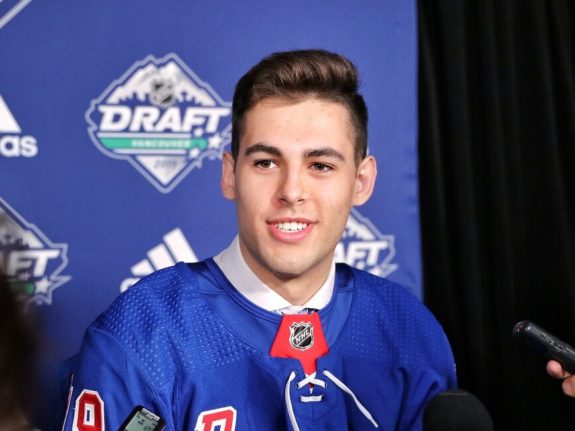 During his combined seasons in the WHL, Robertson has collected a distinguished 105 points in 186 games. Interestingly enough, the former seventh-overall WHL draft pick was projected to be selected much earlier in the 2019 NHL Entry Draft, ranked 25th overall by TSN's Bob MacKenzie. 
Needless to say, the Rangers got a steal. 
Related: New York Rangers 2019 Draft Catchup
According to Future Considerations, he is a wonderful puck carrier and protector. Combined with his 6-foot-4 frame, Robertson could be quite the pest to play against one day. Despite his size, he is chalked up to be an excellent skater with quick decision-making skills. As of now, the Edmonton native is shaping into a top-four defenseman and is one of the top Blueshirt prospects favored to make his official NHL debut sooner than later. 
Lauri Pajuniemi (5th Round, 132nd Overall – 2018)
The 21-year-old forward is yet another European player selected by the Rangers recently. His potential has been acknowledged far and wide, so it's no surprise he has been steadily improving with TPS Turku of the Finnish Liiga. Even though he showed only a slight uptick in points per season in his first two seasons in Liiga, from seven to 13 points, the Finn experienced an offensive outburst last season recording 40 points in 49 games. 
He was rewarded for his increased prodution with time in a top-six role. Pajuniemi explains his slow start had to do with him "struggling a bit with self-confidence," but he worked harder and was given more responsibility on the squad. Soon enough, Pajuniemi was fulfilling the role given to him. 
The right-handed shot also saw time on the penalty kill last season but has noticeably improved his all-around game. He has skated in two games this season but has yet to get on the scoresheet. The sample size, although small, shows Pajuniemi is not quite ready for the big leagues, let alone a spot with the Wolfpack. The 6-foot right-winger's signature scoring setup is a one-timer. Unfortunately, when it came time for the organization to re-evaluate Pajuniemi, his slow progress and style of scoring which tends to be less consistent, raised several concerns.
Another source of concern is his confidence. Every player at some point in their career will experience some degree of self-doubt, but the New York stage is another beast to overcome. Seeing the relationship between his confidence and his success proves Pajuniemi should not be rushed to make the jump overseas. If Pajuniemi is summoned to play for the Rangers, he should feel at ease with the European presence, especially that of fellow Finn, Kaako Kappo.
Pajuniemi also idolizes fellow right-handed Swedish forward Mika Zibanejad and was notably enamored with the club's practice facilities. There is no doubt he has his sights set on being in the NHL and he has the work ethic to achieve it.  
Tarmo Reunanen (4th Round, 98th Overall – 2016)
Add 22-year-old Finnish-born Reunanen to the enviable list of offensive defensemen the Rangers have successfully stockpiled. Left-handed Reunanen has been within the organization the longest of any prospect on this list, yet, if and when he makes his debut is a mystery.
Similar to Robertson, Reunanen cracked the 2019-20 preseason roster and was also seen on the penalty kill and power play unit. Despite his decent preseason looks, Reunanen retreated to Finland after he dabbled in Hartford as well. 
Clearly, the 6'0 defender will need to separate himself from the pack, yet his desire to jump the NHL is unmatched despite some shaky history with back surgeries and team loans. He will need to work on his physicality primarily, while he is not discouraged from playing with an edge, it is an area in need of improvement especially to help the more mild-mannered Rangers. 
Related: Rangers Prospect Profile: Tarmo Reunanen
Reunanen is known to record top ice time but more importantly knows how to use his minutes. Analyst Anson Carter notes Reunanen possesses "the patience of an offensive defenseman… he loves to shoot the puck," and even Chris Drury, assistant general manager notes his similarity to current Rangers' defenseman Tony DeAngelo. 
Favoring the puck-moving style of Fox and DeAngelo, the left-handed version will face some tough competition to make the final cut but the possibility of joining the Blueshirts this season should not be completely counted out.
Patrick Khodorenko (undrafted – 2017 Draft eligible)
22-year-old American-born player hailing from Michigan State University, is a left-shot center. The curiously undrafted collegiate star signed with the Rangers in March of this year, although his name can get lost in the mix of promising prospects, his talent should not be overlooked. 
As a youngster, Khodorenko paid special attention to developing his skills individually, away from a team setting. He worked his way up until he was met with an opportunity to represent Team USA and join the U.S. U18 Nationals, but unfortunately broke his leg prior to the Championship. 
The injury was a factor in the forward's decision to choose a college career over junior hockey. He had been a consistent scorer at Michigan and never missed a game in his collegiate career. 
His 120 points in 143 games should speak for itself, including 21 power play goals and five game winning goals. Finishing as one of the top goal scorers in the league, the 6'0 California native went on to skate in a single point-less Wolf Pack match but is set to join the AHL team this season.
Although the dependable shooter cannot be credited with the speed of the aforementioned, but brings his own set of skills. Being a center, Khodorenko could develop into a strong face-off winner for the Rangers. He's a strong player who has a proven record of strong leadership tendencies. He paints himself as a creative player with apt for steady production. 
---
---