The New York Rangers have signed star players Jacob Trouba, Artemi Panarin, Chris Kreider, Mika Zibanejad, and Adam Fox to long-term contracts. However, Ryan Strome, Andrew Copp, and Frank Vatrano are all important players who are set to become unrestricted free agents this offseason. Each of these players has an opportunity to show his worth this postseason and potentially earn a big contract.
Ryan Strome
The Blueshirts acquired Strome from the Edmonton Oilers during the 2018-19 season. After struggling with Edmonton, he has become a key player for the Rangers, as he has centered Panarin's line in each of the last three seasons. He finished with 18 goals and 41 assists in 70 games during the 2019-20 season, and 14 goals and 35 assists in 56 games last season.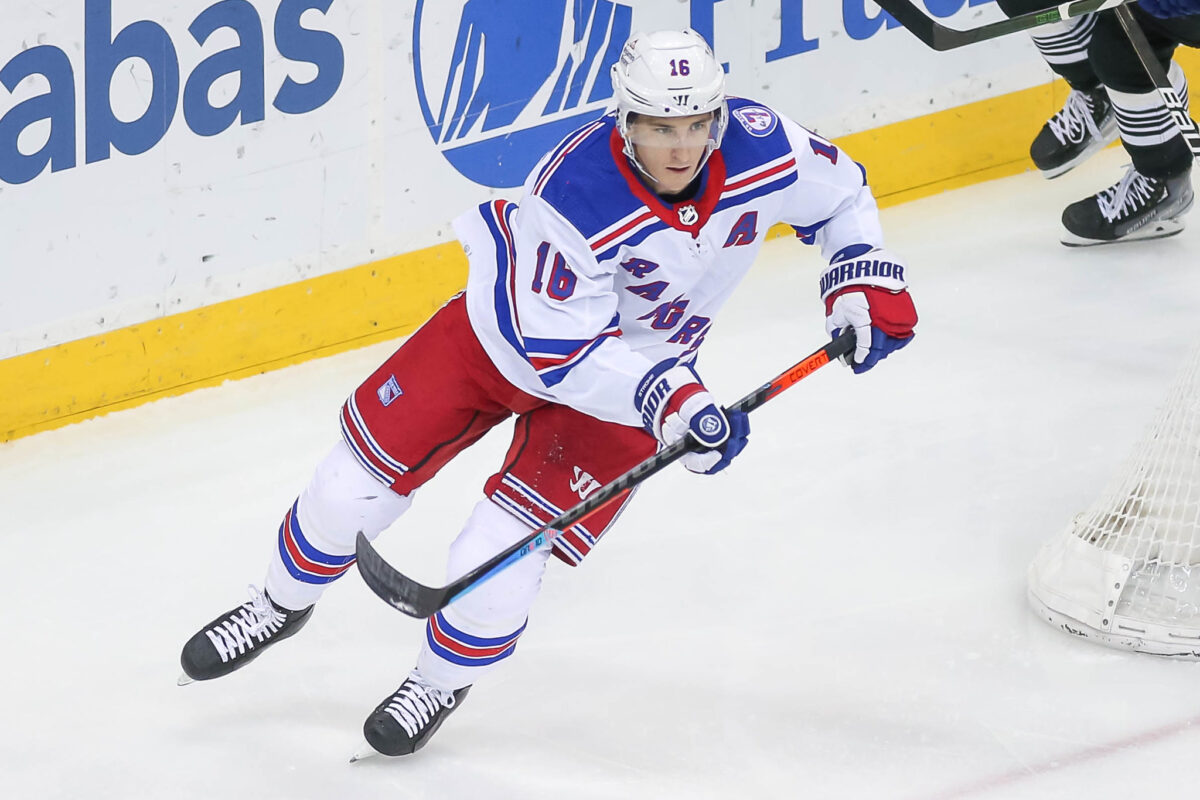 This season, Strome got off to a slow start, and repeatedly missed the net on scoring chances. He also took a lot of penalties, and too many of them were unnecessary. However, after the trade deadline, he started playing with more confidence and capitalized on his scoring chances. He had 12 goals in the final 29 games of the regular season, and finished with 21 goals and 33 assists in 74 games.
Related: Rangers Would Take Big Risk in Replacing Strome With Chytil
Strome plays on the top power-play unit, and he is also one of New York's penalty killers who should see plenty of ice time in the postseason. His chemistry with Panarin is undeniable — and he also played well with Copp after the trade deadline — so even though he has had an inconsistent season, he can make fans forget about his early-season struggles if he plays well in the playoffs.
Andrew Copp
The Rangers acquired Copp from the Winnipeg Jets just before the trade deadline, and he has made a big difference for them. He immediately formed chemistry on a line with Strome and Panarin while also providing the team with versatility. He did a nice job on faceoffs, he played both center and winger, and he also played on both the penalty kill and power play.
While Copp's versatility and strong defensive play made him a valuable player for the Jets, he struggled to produce offensively in his first few seasons in the NHL. However, last season he had 15 goals and 24 assists in 55 games, and this season he had 13 goals and 22 assists in 56 games with Winnipeg.
Copp immediately produced with the Rangers, showing off impressive vision and the ability to finish off his scoring chances while also forechecking effectively. He had eight goals and 10 assists in 16 games after the trade before missing the last few games of the season with a lower-body injury.
Though Copp stepped up with the Rangers, it's a small sample size, and he can prove his hot scoring wasn't a fluke this postseason.
Frank Vatrano
The Rangers had a busy trade deadline this season, and in addition to acquiring Copp, they acquired Vatrano from the Florida Panthers. He has good speed and a very good shot but his ice time dwindled because of the great talent and depth of Florida's forwards. He had 18 goals and eight assists while playing in 56 games last season but had just 10 goals and nine assists in 49 games with Florida this season.
The Rangers played Vatrano on a line with Zibanejad and Kreider, and he immediately provided them with a spark. He had eight goals and five assists in 22 games with the Blueshirts, and his shoot-first mentality made him a perfect fit on a team that has excellent playmakers.

Vatrano isn't very big, but he is responsible defensively, he plays hard, and he goes to the net. He has only two goals and one assist in 14 career postseason games, but playing on New York's top line creates an opportunity for him to get more ice time and more scoring chances. He also has the ability to give the Blueshirts some secondary scoring if they opt to move Alexis Lafreniere or Kaapo Kakko to the top line and put Vatrano on the third line.
For the Rangers Moving Forward
While it would be great for the Rangers to sign all three of these free agents, realistically they will probably only be able to keep two, at most. Copp and Strome both play center, and both may get long-term extensions, so it's likely that one of them will sign somewhere else this offseason. As a winger with a bit less upside, the Rangers may be able to sign Vatrano to a smaller contract in addition to either Strome or Copp.
The Rangers need Strome, Copp, and Vatrano to play well in order for the team to play to its full potential this postseason. Their performances should also be a big factor in whether or not they return to the Rangers next season.
---
---
---
---
---
Latest News & Highlights
---