The New York Rangers announced their Traverse City Prospects Tournament roster for 2015 this week, and it's underwhelming to say the least.
When considering some of the players that have come through the tournament over the last 17 years, this Rangers group looks like one of the weakest they've iced yet. 24 players from the eight teams that skated last year appeared in at least one NHL game in the 2014-15 season. This depleted group of Rangers prospects doesn't showcase a single name likely to make their NHL debut in 2015-16.
Specifically, the issue is up front. While the Rangers have a deep group of defenseman in the professional ranks and a decent enough collection of defensive prospects, there is little to no depth in terms of forwards. Since trading their top youngster in Anthony Duclair, New York has been left with a group of NHL long-shots and players who were drafted with bottom-six projections in the first place.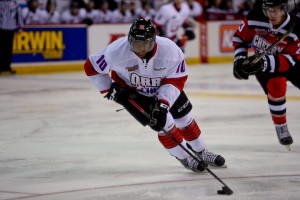 Forgetting Pavel Buchnevich, whose third year of KHL hockey with Severstal Cherepovets was impressive but has given no indication that he's ready mentally of physically for the NHL, the cupboard is bare.
Second-round selection Ryan Gropp is the highest pick making the trip to Traverse City, and most draft guides believed his selection at 41 to be a bit of a stretch (ISS Draft Guide ranked him 50th among skaters, noting that "his skating lacked purpose" and "consistency is a big concern"). Past Gropp, there are only three other drafted forwards: Adam Tambellini (65th overall in 2013), Keegan Iverson (85th overall in 2014), Brad Morrison (113th overall in 2015).
Tambellini's performances since being drafted out of the Surrey Eagles by the Rangers have been impressive, but also raise some questions. The tenure started out tenuous with an awful start to his Freshman year at North Dakota leading to him defecting for the Calgary Hitmen. He fit right in with a strong Hitmen squad and showed off the offensive skills that got him drafted out of the BCHL in the first place. Though it's tough to argue with his numbers, it's important to remember how deceptive numbers can be, and that it's much less impressive to do it as a 20-year-old in junior hockey.
Iverson's selection in 2014 was a bit of a steal in my eyes, as the Portland Winterhawks forward already had the size and strength to play at the NHL level. Though there will never be a ton of upside with Iverson, he seemed like a surefire AHL grinder and the type of kid the Rangers would love to have in their bottom six one day. Having seen Keegan and his older brother Wesley play in person a lot over the years, the consistent work ethic and physical prowess is something you might just have to be born with. Iverson's post-draft season this past year fell far short of expectations though, and there seemed to be almost no development in his game. It's possible, though not definite, that he's already peaked.
Finally, Morrison is an interesting prospect but another one with glaring weaknesses. At 5'11 and 154 pounds, he's got some height to work with but is in serious need of hitting the weight room. I saw less of Morrison at Prince George than I would have liked to, but his skating is the one thing that really stands out. He's quick, pesky, and thinks the game at a high level, but how far can that alone take you? He doesn't really have the talent to put the puck in the net regularly, and he's just a slightly above average playmaker. There is definitely a chance for players like Morrison in the league, but he'll need at least two or three really strong years of development to even consider making a run at the Rangers roster.
And that wraps up drafted forwards on the Traverse City roster. Yes, really. In 2013 they brought Anthony Duclair, Jesper Fast, Oscar Lindberg, and Danny Kristo among others. All mentioned but Kristo have played an NHL game, and Kristo is currently a first line player for Hartford. Last year Kevin Hayes began his breakout season there. In 2011 there was JT Miller, Carl Hagelin, and former Rangers prospects who eventually made their NHL debuts elsewhere in Jonathan Audy-Marchessault (Tampa Bay) and Christian Thomas (Montreal).
Though the Rangers are definitely not starving for offense, the lack of depth was obvious in the playoffs when St. Louis disappeared into thin air and Zuccarello went down with a serious injury. The teams that win in this post-04 lockout era are generally the teams that find the right balance of veteran stars and youthful energy and ignorance. With Henrik Lundqvist approaching his mid-30s and Rick Nash now 31, the team's stars could really use an injection of young talent into the forward group. Unfortunately, it doesn't look like that's coming anytime soon.
Bantam, Midget, Junior, Pro hockey scout at International Scouting Services. Hofstra University alum.