Even if science isn't your strongest suit, you know that when an object is in motion, it stays in motion, much like the Washington Capitals' scoring surge of late.
Everything seems to be working, and the Capitals are having no difficulty finding twine. They've scored four or more goals in eight straight games. Over that span, the Capitals have forced the opposing goalie from the net four times. Not to mention, Washington may have had their recent winning streak snapped, but they've won nine of their last 10 games and came back from a tough loss to Pittsburgh with a dominant victory over the St. Louis Blues.
There are many reasons for the Capitals' recent offensive surge, as well as their continued dominance, as they've risen to the top of the NHL.
Nicklas Backstrom's Hot Streak
Perhaps the biggest reason that the Capitals are finding their offensive game is the outstanding performance from their top centre and leading scorer. Nicklas Backstrom is riding an impressive eight-game point streak, with 14 points. He recently hit the 500-assist mark and became the first player in franchise history to reach that milestone.
The Swedish forward is not only making tape to tape passes and carrying his line, but he is making the players around him better. He is able to set up anyone and create plays on the fly, while also using his speed and outstanding hockey sense to start the rush. Not to mention, he can win battles along the boards and in the corners to keep the puck alive.
He's pretty elite and real special. Guys, they all love him in the room and what he does for our hockey team is huge.

-Barry Trotz, Washington Post
Backstrom is starting to shoot the puck more and finish his plays, making him a more all-around asset. He can rip the puck from anywhere and shoot with outstanding accuracy, while also maintaining perfect positioning for tap-ins, rebounds and one-time goals.
The Capitals are having no trouble scoring with Backstrom in scoring mode. He plays well at even strength and is also a force to be reckoned with on special teams. The 29-year-old makes it look easy, which is what makes the Capitals' top power-play unit so dangerous.
Struggling Scorers Finding Their Touch
To start the season, there was concern over some of Washington's usual high-scoring wingers. Alex Ovechkin and Justin Williams were inconsistent with underwhelming numbers to kick off the 2016-17 campaign. At the mid-season mark, Washington's struggling wingers have started to recapture their scoring ways.
Williams scored two goals in his first 24 games of the season. Many dismissed his ability, saying the veteran winger didn't have much gas left in the tank and that he was entering the twilight of his career. However, since then, Williams has bounced back, proving critics wrong.
In the month of December, the 35-year-old winger put up seven goals and 11 points, becoming one of the hottest players on the Capitals' roster. He returned to his game, which includes on-the-mark shooting ability and a crash-the-net mentality. He has made an impact among the Capitals' top six, and his hot streak carried over into the new year; in 10 January games, he has seven goals and 11 points. Williams also has points in four of his last five games.
Similar questions were raised when Ovechkin suffered a seven-game goal-scoring drought that started in late November and carried into December. However, like Williams, the Russian sniper has been able to recapture his scoring touch. Since that slump, Ovechkin has nine goals and 20 points and is currently in the midst of a seven-game point streak. He's gone without a goal in his last four games but is driving to the net, helping to create plays and setting up his teammates with breakout passes.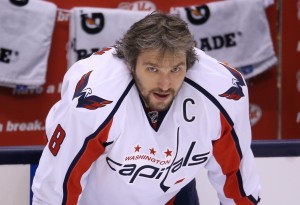 Though Ovechkin hasn't returned to the player that won him several goal-scoring titles, he is on pace to surpass the 30-goal mark. This would be the 13th straight season with at least 30 goals and he has never put up less than 32 tallies in a season. That's not too shabby, especially for a long-tenured player who recently surpassed Maurice Richard's career goal-scoring numbers.
Players like Andre Burakovsky and Evgeny Kuznetsov are also finding their game after slumps of their own. And as all of these players are regaining their ability, they are regaining their confidence as well, which makes the Capitals better offensively.
The Bottom-Six is Contributing, Too
While Washington getting the most out of their top-six, they also have scoring depth down to the fourth line. Finding a bottom-six lineup that can provide offense has been one of Washington's goals, and they seem to have found it with their current combination.
The third line of Lars Eller, Andre Burakovsky and Brett Connolly is one of Washington's most trusted. Not only can they create chances, but they can outwork their opponents and play a physical two-way game that often helps them maintain possession of the puck and create chances in the offensive zone.
Eller has seven points in his last six games and has been winning the puck battles. He also crashes the net and finds his linemates, setting them up for quality scoring chances. While Eller hasn't put up the best numbers, he has been excellent for the Capitals in his role as a third-line centre and is finding his stride.
He has seven points in his last six games and is able to win battles, provide physicality and create chances in the offensive zone. Not only has he been helping the Capitals reach new heights offensively, but he has quality wingers that give the Capitals more dominance on the forward lines.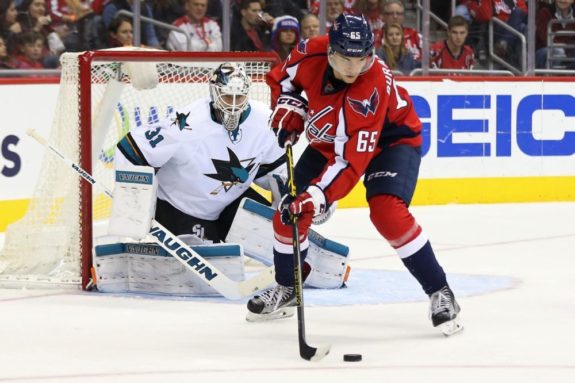 After Andre Burakovsky suffered a bit of a cold streak at the beginning of the season, he has rebounded. He appears more comfortable and confident coming into the offensive zone, stays with the puck and takes more shots. Brett Connolly also drew in and out of the lineup while he struggled but has used his speed and size to get past the defense and drive into the zone.
Lastly, when it comes to the bottom-six, Washington's fourth line has a killer combination that is helping them find twine: Jay Beagle and Daniel Winnik are probably the hardest-working and most dangerous fourth-line players in the NHL right now. They have great chemistry, and their unrelenting determination is what makes them an offensive threat. Both of them are effective skaters that never give up on the play. They have underrated shots, and their vision and ability to create plays is unparalleled by other bottom-six lines. Beagle and Winnik have combined for 18 points through December and January.
Bottom Line
If Washington can continue scoring like this, they will be Cup contenders in the postseason. They've taken back their spot as the top team in the NHL, with contributions from all four forward lines. This is something they haven't had in the past. Finally, they no longer have to rely on the first line to take care of the offense
This is a new-look Capitals team and quite a different one from what we've seen in the past. They just need to remain consistent and keep up the grind.