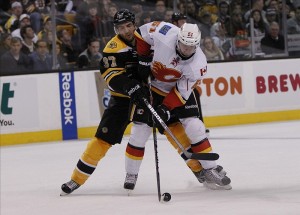 After a fairly disastrous 2013 season, general manager Jay Feaster essentially pulled the plug on this incarnation of the Calgary Flames just prior to the NHL trade deadline. Jarome Iginla? Traded to Pittsburgh. Jay Bouwmeester? Gone to St. Louis. Blake Comeau? Off to Columbus. Miikka Kiprusoff? Not gone, but not getting nearly his prior workload due to the swirling retirement rumours and the emergence of back-up Joey MacDonald.
The wheeling and dealing culminated in an 8-2 deadline-day spanking at the hands of the rival Edmonton Oilers. As fans and pundits engaged in hand-wringing, worried that they had just seen the new status quo, Feaster began the process of calling up prospects from the AHL's Abbotsford Heat for evaluation. After all, if the Flames were going to get beaten every game like they were against the Oilers, it would be helpful for the team's prospects to get some playing time out of it.
But oddly, in a storyline straight out of Michael Lewis' book Moneyball, the Calgary Flames have played very well since that 8-2 deadline-day meltdown. Despite missing their captain, their best defenseman, a penalty-kill specialist and barely playing their star goaltender, the Flames have gone 6-4-0 since their loss to Edmonton, a points-percentage of 60%. In the remainder of 2013, with their stars intact, they went 13-18-4, with a points-percentage of just 43%.
With visions of a high draft pick dancing in their heads, fans and observers have been anxious with every Calgary victory. Once dead-last in the Western Conference, the scrappy Flames have crept over Colorado, Nashville and, yes, Edmonton, to sit in 12th. The culprits for Calgary? Their core players, young and old.
Goaltender Joey MacDonald has a 4-1-0 record and a 1.97 goals against average over 5 starts
Defender Mark Giordano has 6 points and a plus-3 rating in 9 games (he missed a game due to the birth of his son, Jack).
Defender T.J. Brodie has 5 points and a plus-2 rating.
Winger Lee Stempniak has 7 points and a plus-1 rating.
Teammate Mike Cammalleri, fighting with Stempniak for the team scoring title, also has 7 points and a minus-1 rating.
Swedish center Mikael Backlund has 6 points and an even rating.
Swiss rookie Sven Baertschi has 6 points and a plus-2 rating.
Czech rookie Roman Horak has 5 points and a minus-1 rating.
Prior to last week's game against the Detroit Red Wings, Flames head coach Bob Hartley shared his feelings on his team's performance and particularly that of the younger players. The Flames have featured as many as seven products of their farm system in the line-up in recent games, which Hartley notes is a deliberate move designed to prepare the team (and the players) for next season's training camp.
"We want to put them in all kinds of situations where they get a good feel [for] what is the NHL," shared Hartley. "There's so many kids that they come in in their first NHL training camp and they're a total non-factor because they don't know. They think that you leave college or major junior and it's just like another normal step like going from pee-wees to bantams or bantams to midget. It's not the case, and we all know it, but unfortunately for many of those kids, they waste one or two training camps finding out what is the NHL."
While the club's newest players – such as Max Reinhart, Mark Cundari and Ben Hanowski – are getting their feet wet in their first NHL games, the team's more experienced youngsters (like Roman Horak and T.J. Brodie) and veterans are also playing consistently good hockey. Hartley noted that the "audition process" for the youngsters echos through the line-up.
In addition, the Flames have had a series of motivating factors in every game – ranging from Miikka Kiprusoff's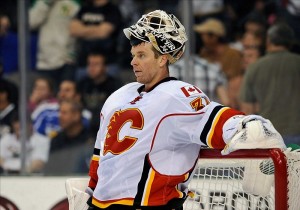 rumoured last home game, the NHL debuts of Reinhart, Hanowski and Cundari, and other players hitting milestones. Hartley has chosen to use players hitting milestones in the starting line-up, which has given the team an emotional boost off the opening face-off. That said, the motivation to play hard seems to be coming from inside the locker room.
"Those guys are fighting for their spots, too," said Hartley, regarding the experienced players like Horak and Brodie. "We're all fighting for our jobs. There's no certainty in this business. Roman Horak played, what, 50-60 games last year? It's an ongoing battle playing in the NHL. Guarantees only come with mufflers, they don't come in the NHL. You need to fight and you need to compete. When you're a non-playoff team, there's not too many jobs that are safe."
The Calgary Flames close our their 2013 schedule with a four-game road swing. They beat the Minnesota Wild 4-1 in the first game of their trip.
Ryan Pike has covered the Calgary Flames and the NHL Draft extensively since 2010 as a Senior Writer for The Hockey Writers and Senior Contributing Editor of FlamesNation.ca. A member of the Professional Hockey Writers Association, he lives in Calgary.