Two teams on the outside of the playoff picture looking in. Two teams scratching and clawing for every point in the Eastern Conference Wild Card race — and it wasn't pretty.
Adam Henrique was credited with a fluky goal off a fortuitous bounce off Buffalo Sabres' defenseman Cody Franson to open the scoring in the second period and Tyler Ennis tied it off an equally defendable shot in the third before Pavel Zacha's contested goal with 7:27 remaining in regulation lifted the New Jersey Devils to a 2-1 victory over Buffalo at The Prudential Center in Newark.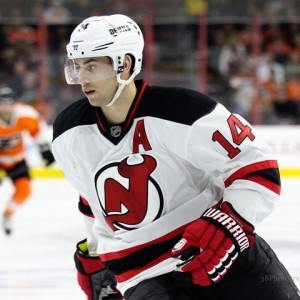 Zacha's goal, the Devils' second power-play tally of the game, was challenged and reviewed but ultimately held up as the game-winning goal in one of most lackluster performances of the season on both sides of the puck.
"What we've been trying to get our team to do more is not sit back and play defense but spend a lot more time in the offensive zone," Devils' coach John Hynes said. "We had the puck a lot. That pressure, that offensive-zone pressure, that offensive forecheck, time spent in the offensive zone — when you do that, that's the best defense."
An offensive fireworks display it was not but the Devils were successful playing "keep away" from the Sabres with a strong puck-possession game. After a scoreless first period with just 16 shots combined, the game opened up in the second period thanks to a handful of penalties.
[irp]
Second Period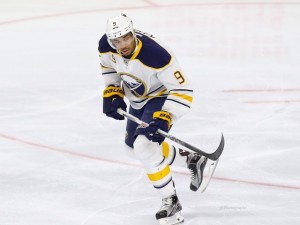 An altercation between Steven Santini and Evander Kane 7:23 into the frame gave each team matching minors for roughing. Kane, however, was awarded an extra two and the Devils took advantage — sort of.
Working the perimeter on the power-play, Henrique was camped out to Sabres' goalie Robin Lehner's left. As the puck worked its way to Henrique in the corner, the team's leading goal-scorer tried to make a pass to a teammate in front.
The intended pass never made its target but still found home as it caromed off Franson's skate in front and behind Lehner as New Jersey staked claim to a 1-0 lead 8:46 into the second period.
"All I want for my birthday is a goal."
*Blows out birthday candles*@AdamHenrique's wish came true! ??? #BUFvsNJD pic.twitter.com/YrNGX7FHJB

— New Jersey Devils (@NJDevils) February 7, 2017
Third Period
Buffalo, which never found any rhythm offensively, bounced back 8:39 into the third period to make it a 1-1 game when Tyler Ennis' seemingly harmless shot along the goal line after a spin-o-rama from the near-side boards caught Devils' goalie Cory Schneider by surprise. Kyle Okposo and Justin Falk picked up assists in what became a brand new hockey game with just over 10 minutes remaining.
Spin-o-rama & into the net. ? pic.twitter.com/Q6HkBmkwnd

— Buffalo Sabres (@BuffaloSabres) February 7, 2017
The goal was one Schneider would definitely like to have back. Nine times out of 10, the Massachusetts-native makes that stop. Schneider appeared to be in position to receive the volley, but somehow it found a hole.
Once again, Buffalo just couldn't stay out of the penalty box. With Kane back in the sin bin, this time for high-sticking, New Jersey converted their second power-play goal of the game.
Severson's initial shot from the point sailed high, and Cammalleri in front raised his stick which met with Lehner's glove. It was enough of an exchange to let Lehner lose sight of the puck as it came down in the crease in front of him. Zacha was there and made no mistake burying the rebound past Lehner for his sixth of the season.
[irp]
Grip it and rip it! PZ nets a PPG. #BUFvsNJD pic.twitter.com/rW4EcCJRD0

— New Jersey Devils (@NJDevils) February 7, 2017
Sabres' coach Dan Bylsma challenged the play right away.
"It's a puck above the crossbar, Robin goes up to catch it and their guy puts a stick into it and prevents Robin from catching it," Bylsma said. "The puck gets spit back out and there's a second shot — and there was clearly no interference on the second shot — but if there's no high-stick there, Robin catches the puck.
"Yes… I have to challenge."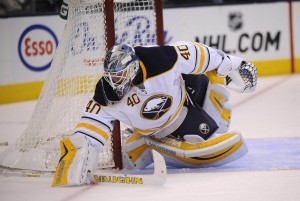 Lehner also thought he was interfered with.
"A lot going on, another power-play on their end," Lehner said. "It hit the middle of my glove… thought I had it for a second there, but after (it fell) and I recognized it, (Zacha) found the puck there between all the guys and put it up.
"He touched my glove but I don't think it was that significant," Lehner added. "It's hard to argue but if he doesn't have a stick there, I get it clean, maybe, maybe not but you have got to challenge. It sucks but it's the way it goes sometimes."
Explanation of Coach's Challenge at 12:33 of the third period in the @BuffaloSabres/@NJDevils game. #BUFvsNJD https://t.co/xcQr9WC7Ga

— NHL Public Relations (@PR_NHL) February 7, 2017
In the end, Buffalo praised New Jersey for its shutdown defense, clogging up passing lines in the neutral zone and keeping the team out of sync for most of 60 minutes.
"They really did a good job of hemming us in," Bylsma said. "We played a lot of D-zone for a big stretch of time and we didn't generate a lot of offense. Disappointed to just get the one. We didn't get a lot of power-plays and we didn't do a good job of taking the chances that were there for us."
"Those unlucky bounces kill your momentum," Zemgus Girgensons said. "We just have to focus more on getting the puck to the net. We need to get in the eyes of the goalie and get some dirty goals."
The Devils' puck-possession allowed them to pepper 39 shots on Lehner, including 19 in the second period, converting 2-of-4 power-play opportunities. Buffalo was 0-for-1 with the man-advantage and finished with 22 shots in the game.
Defensively, Hynes also liked what he saw from his defense.
"The shot blocking was excellent," Hynes added. "When you hold them to only (22 shots) that offensive-zone pressure, forecheck — that's the strongest we've been in the last little while. And when we didn't have the puck, the guys really worked, played within our structure and were committed defensively."
---
Scoring Summary
FIRST PERIOD
No Scoring
SECOND PERIOD
NJD – Adam Henrique PPG (15) assisted by Mike Cammaleri and Pavel Zacha, 8:46
THIRD PERIOD
BUF – Tyler Ennis (3) assisted by Kyle Okposo and Justin Faulk, 8:39
NJD – Pavel Zacha (6) assisted by Michael Cammalleri and Damon Severson, 12:33
THW Three Stars
First: Pavel Zacha (GWG goal, assist)
Second: Mike Cammalleri (2 assists)
Third: Adam Henrique (goal)
[irp]
NEXT UP:
San Jose Sharks at Buffalo Sabres
Key Bank Center, 7:00 PM EST on Tuesday, Feb. 7
TV Broadcast Channels: MSG Western New York and CSN CA California
First Meeting of 2016-17 (Mar. 14 at San Jose)
San Jose Sharks at New Jersey Devils
Prudential Center, 12:30 PM EST on Monday, Feb. 12
TV Broadcast Channels: MSG+ and CSN CA California
2016-17 Meeting: Sharks defeated Devils 4-0 on Nov. 21
New Jersey Devils One Jersey Grass Roots Writer; 13 years writer/reporter for The Star-Ledger and NJ.com; 1st-year with The Hockey Writers; Previously covered the Boston Bruins, Boston Red Sox and New England Patriots for The Casco Bay Weekly; Portland Pirates (AHL) 2002-'03; Director of Media Relations The Eastern League (AA) 2000-'02; Great Skate 1997-2000; Buffalo Sabres 1994-'97; Buffalo boy, Maine grad; International hockey player and coach; #Buffalove #OneBuffalo