Kyle Okposo and Matt Moulson held the knife while Rasmus Ristolainen stabbed the Islanders in the back.
In his first game against his former team, Okposo's perfect pass to Ristolainen 42 seconds into overtime led the Buffalo Sabres to a dramatic 3-2 come-from-behind win over the New York Islanders in sudden-death fashion at Key Bank Center Friday night in Buffalo.
Twice, the Sabres erased one-goal deficits falling behind by scores of 1-0 and 2-1 before battling back to tie the game in each of the second and third periods off the sticks of Johan Larsson and Matt Moulson.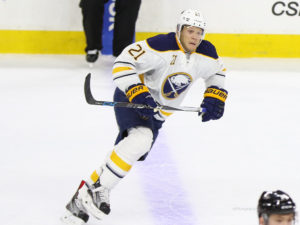 Sluggish from the start, the Islanders seemingly needed to poke the Sabres to wake them up. After Ryan Strome broke the ice, Larsson answered. When Rochester native Shane Prince set up Alan Quine to give the Islanders its second led of the game, another former Islander — Matt Moulson — tied it back up.
After going scoreless in his first 25 games, Ristolainen ended it with his second game-winning overtime goal in his last four contests.
"I got an opportunity to join the rush and Okie made a great play," Ristolainen said of Okposo's pass in overtime. "I tried to yell and tap my stick and he made a great play. There was someone in front of the goalie so he really couldn't see and I put it glove side."
"I got the puck and knew it was a 2-on-1 the whole way up the ice," Okposo said. "I was thinking about where I was going to shoot the puck but by the time I got to the red line I saw Risto in and knew I was going to give it to him at that point. I just tried to suck the D-man in. Risto made a great shot."
The Islanders were feeling pretty good after building a 1-0 lead after 20 minutes of play. Ryan Strome's fourth goal of the year was the difference.
"Pretty solid defensively. I don't think we gave them too much," Ryan Strome told MSG Network's Shannon Hogan in the first intermission. "We played hard defensively and created some chances to score too.
"When you get a couple you start to feel good about yourself," Strome said. "We've got a bunch of guys contributing right now and that's been helping us out. For me, just trying to keep my game simple and get pucks to the net. Hopefully some good things start happening."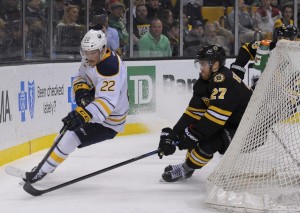 Good things did start happening — for Buffalo.
Johan Larsson's deflection off Rasmus Ristolainen's shot from the point in the second period tied the game at 1-1. After Alan Quine's power-play goal returned the lead to New York, former Islander Matt Moulson converted one of his own to make it 2-2.
Between Okposo and Moulson, who accounted for 257 goals, 335 assists and 592 points in 829-career games for the Islanders franchise, to say this was just another game for each of them would be a dismissal.
"It was strange to be honest with you. It was just a weird feeling," Okposo said. "So many times you play with those guys and I know exactly what they're going to do. It was an odd game and an odd feeling but happy we got the win."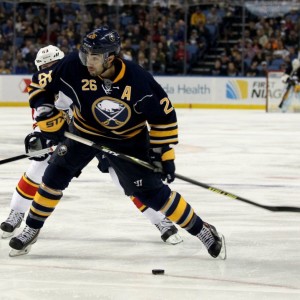 "To be a good team in this league you've got to find ways to win. We found a way to squeak one out there," Moulson said. "Down goals the last two games and to come back, it speaks to how confident we are as a group. They're a good team, doesn't matter what they're record says."
The triumph is a big confidence booster for a Sabres team that won three of four games during its recent homestand to climb over the .500 mark at 12-11-6 this season. Robin Lehner finished with 35 saves to win his second straight game and improve to 6-9-4 this season.
"It's a huge win," Okposo added. "It's a long season and you're going to have games where you're not at your best and you've got to find a way to win those. That's a sign of a good team. That's what good teams do."
Okposo ➡️ Ristolainen

GWG. #CheersToHockey pic.twitter.com/WyCiSFidci

— Buffalo Sabres (@BuffaloSabres) December 17, 2016
Orange and Blue Honor Okposo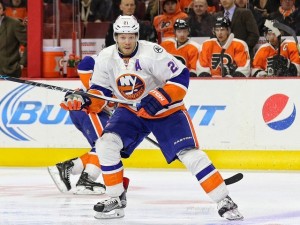 In Kyle Okposo's first game against his former team both players and staff took time to honor him after 369 points and 529 games over nine seasons out on The Island.
MSG Networks paid tribute with its top-five all-time Okposo moments which included a couple nifty goals against Marc-Andre Fleury and Corey Crawford as well as a bloody fight with Matt Niskanen.
"Obviously (Okposo) is a good friend of a lot of us, a good mentor, definitely weird to see him on the other side," Ryan Strome said of his former teammate. "He's doing well for himself but once the pucks dropped the game's on and you forget about it but it'll be nice to see him after the game, give him a handshake, give me a hug and talk about some good old times."
First Period
A sluggish start opened the door for the Islanders to get the jump on the Sabres when Ryan Strome finished what he started to put New York on the board 13:08 into the game. Strome's center ice pass to Nikolay Kulemin (which was scrutinized and deemed on-sides after a second look) gave way to Cal Clutterbuck once the Islanders broke the zone. Clutterbuck dropped back to Strome who picked his corner to record his fourth goal of the season 13:08 into the action.
.@strome18 with the quick release that finds the back of the net to put the #Isles up in the first. ?? #NYIvsBUF pic.twitter.com/mj8A3BDXMO

— New York Islanders (@NYIslanders) December 17, 2016
Second Period
Buffalo reasserted itself in the second frame and the team was able to settle in offensively, establishing puck possession in the offensive zone as Rasmus Ristolainen and Jake McCabe were effective working the perimeter with some nifty passing. It was on such a play Johan Larsson stepped in front of a Ristolainen shot from the point and deflected it home to tie the game at 1-1 just 2:32 in. It was Larsson's fifth goal of the season.
The game-tying goal was short-lived, however, as team captain Brian Gionta was whistled for slashing at 4:51. The game's first penalty led to the game's first power-play goal as Alan Quine converted the Islanders' power-play goal with 12 seconds remaining in Gionta's minor.
Buffalo was awarded its first chance with the man-advantage as Clutterbuck was called for hooking at 17:09 but the Sabres couldn't convert.
Perfect redirection from Larsson on the Risto shot.

Ristolainen picks up his 19th assist of the season. pic.twitter.com/OTLiG3x6XB

— Buffalo Sabres (@BuffaloSabres) December 17, 2016
Third Period
Buffalo made good on its second opportunity with the man-advantage when Andrew Ladd got a little careless with his stick and was sent off for tripping 1:21 in. The power-play afforded the Sabres paid immediate dividends when Matt Moulson, along the goal line, got a fortuitous bounce off Thomas Hickey on his backhander with just three seconds remaining on the minor infraction. The puck caromed off the Islanders defender and past Islanders goaltender Jean-Francois Berube to tie the score at 2-2. Evander Kane and Brian Gionta assisted on Moulson's eighth goal of the season. Seven of Moulson's eight goals have come on the power-play.
Count it. pic.twitter.com/uYvRlOcQdH

— Buffalo Sabres (@BuffaloSabres) December 17, 2016
Overtime
It didn't take long to send the Buffalo faithful, who weathered the blustery winter conditions to make it to the game, home with a smile on their face.
Just 42 seconds into sudden-death, the Sabres emerged out of its zone on a 3-on-1 break with Okposo and Ryan O'Reilly leading the way. Trailing on the play, Ristolainen took a deft pass from Okposo and cherry picked the top right corner beating Berube for the game-winning goal. It was Ristolainen's second goal of the season, both of which have been overtime game-winners.
"I saw the opportunity to join the rush."

Hear from a very happy game-winning goal scorer Rasmus Ristolainen: https://t.co/7txNE1AXV2 pic.twitter.com/pxAGHP4rRo

— Buffalo Sabres (@BuffaloSabres) December 17, 2016
News and Notes
Both clubs now have a 3-6 record in overtime games this season… The Islanders (11-13-6) have now lost each of their last four games… The Sabres won a much-needed three-out-of-four games on its homestand and goes over .500 with a 12-11-6 record… The clubs will meet again in Brooklyn on Dec. 23 which is "Ralph Macchio Karate Kid Bobblehead/leg Night."
Scoring Summary
First Period
NYI – Ryan Strome (4) assisted by Cal Clutterbuck and Nikolay Kulemin
Second Period
BUF – Johan Larsson (5) assisted by Rasmus Ristolainen and Jake McCabe
NYI – Alan Quine PPG (2) assisted by Shane Prince
Third Period
BUF – Matt Moulson PPG (8) assisted by Evander Kane and Brian Gionta
Overtime
BUF – Rasmus Ristolainen (2) assisted by Kyle Okposo
THW Three Stars
First: Rasmus Ristolainen (1 goal, 1 assist)
Second: Kyle Okposo (1 assist)
Third: Jean-Francois Berube (34 saves)
Next Up:
Buffalo Sabres at Carolina Hurricanes
PNC Arena – 7:00 PM EST on Saturday, Dec. 17
Broadcast Channels: MSG, MSG Plus, MSG-Western New York
2016-17 Season Series: First matchup of the season