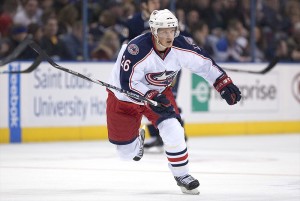 Only four days remain until the NHL trade deadline and the deals have finally started to trickle in.
The pursuit of Rick Nash has seized the attention of at least a half dozen Cup contenders, but Columbus has been actively shopping other players as well.
On Wednesday, Antoine Vermette was moved to the Phoenix Coyotes for a second-round pick, fifth-round pick, and goalie Curtis McElhinney.  The hefty price paid by Phoenix is in line with Tuesday's three-way swap that saw the Detroit Red Wings send a first-round pick down to Tampa for RFA Kyle Quincey.
Many teams are also opting to re-sign their free agents instead of trading them away as deadline rentals. Team executives from two teams told TheHockeyWriters.com that GM's around the league are reevaluating how they handle pending free agents.  Players such as Quincey and Hal Gill fetched nice returns for their former teams, but Colorado and Montreal will need to spend significant assets to replace the defensemen this offseason.
Carolina held two of the deadline's most prized possessions in Tim Gleason and Tuomo Ruutu.  Instead of shipping them to the highest bidder, Hurricanes GM Jim Rutherford opted to lock up both players to four-year extensions to stay with the team.
[Note: Ruutu's extension should pave the way for a trade of Bryan Allen in the coming days.  Ruutu and Allen were a bit of an either/or scenario as Carolina had to retain some of their high-salary players to avoid falling below the salary cap floor of $48.3m.  Allen was a target we suggested in our Pittsburgh Penguins trade deadline preview last week.]
The Penguins and GM Ray Shero are in a holding pattern as prices likely remain well above what's they're willing to pay for depth.
The new six-year, $30 million deal given to James Neal last weekend all but solidifies the Penguins roster for next season.  With $59.6m already committed to 18 players, Shero is in the market for rentals at this year's deadline and not players with multiple years left on current deals like Vermette (or the often-rumored Pittsburgh natives Ryan Malone and RJ Umberger).
Unfortunately, the market for rentals is scarce and other teams will be more desperate than Pittsburgh.  Buffalo's Paul Gaustad would still be an ideal fit on the Penguins third line, but the price to acquire him may become unreasonable.
As Shero and his staff scour league depth charts for cheaper depth options, Columbus' Sami Pahlsson could be a solid pickup they consider.  The 34-year-old is in the final year of a deal that carries a $2.65m cap hit and has just two goals in 59 games this season, but his offensive abilities aren't the reason he makes sense for the Penguins.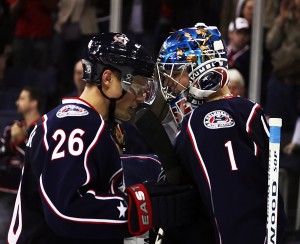 Pahlsson is one of the finest defensive forwards in the game and is strong in the faceoff circle.  According to BehindtheNet.ca, Pahlsson has the sixth lowest even strength offensive zone start percentage (32.2%) among all NHL centers. (Click here for a detailed list)  A low offensive zone start percentage indicates a player is being intentionally placed into neutral zone and defensive zone faceoffs by his coach, often indicating that player is defensively responsible.  (To contrast, Henrik Sedin leads the league at 77.5%, as the Canucks place him in situations to suit his offensive strengths.)
Jeff Little, who covers the Blue Jackets at TenMinuteMisconduct.com, says Pahlsson is the ideal third-line center for a contender:
Pahlsson is always there, never spectacular, but rarely disappointing. He has lost a step or two with age, so he can be beaten wide on the rush or on a quick back-door play. Pretty solid with the puck, average passer, not much of an offensive threat anymore. Veteran savvy and ideal teammate.
The lack of high-end speed is certainly a concern in the Penguins up-tempo system.  However, playoff hockey in the Eastern Conference this year will be more trap and less track meet.  Dustin Jeffrey and waiver claim Cal O'Reilly have more offensive flare than Pahlsson, but neither have shown me enough in the defensive zone to feel comfortable with them in a third line role, checking an opposing team's top line on the road in the playoffs.
Pahlsson was an integral part of the Anaheim Ducks Cup run in 2007.  Some even had him in the Conn Smythe conversation that year because of his impact at both ends of the ice.  He doesn't possess the same offensive upside he did five seasons ago, but Pahlsson is the veteran that will kill a penalty, win vital faceoffs, and not let up a goal in the third period of Game 7 on the road.
Oh, and by the way, he knows one member of the Penguins coaching staff pretty well.
Tangradi Callup is Curious
It's natural at this time of year to connect the dots and make something out of nothing, but I'm surprised at the minimal reaction to Eric Tangradi's callup on Tuesday.
The Penguins scratched healthy forwards Dustin Jeffrey and Cal O'Reilly and placed Tangradi on a checking line against the Rangers.
Bylsma said Tangradi was recalled because he added a physical element  the coach needed on his third and fourth lines.  I certainly agree with that sentiment, but I can't help but wonder if he's being showcased for other teams right now.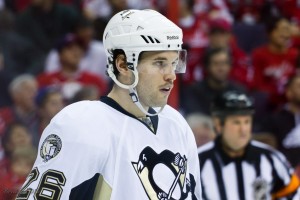 I haven't seen Tangradi play in Wilkes-Barre in a few weeks, but I was told he hasn't been playing his best hockey as of late which makes the callup all the more curious.
We suggested last week that Tangradi might be better off with a fresh start in a new organization.  He was quick to dismiss that notion on Tuesday.
"Pittsburgh is a great organization," Tangradi said. "If you want to win, reach the highest level then win the Stanley Cup, this is a great place to be a part of.  I'd love to be able to stick here at some point and further my career."
Tangradi also said he understands the rumors that run rampant at trade deadline time and he's just trying to seize the opportunity in front of him.
"It's something I've just learned to deal with.  If something is going to happen, it's going to happen whether I'm tuned into it or not.  All I can really do is focus on the task at hand and focusing on the everyday."
Click here to read THW's full trade deadline preview of the Pittsburgh Penguins.
___________________________________________