Let's face it: the Detroit Red Wings need players that can put the puck in the back of the net. They have plenty of players that have a solid-to-strong two-way game, and they have several players that are proficient as playmakers in the offensive zone. What they lack is players that finish plays, players can be the "toe" in a tic-tac-toe play. While there has been a lot of chatter about players Detroit could trade for to address that need, there are also some prospects available in the 2023 NHL Draft that could fit in that role in the coming years.

One prospect that seems primed to be a scorer in the NHL is winger Colby Barlow. The Ontario-native scored 46 goals this season in the Ontario Hockey League (OHL) while also wearing the captain's 'C' on his sweater for the Owen Sound Attack. That total placed him fifth in the OHL overall, and first among players in their first draft-eligible season. He had one more goal than Red Wings prospect Amadeus Lombardi, who has seen his stock soar in a big way over the course of this season.
Related: Red Wings 2023 Draft Coverage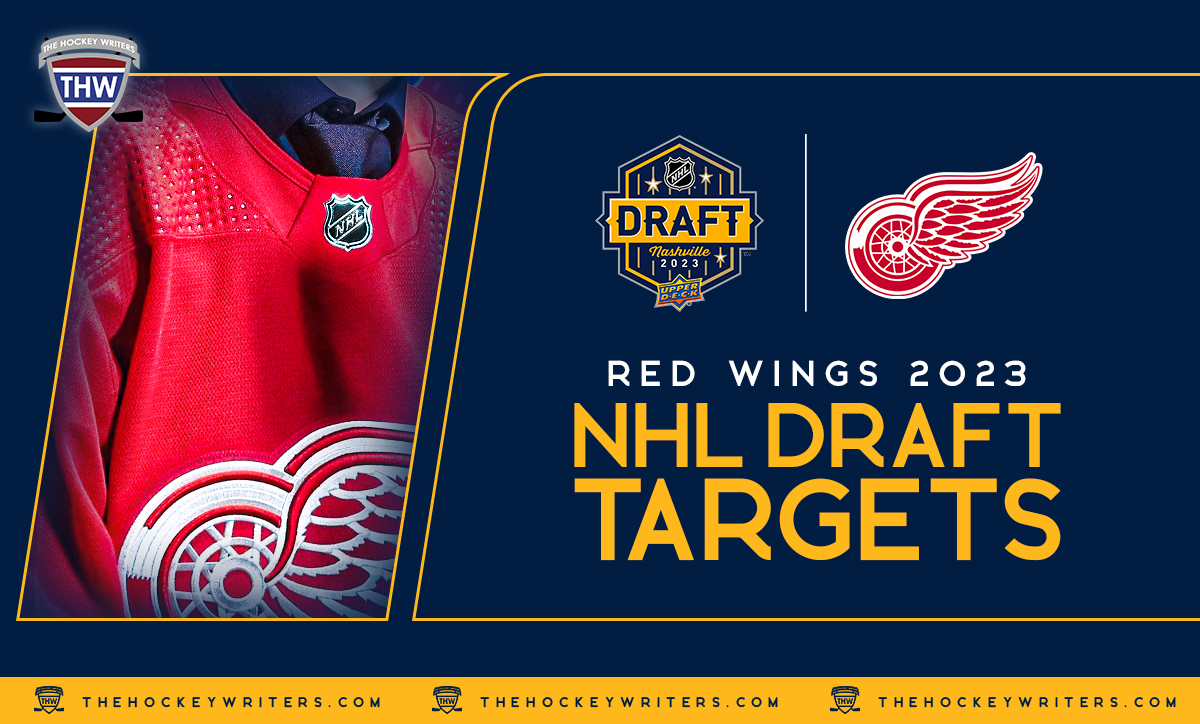 If the Red Wings select Barlow with one of their two first round picks, they'll certainly increase the scoring potential of their prospect pool. However, he is much more than just a hired gun. In fact, he may just be one of the most mature players in this year's draft class.
Barlow's Toolkit
But let's not get ahead of ourselves. Barlow's believers are drawn to him because of his scoring abilities. He plays a fairly simplistic game as he doesn't incorporate a ton of east-west in his game, sticking mostly to a north-south attack. When he makes himself available as a shooting option, his shot has enough power and accuracy to beat goaltenders cleanly from in and outside the prime scoring areas. He isn't afraid to use his shot either – he unleashed 294 shots this season and 481 in total over the last two seasons.
Barlow has a stocky frame, standing at 6-foot-1, 187 pounds, and he uses that build to protect the puck and engage in battles for loose ones. If you look at him exclusively through the lens of his offensive ability and his physical build, he's an NHL-caliber player already, and he may even have a strong showing during training camp in the fall. Outside of the top guys in this year's draft, he is arguably the most NHL-ready of the bunch.
Related: 2023 NHL Draft Guide
---
Latest News & Highlight
---
As evidenced by the letter he wore on his chest this season, Barlow is also a real leader out on the ice. He handles himself with a maturity beyond his years, and his game reflects a player that understands that the game isn't won at one end of the ice. Despite his offensive profile, he is also an effective two-way player; he saw time on his team's penalty kill this season, and he isn't afraid to give a little extra effort in the defensive end. He simply plays the game the right way, and he's the type of leader that sets an example for others to follow.
While Barlow is no dangler, he does have hands capable of creating space for himself. He's an able puck-carrier, but an effective NHL attack probably wouldn't use him as the primary one. If his team can pair him with a creative playmaker, he's going to score a ton of goals and become the type of player that opposing teams plan their defensive strategy around.
Barlow's Areas to Improve
One of the most common critiques of Barlow is how much room he has to develop. He already has a mature frame – or a "man's body" as some would call it – so it's fair to wonder how much physical development he has left. He could definitely benefit from adding strength to his core, but that tends to happen over the course of a couple years, not one offseason.
Beyond his physical attributes, Barlow's game may seem NHL-ready, but that then begs the question of how much runway he has to elevate his game further. He might have one of the highest "floors" in the draft, but the thing about players with high floors is that they often don't have super high ceilings. Players of that ilk are often considered "safe" picks that sacrifice upside for NHL certainty. Most scouts will tell you that he will play in the NHL someday, but the real debate is whether he's a future top line scoring threat or more of a middle six depth scorer. There's a huge difference between the two, especially when you're considering making this player a top-20 or even top-10 pick.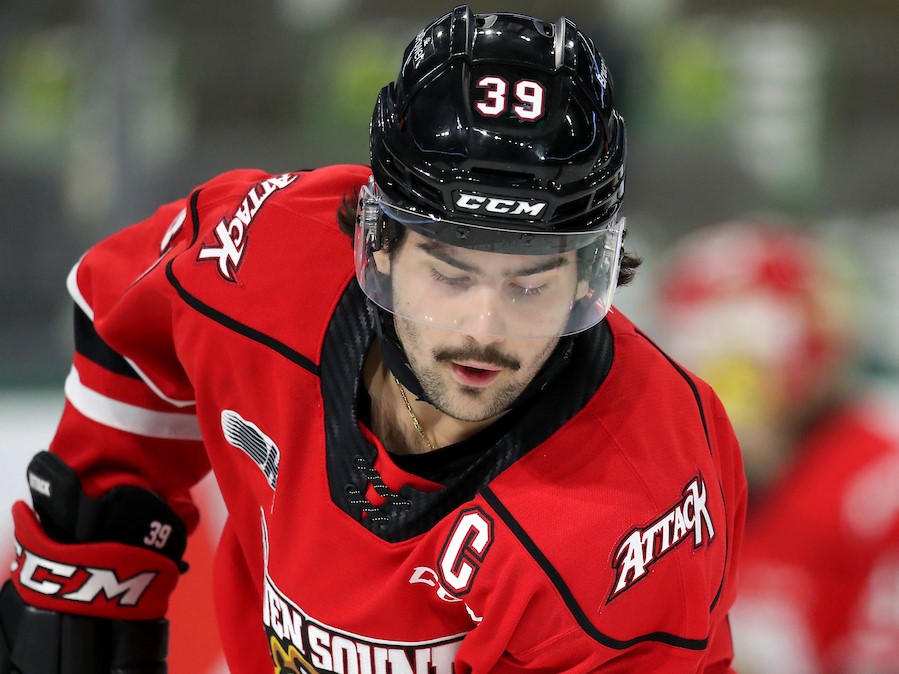 Rounding out Barlow's areas to improve are his skating and his decision-making with the puck. While he's not an awful skater, he does lack high-end speed and his feet sometimes look heavy as he makes his way up the ice. As for his decision-making, 294 shots is certainly eye-popping, but you don't usually rack up that kind of total without shooting from some low-percentage areas of the ice. He has such a shooter's mentality that you sometimes wish that he would delay and look to make an extra pass. If he can elevate his playmaking abilities, he'll become a dual-threat in the offensive zone that will be tough to contain.
NHL Readiness
As has already been said, Barlow is arguably one of the most NHL-ready prospects in this year's draft class. Teams that are bereft of talent could probably find a spot for him on their roster for next season, but the team that does take him will likely have enough talent on their roster and in their prospect pool to keep him on the outside looking in. That is not a bad thing, however.
Ideally, Barlow would play next season in the American Hockey League (AHL). He's a proven goal-scorer in the OHL, and now the big question is whether or not his abilities will translate against men at the professional level. Unfortunately, his options for next season are either the OHL or the NHL, due to the NHL's transfer agreement with the Canadian Hockey League. Assuming another season in the "O" is on deck, he should use next season to address the areas of his game where people have questions. Further honing his abilities as a leader wouldn't be a bad thing either.
Barlow's Fit with the Red Wings
Barlow is the type of player the Red Wings lack. He scores goals, and his NHL ETA is a lot closer than some of the other projects in their prospect pool. He may be THE prospect that is at the intersection of best player available and the Red Wings' team needs.
Furthermore, Barlow is a high-character prospect, and that is an attribute that Red Wings general manager Steve Yzerman and his scouts have placed a premium on in previous drafts. With captain Dylan Larkin locked in for the next eight years, the Red Wings don't need to find their next captain anytime soon, but Barlow is definitely the type of player that could one day wear an 'A' as part of Detroit's leadership group. That is an attribute that sets him apart from some of the other draft targets they could consider with their two first round picks.
Best Player Available
Barlow seems destined to go anywhere from 12th to 20th overall in this year's draft. It would be a slight reach for the Red Wings to grab him with the ninth pick, but there's a pretty good chance he won't be on the board when they pick again at 17th overall. He is an ideal candidate at 17th overall, and he would instantly become Detroit's second or third-best offensive prospect if they were to call his name on the draft floor.
What Others Are Saying
"He's a hard-working forward who has some physicality, can kill penalties, and is quite physically advanced for his age. Offensively he has excellent stick skills and a great shot. He's a threat to score off the rush and from a standstill with his one-timer. Barlow's playmaking isn't his selling point, but it's good enough, especially with how skilled he is at creating scoring opportunities for himself." – Corey Pronman, The Athletic (from "2023 NHL Draft ranking: Connor Bedard leads Corey Pronman's tiers of the top 142 prospects", The Athletic, 5/30/23)
"Barlow attacks up ice as the off-puck striker but lacks the speed and dynamism to be the primary puck carrier. He is willing to shoot from anywhere in the offensive zone, oftentimes being willing to shoot from above the faceoff dots. He was scoring on shots that went off of the goaltender or just squeaked through, which isn't going to work at the next level. Barlow is a player that often gets tunnel vision, keying in on the goaltender and going straight there without much vision for the rest of the ice." – Tony Ferrari, The Hockey News
"Whoever drafts Barlow is getting the ultimate competitor who will help his team in all aspects of the game. There's a reason why he is so respected at this point in his career. He takes killing penalties as seriously as he does finishing goals. He leads by example with his actions. That's why some believe he's a top-10 prospect in this loaded draft. There aren't many who play like him at both ends of the ice." – Mark Scheig, The Hockey Writers
---