Today's recap of all things Detroit Red Wings features a tear-jerking article penned by former Red Wing Justin Abdelkader, as well as updates on a few players that are still in the organization. Without further adieu, let's dive in:
Abdelkader Says Goodbye
In a heartfelt piece written for The Players Tribune, Justin Abdelkader — whose contract was bought out by the team last month — told the story of how he lived out his dream of becoming a Red Wing. Some notable parts of the article include his reaction to being drafted by his hometown team:
"Due to the NHL lockout, only a few players had been allowed to attend the draft in Ottawa. So we went to dinner to await the results of the draft. I was checking my flip phone obsessively, until the moment it lit up with my agent's name. I picked up to hear those unimaginable words, 'The Detroit Red Wings drafted you 42nd overall.' My jaw dropped. My eyes teared up. My dad nearly fell out of his seat. I jumped up and shouted the news to the entire restaurant."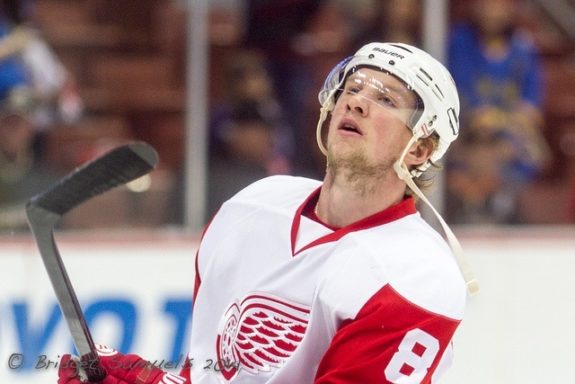 He also wrote about his first practice with the Red Wings and the mistake he made that he would never make again:
"Then I locked eyes with Mike Babcock, our coach at the time. And he's walking right at me. I'm just hoping there's someone right behind me he wants to talk to. But, no, he wanted to talk to me.
'Hey, Abby, is that your car in my parking spot?'
I thought, You have to be kidding me. And, I mean, Mike was intense. I thought he was going to rip my jersey right off me.
'Oh, Coach, I di—' And then he smirked and cracked up."
The rest of Abdelkader's article can be read here.
Abdelkader played in 803 games (regular season and playoffs) with the Red Wings, with his best season coming during the 2014-15 campaign while playing alongside Pavel Datsyuk and Henrik Zetterberg. His play alongside the "Euro-twins" led Datsyuk to coin the term "piano-puller" to describe the hard work the Muskegon-native put in that allowed his linemates to thrive.
Two seasons later, head coach Jeff Blashill named Abdelkader as one of the team's alternate captains. The winger went on to wear an "A" on his sweater for the remainder of his time with the Red Wings.
Mantha Signs
On election day in the USA, the Red Wings announced the news that winger Anthony Mantha had been signed to a new four-year deal. The deal carries an annual cap hit of $5.7 million.
While fans across "Hockeytown" are just happy that a key piece of the offense is locked in for the foreseeable future, pundits from around the league have marveled at the value this deal provides the Red Wings.
Take a deeper look at Mantha's deal here.
Jared McIsaac Has Surgery
Defenseman Jared McIsaac, who the Red Wings selected with the 36th pick in the 2018 Draft, underwent successful surgery on his left shoulder and will be out for the next five to six months, the team announced. The need for surgery occurred while the 20-year-old was playing over in Finland to begin his professional career.
This is another setback for McIsaac after losing a good chunk of his final season in the Quebec Major Junior Hockey League due to injury. The defender was poised to begin this season in the AHL with the Grand Rapids Griffins before the ongoing pandemic forced the Red Wings to form a different plan for one of their top defensive prospects. Now, McIsaac may not play another competitive hockey game until the 2021-22 season.
Despite his impressive play last year as part of Team Canada during the World Junior Championship, McIsaac has yet to build on the promise that saw some scouts project him as a potential first-round pick in 2018. The talent and promise are still there, so the Red Wings have to hope that his recovery goes well, and he shakes off the inevitable rust in his game quickly once he is able to return.
Our own Tony Wolak ranked McIsaac as the team's sixth-best prospect back in August.
More…
Filip Zadina has resumed playing over in the Czech Republic following a finger injury that prevented him from starting up the season with HC Ocelari Trinec. In his first game, he recorded a goal and an assist.
Filip Hronek continued to expand on his excellent international resumé with his play while representing the Czech Republic.
Max Bultman of The Athletic published a "mailbag" article in which he answered questions from readers from around the internet. Here are some of his notable thoughts:
In regards to Zadina's projected production: "…it wouldn't surprise me one bit to see him score at a 20-goal, 40-point pace next season. Adjust those numbers for however many games they actually play, and that's my projection."
In regards to Moritz Seider's play overseas and what he might become at the NHL level: "Regardless, I think he's going to be a top-pairing-caliber NHL defenseman someday, and, as he's done in Sweden, make sure his team has the puck a heck of a lot more often than opponents do. That's a valuable player to have."
On Michael Rasmussen's role with the team going into the future: "He'll need to stay healthy, but he has all the tools to be a weapon on the power play, useful on the penalty kill and a tough-to-play-against, two-way center. Where specifically he slots into the lineup will, of course, depend on how everyone around him develops, too."
(From 'Yzerman's best move as GM; projecting Evgeny Svechnikov: Red Wings mailbag' – The Athletic – 11/9/20)
Latest From THW
Stay tuned to The Hockey Writers as more news comes out of Detroit as well as from around the league!
---
---