Maneuvering to sign young stars in the NHL has become somewhat of an art form since the salary-cap era began. There's the need to appease the team's future without rattling its existing core. Also, the deal needs to fit within the constraints of the team's cap space. Finally, there's the concern of driving up the comp prices for other teams during their negotiations.
Sometimes those obstacles become too much, as was the case for Detroit Red Wings forward Tyler Bertuzzi.
The 25-year-old restricted free agent opted for salary arbitration earlier this month, mostly because his asking price of $4.25 million and GM Steve Yzerman's offer of $3.15 million were too far apart. Bertuzzi had a solid case, as he led the team last season with 21 goals in 71 games played, and has become an impact player in his short NHL career. Ultimately, though, the independent arbitrator settled on a number slightly closer to Yzerman's, and Bertuzzi was inked to a one-year deal worth $3.5 million.
Bertuzzi's Market Value Compared to Others
It's important to note the factors considered during an arbitrator's decision making process. Performance, games played, serviceable years, and how the player has contributed to the club's overall success are largely considered before a ruling is made. Often times, even when a player files for arbitration, a deal is reached prior to the hearing.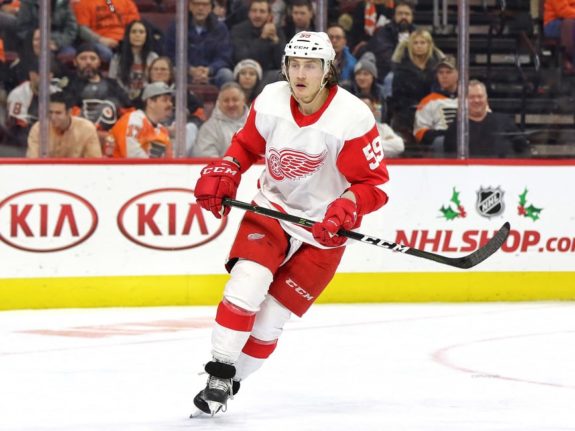 Consider this: 26 players filed for arbitration this season, and to date Bertuzzi's case is the only one to be heard. 19 others have already settled with their respective clubs, and six do not yet have a deal in place.
Analyzing Bertuzzi's contract against his peers with similar statistics who filed for arbitration this season helps illustrate how the decision was reached. Again, keep in mind the Red Wings have the only deal to this point that was overseen by an independent arbitrator.
| | | | | | | |
| --- | --- | --- | --- | --- | --- | --- |
| Player | P | PS | Corsi | oiSV% | AAV | Years |
| Tyler Bertuzzi | 48 | 4.5 | 48.8 | 89.6 | $3.5m | 1 |
| Sam Reinhart | 50 | 4.5 | 52.0 | 89.6 | $5.2m | 1 |
| Connor Brown | 43 | 3.4 | 48.6 | 90.8 | $3.6m | 3 |
| Chris Tierney | 37 | 2.6 | 47.8 | 90.1 | $3.5m | 2 |
| Victor Olofsson | 42 | 4.5 | 50.3 | 90.8 | $3.05m | 2 |
PS = Point Share; oiSV% = On Ice Save Percentage
Reinhart's one-year deal with the Buffalo Sabres highlights his experience and sustained success. In five full seasons of NHL service, he has scored 20 or more goals four times, and recorded three 50-point seasons, including 65 in 2018-19. Still, the short term deal seems to be asking him to prove himself once more.
There are also outliers who never applied for arbitration. Colorado Avalanche forward Andre Burakovsky, who is actually considered most comparable to Bertuzzi on capfriendly.com, signed a two-year, $9.8 million extension a few weeks ago. The Avalanche avoided arbitration with their top-six forward, but questions remain on if they overpaid for a player who has only registered more than 40 points once in his career, and will be an unrestricted free agent when the contract expires.
One aspect considered, as mentioned earlier, is how the player has contributed to the club's success. Though Bertuzzi was a team leader in all major categories, the league-worst Red Wings managed just 17 wins, scored the fewest goals, and were the only team mathematically eliminated from the playoffs when the NHL shut down due to COVID-19 last season. Though it wasn't the end-all, that didn't help his bargaining ability.
Potential Anthony Mantha Deal May Have Needed Wiggle Room
A longer deal for Bertuzzi would have been nice for both parties, offering him some long-term stability while locking in what looks to be a valuable part of the team's core. The Red Wings are navigating through uncertain waters, though, because the salary cap is expected to remain the same as last season. at $81.5 million.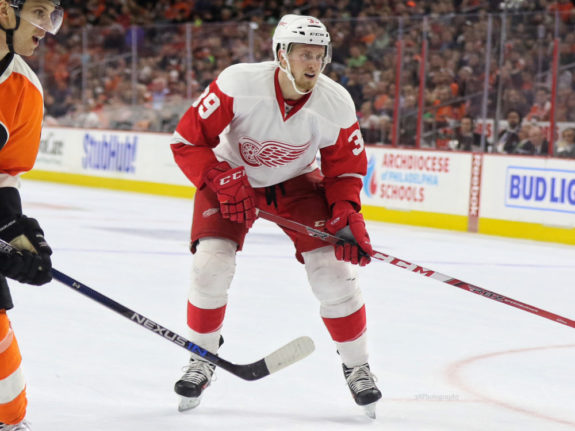 Most of Yzerman's contracts to this point have been short term, but Mantha may become the exception to that. He is widely regarded as an unmoveable part of Detroit's emerging core, along with Dylan Larkin, and the hesitancy to throw money towards Bertuzzi could be related to a desire to lock up Mantha long term.
Larkin's contract, which brings a cap hit of $6.1 million annually, expires after the 2022-23 season.
Questions also linger as to whether Bertuzzi is the beneficairy of having linemates such as Mantha and Larkin. This season will likely offer him the ability to show that skill.
What Lies Ahead This Season
Bertuzzi will still be a restricted free agent after the season concludes, so it's reasonable to assume another productive year for the young forward. Furthermore, he has said he is excited about the moves Yzerman has made in the offseason, and he has every reason to be. The additions of Vladislav Namestnikov and Bobby Ryan will give the Red Wings two legitimate scoring lines on which Bertuzzi can shine.
In the present, though, both Detroit and Bertuzzi were winners in this deal. Bertuzzi received a hefty pay raise, and Yzerman bought more time and cap flexibility to help cement the team's future.
---
---