All the buzz in the NHL is surrounding a certain collection of jerseys that were officially dropped on Monday – and deservedly so. However, the Detroit Red Wings and their fans have a lot more to discuss than just a sweater. So let's get the obvious thing out of the way:
Red Wings "Reverse Retro" Jersey Drops
After a few teases over the last week or so, Adidas and the NHL unveiled their "Reverse Retro" lineup. Every team currently in the NHL received the retro treatment, and here's how the Red Wings' new sweater came out:
Each jersey is inspired by a certain year in the team's history. The Red Wings' is said to be inspired by the year 1998, when they clinched a back-to-back championship as well as their ninth Stanley Cup title. Per a press release from Adidas and the NHL:
Worn by 1998 team captain and current General Manager Steve Yzerman. The gray of this Reverse Retro jersey is inspired by the silver from the Red Wings' NHL Centennial Classic jersey.

– Press Release from Adidas and the NHL
The social media reactions to the Red Wings' new sweater have been lukewarm, at best. Perhaps seeing them in action will skew the narrative a bit?
Blashill Q&A
Head coach Jeff Blashill recently did an interview with Max Bultman of The Athletic where they discussed a handful of topics ranging from offseason preparations to the coach's impressions of players doing their thing overseas. Some notable quotes:
On Filip Zadina's play: "…in Zadina's case, in particular, I think the important part is that he is continuing to build the type of habits that you have to have to be successful in the National Hockey League. Is he winning puck battles? Is he leveraging his body to do that? …I also think you like to see how his dynamics look. Is he creating scoring chances? Is he doing those things in an efficient manner?"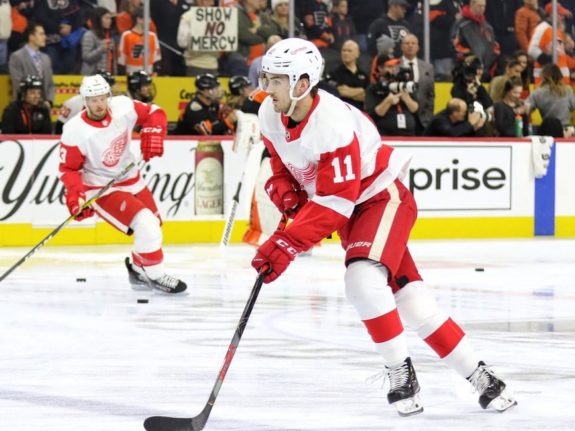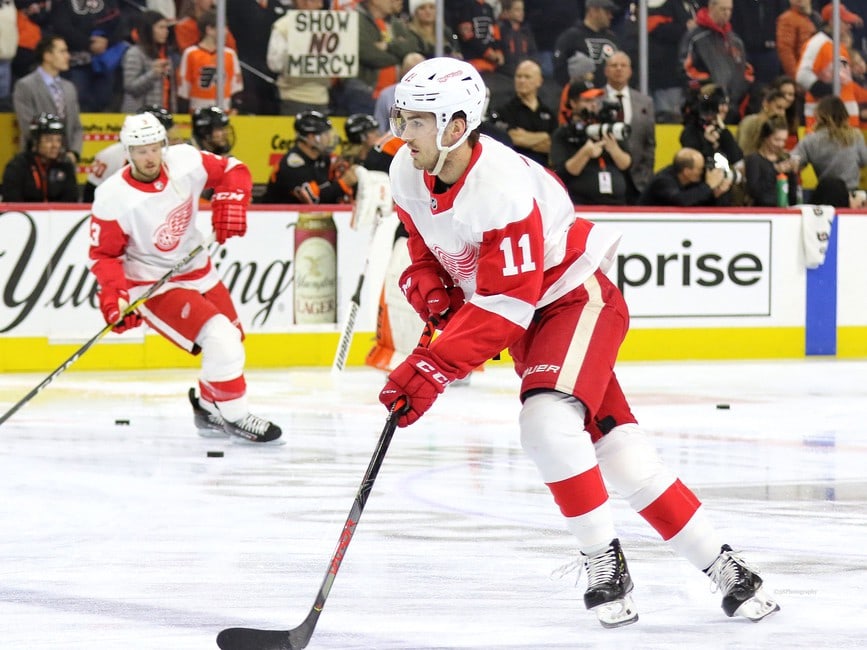 On Filip Hronek's play: "Now, Hronek's a little different. Hronek's obviously proven much more at this level, but there are areas that are extremely important, that even if he's having great success over there, he's gotta make sure he keeps having great habits…."
On Vladislav Namestnikov's fit: "…Vlad is a player that can really do a lot of different things. He can play a lot of different roles. He can play on your power play, he can play on your penalty kill, he can play wing, either wing spot, and center. So I think he gives us a lot of different areas where he can potentially help us."
On Namestnikov at center: "The fact (Namestnikov) can play center, I think, is a positive. I'm intrigued by giving Robby Fabbri an opportunity to play center too. So we'll see, we'll see where the best fit is."
Some takeaways:
It appears that this is the year that Zadina should make the roster out of training camp. His coach and general manager sure seem to have that outcome in mind.
Blashill seems to really like Namestnikov's versatility.
Robby Fabbri at center is definitely going to be a thing at some point in 2020-21
(From 'Jeff Blashill Q&A: Where the Red Wings can improve, and impact of new arrivals' – The Athletic – 11/13/20)
MLive's Opening Night Lineup
Ansar Khan of MLive recently published his idea for the Red Wings' opening-night lineup. Here's what he suggested:
| | | |
| --- | --- | --- |
| Tyler Bertuzzi | Dylan Larkin | Anthony Mantha |
| Robby Fabbri | Vladislav Namestnikov | Bobby Ryan |
| Evgeny Svechnikov | Sam Gagner | Filip Zadina |
| Darren Helm | Valtteri Filppula | Luke Glendening |
| | |
| --- | --- |
| Danny DeKeyser | Filip Hronek |
| Marc Staal | Patrik Nemeth |
| Jon Merrill | Troy Stecher |
The extra skaters are Adam Erne, Frans Nielsen and Alex Biega.
Perhaps the most intriguing aspect of this projection is the third line where Kha not only sees Sam Gagner as that line's center, but he also projects that Evgeny Svechnikov – the Red Wings' top pick in the 2015 draft – will crack the roster in a semi-prominent role. Placing the young Russian on a scoring line opposite Zadina could actually be highly beneficial to both of their games.
We here at The Hockey Writers projected the Red Wings' 2020-21 lines a few weeks ago. Check that out here.
More…
Here's an update on some of the Red Wings' players and prospects playing abroad:
Filip Hronek (HK Hradec Kralove, Czech): 9 games played (GP), 4 goals (G), 6 assists (A), 10 points (P).
Moritz Seider (Rögle BK, SHL): 8 GP, 2 G, 5 A, 7 P
Joe Veleno (Malmö Redhawks, SHL): 10 GP, 2 G, 2 A, 4 P
Mathias Bromé (Örebro HK, SHL): 16 GP, 3 G, 12 A, 15 P
Michael Rasmussen (Graz99ers, ICEHL): 5 GP, 2 G, 3 A, 5 P
Jonatan Berggren (Skellefteå AIK, SHL): 17 GP, 4 G, 15 A, 19 P
Albert Johansson (Färjestad BK, SHL): 16 GP, 3 G, 3 A, 6 P
Lucas Raymond (Frölunda HC, SHL): 17 GP, 5 G, 5 A, 10 P
Victor Brattström (KooKoo, Liiga): 10 GP, 1.98 goals-against average, .910 save percentage
Theodor Niederbach (Frölunda HC J20, J20 Nationell): 19 GP, 13 G, 22 A, 35 P
The NHL is starting to pivot towards a 48 to 60-game 2020-21 season if/when it happens.
How this schedule would look in terms of travel and matchups has yet to be determined. Many have suggested that the league may realign the teams – including an all-Canadian division – just for the upcoming season as a response to the ongoing pandemic. We'll have to wait and see what the league ultimately decides on doing.
Latest From THW:
Stay tuned to The Hockey Writers as more news comes out of Detroit as well as from around the league, and tune-in to our new weekly live show on YouTube and Facebook. You can stream it Friday nights at 8:00 P.M. ET on The Hockey Writers YouTube channel. Check out last week's show below.
---
---