*Originally published in June 2021
The history of the NHL draft, or any draft, is filled with "coulda, shoulda, wouldas." Player development and scouting is a guessing game that determines the strength of a team's future. No team escapes the process without a couple of misses.
---
---
The Detroit Red Wings are in the midst of a rebuild and have been for at least two seasons – although the timeline is a bit debatable. They have had top 10 picks in the last four seasons, with the team's fifth coming in the 2021 draft. Going back 10 years, the first round has yielded some of the team's top prospects and players. Were they the best choices though?
2021 – Simon Edvinsson (D, 6th Overall)
With their first pick in the first round of the 2021 draft, the Red Wings continued to add to their up and coming blue line by taking Swedish defenseman Simon Edvinsson. At the time of the pick, some scouts loved this player and had him ranked within the top five of the draft class, while others had him outside of the top-10 due to concerns about the level of risk that lies in his game. Since then, it appears the Red Wings did indeed add a Swedish monster that will patrol the left side of Detroit's blue line for years to come.
During the 2021-22 season in the Swedish Hockey League (SHL), he finished tied for first in points (19) among all U20 defensemen (he was tied with fellow Red Wings prospect and 2020 draftee, William Wallinder.) He stood out whenever he represented Sweden during international play, and it seemed like he put in a lot of work to minimize the risk in his game that made many scouts weary of him. He is now signed to a contract with the Red Wings and will make his North American debut next season.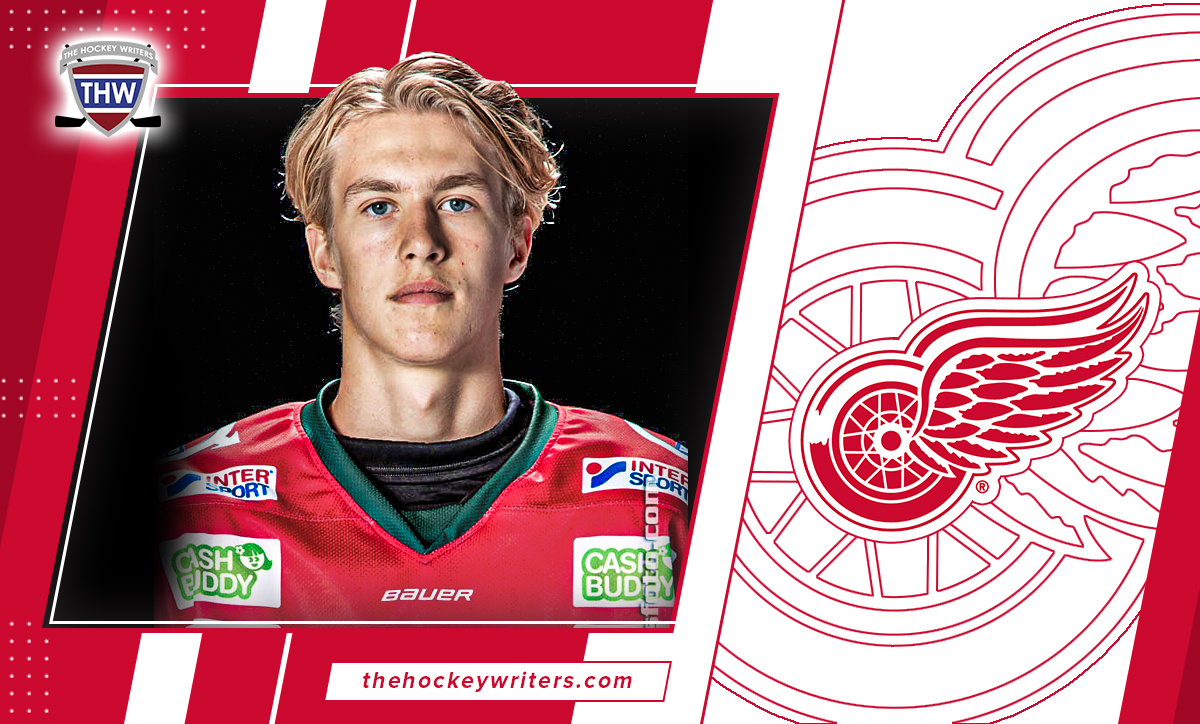 Until we see him on North American ice, it is almost impossible to assign this pick a proper grade. The early returns suggest this pick will be a success, but it's way too soon to grade it as such.
2021 – Sebastian Cossa (G, 15th Overall)
Heading into the 2021 draft, much discussion was had about the Red Wings' need for a top-tier goalie prospect. With the team's tendency to favor Swedish prospects, many people projected Detroit to pick Swedish goaltending prospect Jesper Wallstedt at sixth overall (they went with Edvinsson instead.) So then when the Red Wings traded up to pick 15 and Wallstedt was still on the board, it seemed like many people were getting ready to order a Wallstedt Red Wings jersey.
Then the Red Wings took Sebastian Cossa of the Western Hockey League (WHL) instead. Meanwhile, the Minnesota Wild were able to snag Wallstedt at 20th overall, setting the two goalies up to be compared to one another for the foreseeable future.
This season with the Edmonton Oil Kings, Cossa's stats took a bit of a hit when compared to his draft-year numbers, but he still helped lead his team to a WHL title. It is clear that he is still an incredibly raw prospect whose physical tools remain his best assets. It will take some time before we have a good idea of whether or not this was the right pick – and fans will undoubtedly be watching Wallstedt to see if Detroit made a mistake by opting for Cossa instead – but the tools are all there for Cossa to develop into the Red Wings' goalie of the future. We'll definitely have to revisit this pick in a few years.
2020 – Lucas Raymond (W, 4th Overall)
A year and a half after the Red Wings made Lucas Raymond the fourth player taken off the board in the 2020 draft, we can't truly discern whether or not this was the right choice. While some held concerns over the Swedish winger's lack of playing time during his draft season, his ability to make things happen on both sides of the ice was on full display in the SHL during the 2020-21 season. He then followed that season up by making the Red Wings' roster as a 19-year-old, and he had himself a very successful season.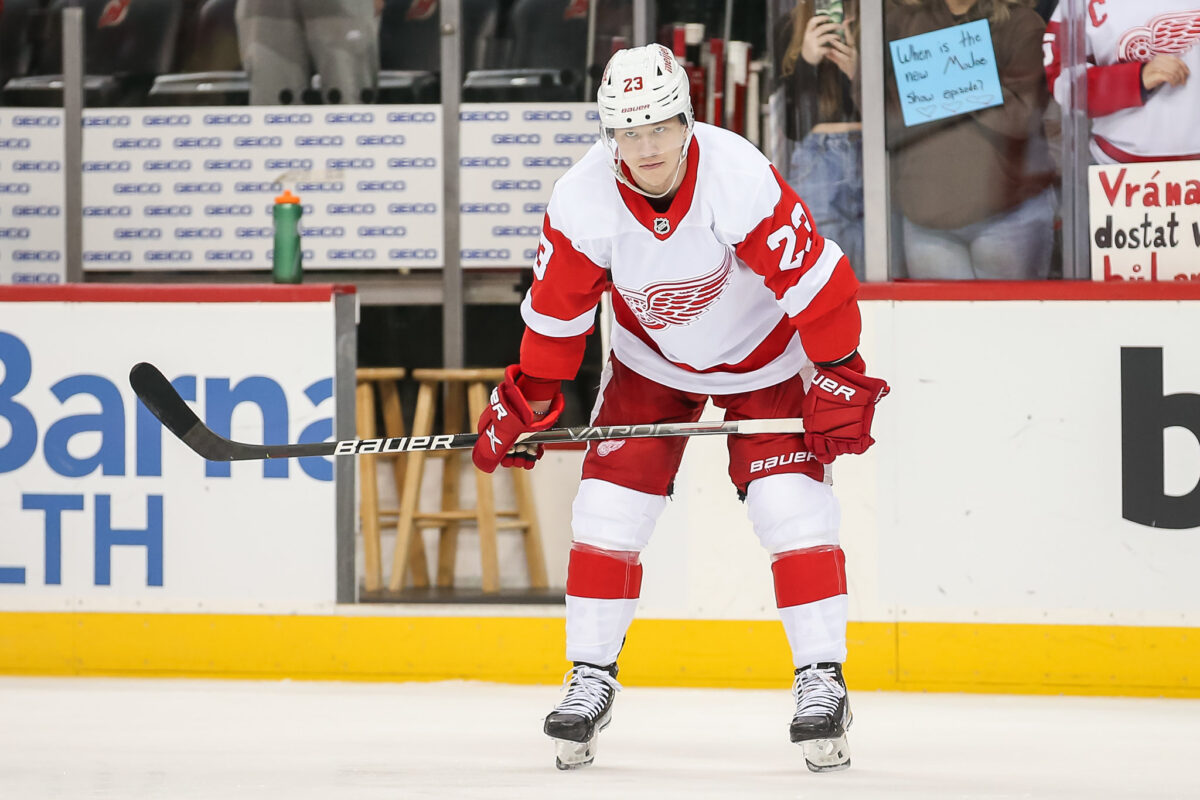 The three players picked directly after Raymond were Jake Sanderson (Ottawa), Jamie Drysdale (Anaheim) and Alexander Holtz (New Jersey); only Sanderson has yet to make his NHL debut since then. While Drysdale and Holtz have flashed their potential at the NHL level, neither has looked overly impressive at the NHL level. Meanwhile, Raymond recorded 57 points through 82 games in his debut NHL season, keeping him in the Calder Trophy discussion throughout the 2021-22 campaign. While it is way too early to determine whether or not this was the "right pick" at fourth overall, early returns suggest that the Red Wings did add one of, if not the best player in the 2020 draft. Grade: a very premature A
2019 – Moritz Seider (D, 6th Overall)
Let's get this out of the way: it is still too early to properly judge whether or not this was the right pick. However, after a Calder-worthy debut season with the Red Wings, it's looking more and more like Moritz Seider was a steal at sixth overall.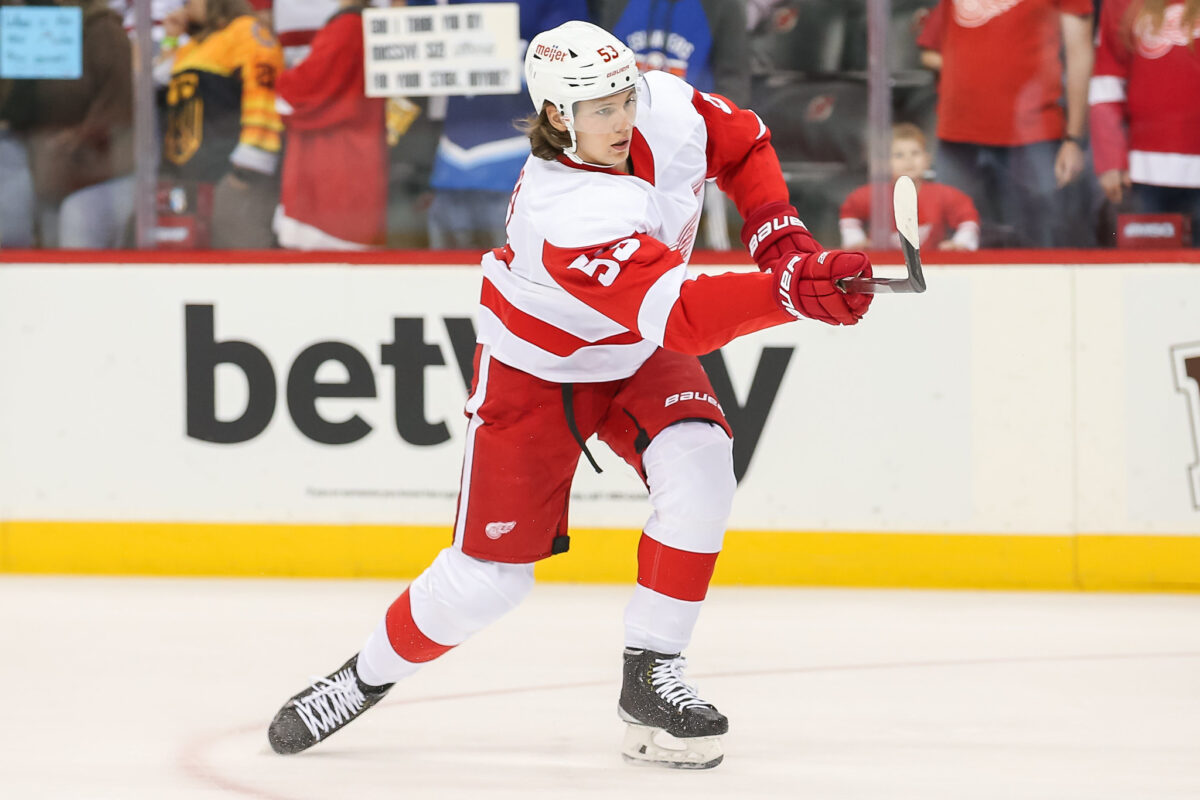 Seider began his pro career in Germany during his draft year, and then followed it up by playing in the American Hockey League (AHL) the following season with the Grand Rapids Griffins. His play that season (2019-20) inspired confidence in some who were shocked to hear the young German's name called at sixth overall. One facet of his game that has gained particular consideration is his physical play.
Seider spent his D+2 season (2020-21) in the SHL with Rögle BK and took the league by storm. He recorded 28 points in 41 games, and then helped lead his team to the championship round where they eventually fell short. The young German was awarded the EliteProspects.com Award, which is awarded to the best rookie player in the SHL. He was also named the best defenseman in the SHL for the 2020-21 season. In his rookie NHL season, he was by far the Red Wings' best defenseman. He recorded 50 points through 82 games, and it's borderline scary to think about what this kid could become in just a few more seasons. He needs to prove he can do it again, and even do it better at the NHL level, but this pick is shaping up to be the organization's best pick in the first round since the took Dylan Larkin in 2014. Grade: A
2018 – Joe Veleno (C, 30th Overall)
In 2018, the Red Wings had two first round picks. With the Vegas Golden Knights' pick, acquired in the Tomas Tatar trade, they selected a player who many thought would get selected in the 15-25 range. Instead, the Red Wings nabbed him at 30th overall.
The 2018 Draft is still a bit too fresh to reach any clear conclusions, but that won't be the case for long. It's reasonable to assume that they felt gifted when Joe Veleno was still available at 30th overall given central scouting rankings. Now that Veleno is a full-time NHLer, it's time for him to make good on that promise.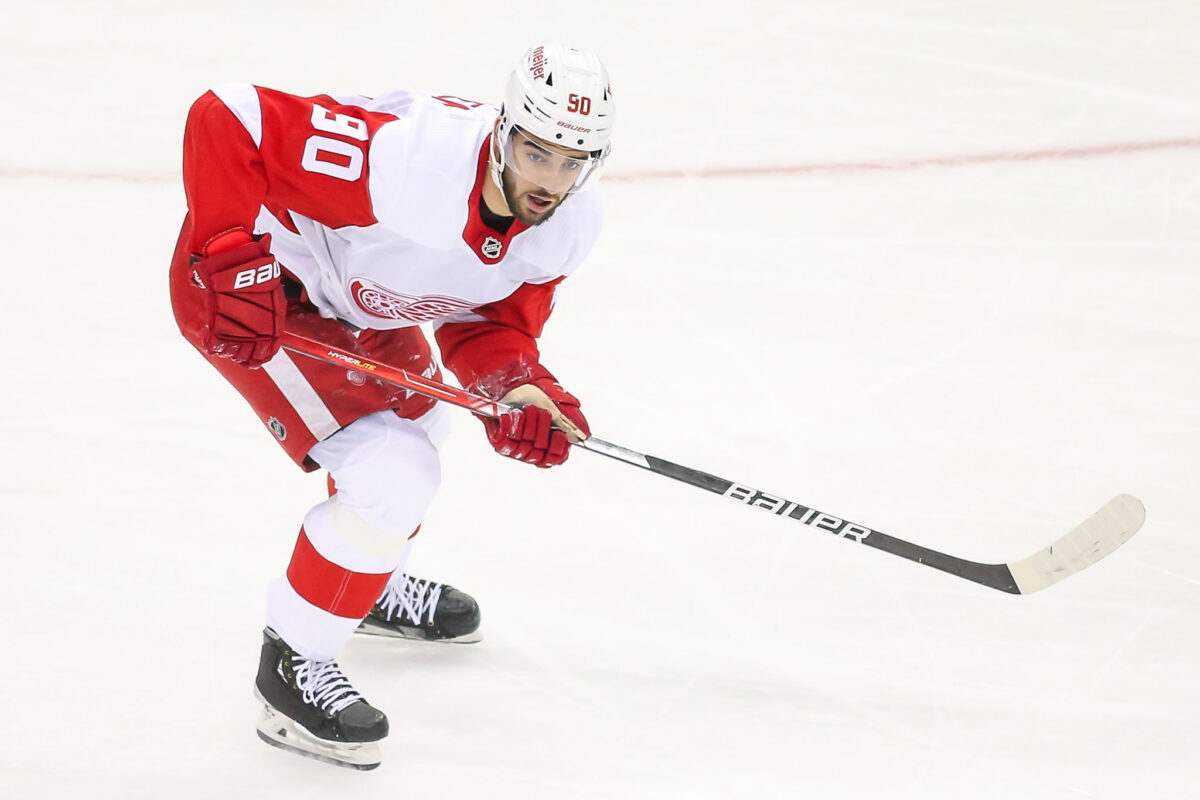 Veleno dominated the Quebec Major Junior Hockey League the season after he was drafted, but he experienced growing pains in the AHL during the 2019-20 season. He followed that up with a solid season in the SHL with a weak Malmö team before making his NHL debut late in the 2020-21 season. He played in five games with the Red Wings, recording his first career goal along the way, and reignited the excitement Red Wings fans had when Detroit called his name late in the first round of the 2018 draft. After recording just 15 points through 66 games in the 2021-22 season, it's clear that he needs to take his game to another level if this pick is going to grade out well a few more years from now. Grade: C+
2018 – Filip Zadina (RW, 6th Overall)
Although Filip Zadina is creating a lot of buzz, there are still some who judge this pick by the player selected immediately after him: defenseman Quinn Hughes. Given the team's need on the blue line at the time, it's not unfair.
The Red Wings' 2018 Draft can be summarized as the one when they picked up those who fell from their central scouting rankings. Many had Zadina pegged as the third-best prospect, yet Detroit snagged him at sixth overall. With Zadina, they added a potentially dynamic winger to a prospect pool without much "wow" factor.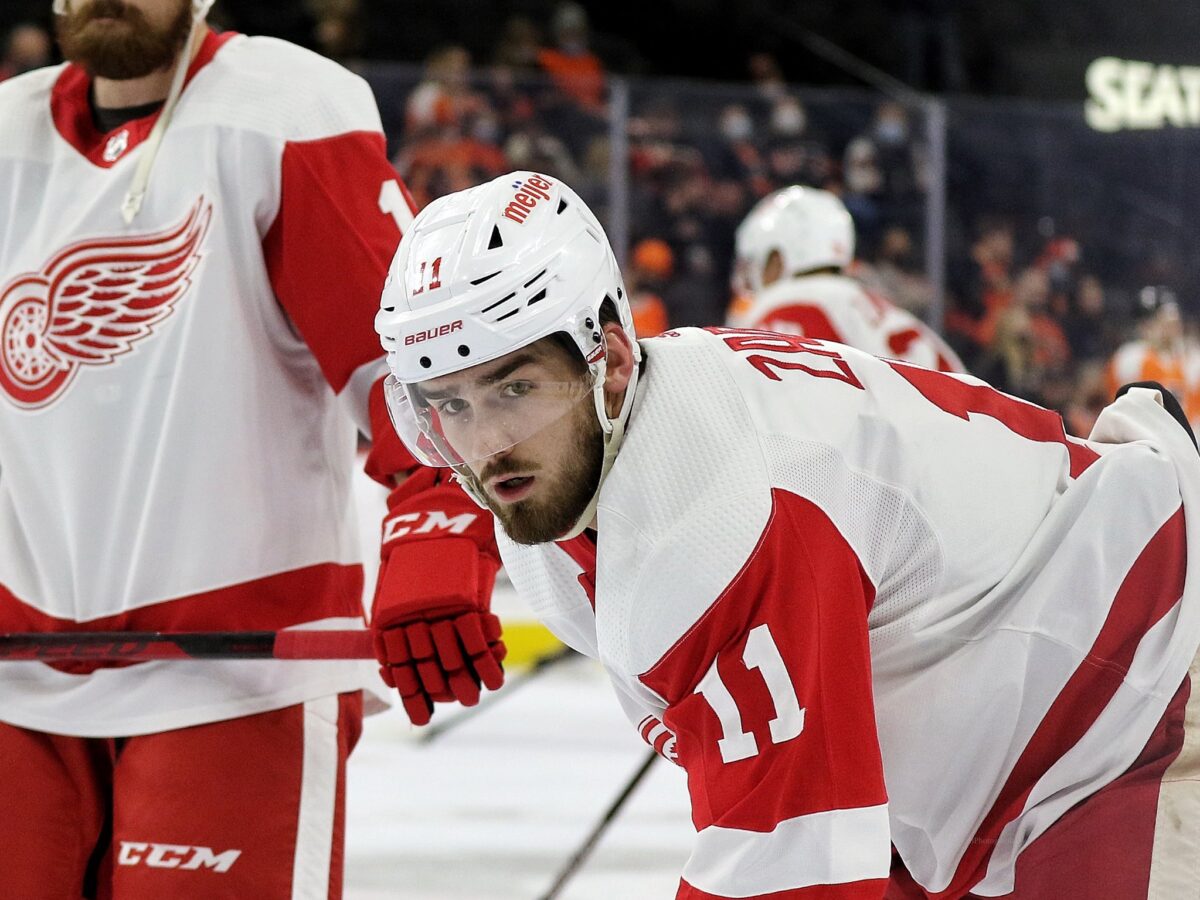 Fast forward to today and now nearly every Red Wings fan wonders "what if?" when it comes to the 2018 draft. Though Zadina has shown a ton of promise throughout his tenure with the Red Wings, he hasn't been able to put it together yet. He has just 25 goals and 61 points through 160 games, and the 2021-22 season saw him look absolutely rattled at times. Many fans are ready to move on from the Czech winger; many others think it's just a matter of time before he breaks out. When there's this much room for debate, you know the pick wasn't a slam dunk, and that's more or less what you're hoping for at sixth overall. Grade: C+
2017 – Michael Rasmussen (C, 9th Overall)
Here is where we start to get an idea of whether a selection was right or wrong. All but one of the 31 players selected in the first round of the 2017 Daft have appeared in the NHL. Michael Rasmussen may not be one of the more prolific players to come out of the first round of that draft, but at least it looks like Detroit got a legitimate NHL player out of the pick (not unsubstantial given the whiffs they had in the first round in the previous two drafts.)
You may also like:
Rasmussen has proven to be a polarizing player because of where he was drafted. After two solid seasons from 2020-22, he seems to be developing into a big-bodied, matchup center with enough offensive skill to provide solid depth scoring for his team. Through 182 NHL games, he has 57 points. That is not what you're usually looking for with a top-10 draft pick – especially when it was the franchise's first top-10 pick in over two decades – and that is why there is some discontent with the player he is becoming. You either love him for what he is, or you don't like him because of what he is not.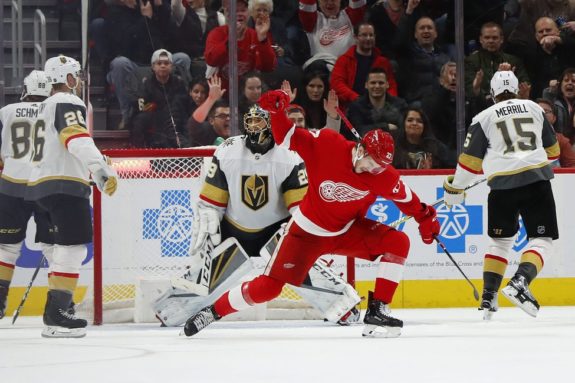 Players selected after Rasmussen include Martin Necas, Robert Thomas, Filip Chytil and Henri Jokiharju. After a breakout season in 2021-22, Thomas would undoubtedly be a top-six forward for the Red Wings right now, and Jokiharju would hold down a spot somewhere on the blue line – and that's not to mention Necas, who seems like a good breakout candidate for the Carolina Hurricanes sooner rather than later. While the jury is not out on Rasmussen yet, the Red Wings definitely could have had something more with the ninth-overall pick. Grade: C+
2016 – Dennis Cholowski (D, 20th Overall)
Before properly diving into this one, it's important to note that the Red Wings received more value from this selection than the handful of teams that picked ahead of them. The Vancouver Canucks would likely swap the fifth-overall selection of this draft – Olli Juolevi – for Dennis Cholowski in a heartbeat. However, there were better players to be had at 20th overall.
As time has moved on, this pick has started to show some serious blemishes. After making the Red Wings' roster out of training camp at the start of the 2018-19 season and playing 52 games, the 24-year-old defenseman has played just 63 NHL games since then. After becoming a "cusp" player – too good for the AHL, but not quite good enough for the NHL – the Red Wings left him exposed in the Seattle Expansion Draft, where the Kraken made him their pick from Detroit. After being claimed by Seattle, the Washington Capitals claimed him off of waivers. After a cup of coffee with that organization, the Kraken reclaimed him off of waivers.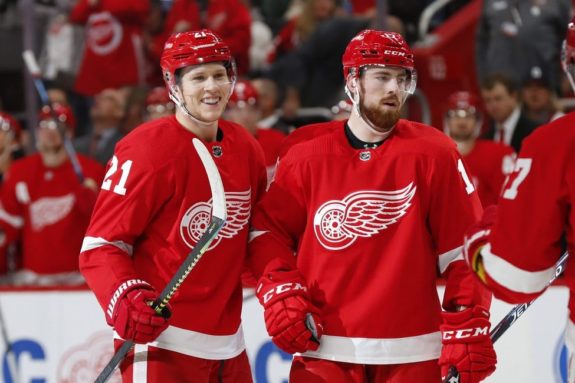 Considering the Red Wings still got him at 53rd overall, there's no point in pointing out that Filip Hronek was a better player to snag at 20th overall. If their draft positions were flipped, however, would the perception of each player change? Other players the Red Wings could have selected include Alex DeBrincat, Samuel Girard, Carter Hart and Jesper Bratt.
DeBrincat is the clear star among that group and the type of player the Red Wings would love to get their hands on now. Adding Hart would have put a strong prospect in an area where the team was thin at the time. Cholowski at 20th was a big swing, but unfortunately the Red Wings have nothing to show for it. Grade: D+
2015 – Evgeny Svechnikov (LW, 19th Overall)
Of the players selected in the first round of the 2015 Draft, Evgeny Svechnikov ranks 56th in games played. Part of this is due to his season-ending surgery on his knee ahead of the 2018-19 season. However, in Svechnikov's 113 games in the NHL, he has just 31 points.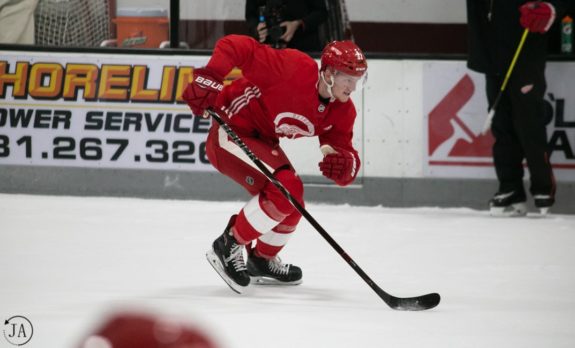 The list of players the Red Wings could have had at 19th overall is extensive: Travis Konecny, Brock Boeser, Anthony Beauvillier, Ilya Samsonov and Brandon Carlo are just a few. But the player the Red Wings really missed out on now plays with Svechnikov's brother in Carolina: Sebastian Aho.
To be fair, just about every team passed on Aho before Carolina picked him at 35th overall. Had the Red Wings taken him with their first pick, they would feature a one-two punch down the middle of Aho and Larkin, capable of going toe-to-toe with many in the NHL. Instead, they waited and waited for the older Svechnikov to arrive, but he never did. Grade: D–
2014 – Dylan Larkin (C, 15th Overall)
The Red Wings and former general manager Ken Holland probably didn't know it at the time, but they came away from the 2014 draft with a kid that would develop into arguably the franchise's most important player. Having grown up in the state of Michigan, Larkin knew exactly what he was in for when the Red Wings called his name at 15th overall. Today he is the captain of his hometown team.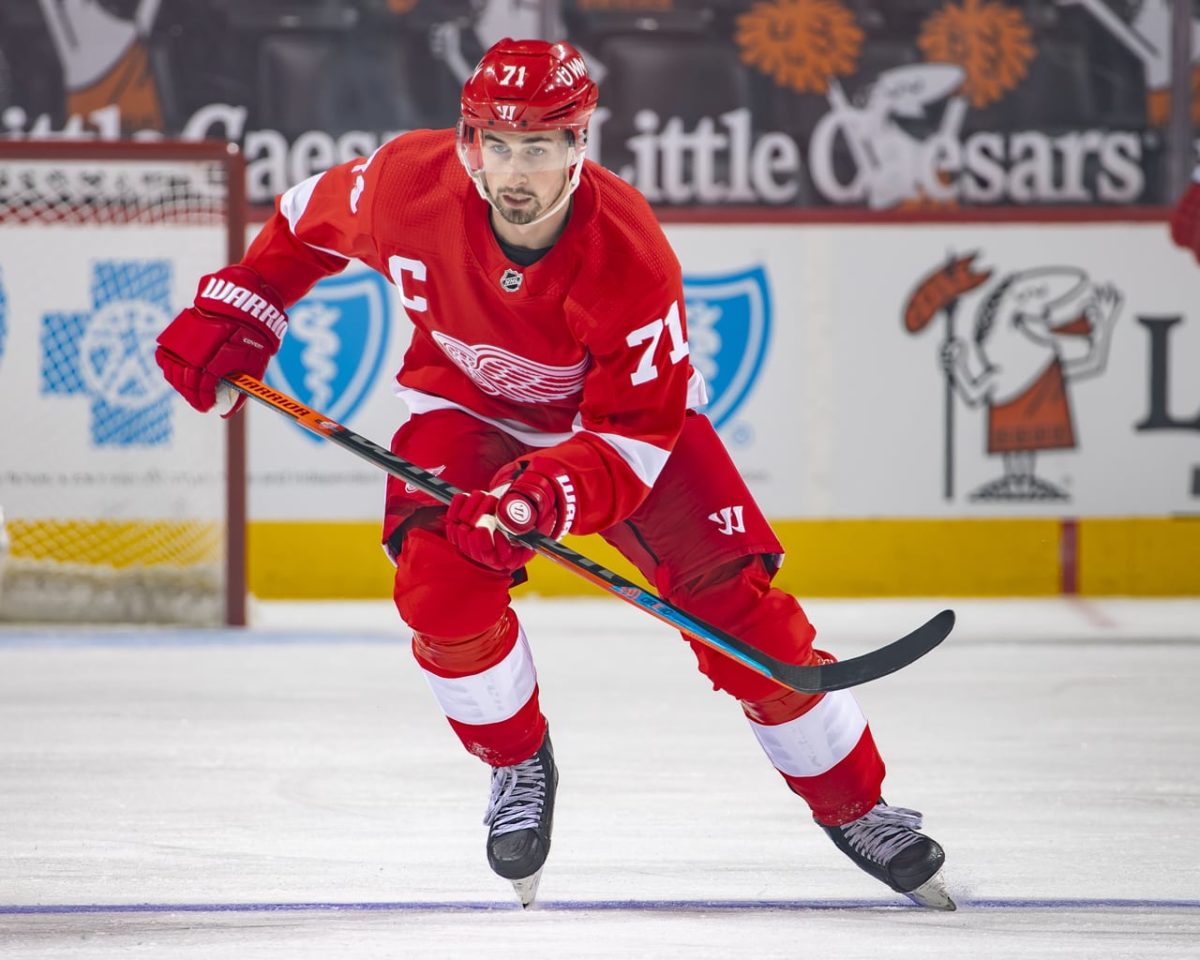 As of this writing, Larkin is tied for fifth among 2014 draftees in terms of points. He ranks fifth in terms of games played. To say that Detroit got a steal in taking this player is not that much of a stretch. Some players that he was drafted behind include Michael Dal Colle (fifth overall), Haydn Fleury (seventh) and Brendan Perlini (12th).
When any team picks a player in the first round, that team and their fanbase clings to the hope that they've added a star to the organization. In this case, the only player picked after Larkin that has outperformed him is David Pastrnak, whom the Boston Bruins selected with the 25th pick. If you can add a top 10 player in a draft class with a pick outside of the top 10, that should always be considered a huge win. Grade: A
2013 – Anthony Mantha (W, 20th Overall)
Entering the 2013 draft, Anthony Mantha was touted as one of the best offensive talents available. When the Red Wings managed to snag him with the 20th pick (acquired after trading back from the 18th spot with the San Jose Sharks), many could already foresee the French-Canadian forward posting 30-goal seasons on a regular basis for the Red Wings. He was Detroit's best offensive prospect in a long time.
To this date, Mantha ranks sixth in goals among 2013 draftees with 99. Unfortunately, to this point in his career, he has only scored 20 goals or more in two of his five full seasons in the NHL. Part of it is due to inconsistent health – he missed a total of 54 games from 2018 to 2020 – and another part of it is due to inconsistent playing time and a lack of high-end talent on the Red Wings teams he played on. While his career numbers are good, many around Hockeytown are still a bit upset that his numbers never entered the "great" category. He has since been traded to the Washington Capitals.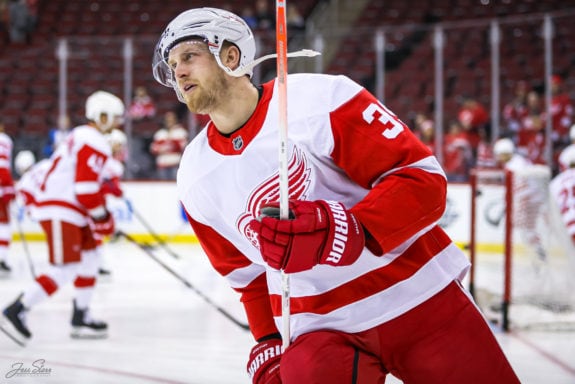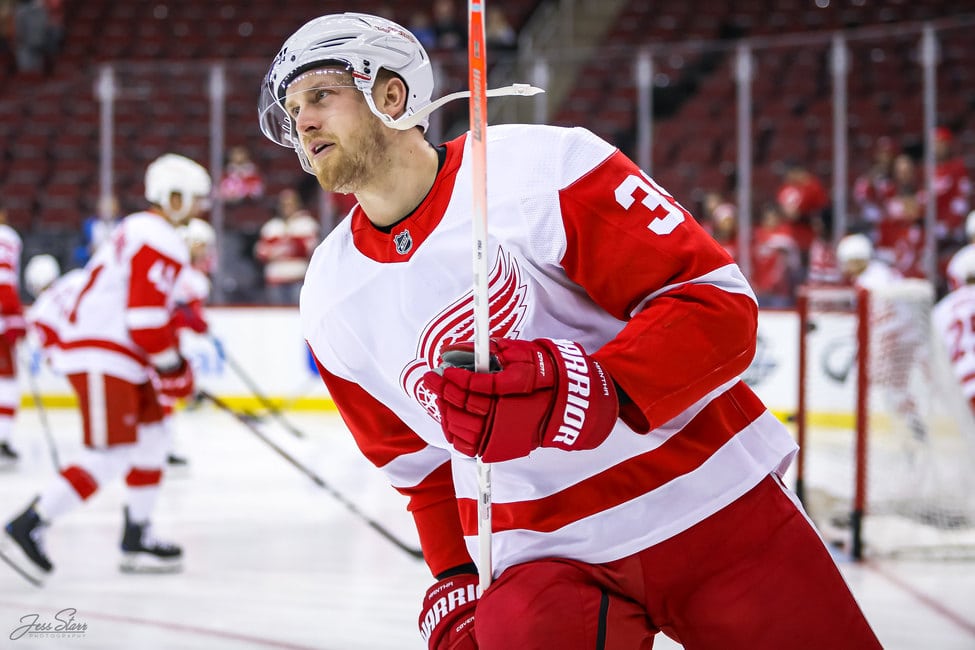 There is zero doubt that Detroit made no mistake when they selected Mantha with the 20th pick in the 2013 draft. Mistakes were definitely made between then and the organization's decision to trade the power forward, though, and it colors the perception of this pick a bit. If he had reached his ultimate potential, this would be an A+ pick. Instead, we're left wondering "what if". Grade: A-
Hockeytown is still sour about this one. Grade: LOL
Impacts
Considering the Red Wings' place in the NHL standings, the team needs to accumulate more "hits" than "misses" in the first round over the next few years. Relative misses in 2015 and 2017 have left holes in the lineup the team still feels today. The progress of the rebuild is directly correlated to the progress of the team's top picks.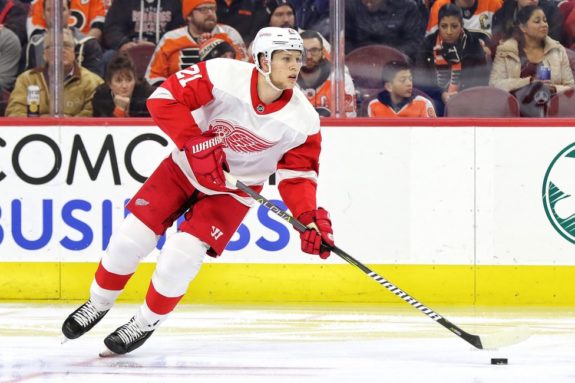 While Cholowski, Rasmussen and Zadina still have room to grow, the Red Wings need them to show more than they have thus far. Svechnikov is drifting further and further away from the NHL as players like Raymond pass him by. With another top 10 pick in the 2021 Draft coming up, the Red Wings need to pick up a game-changer in order to fix the failures of the past.
---
---
---
Latest News & Highlights
---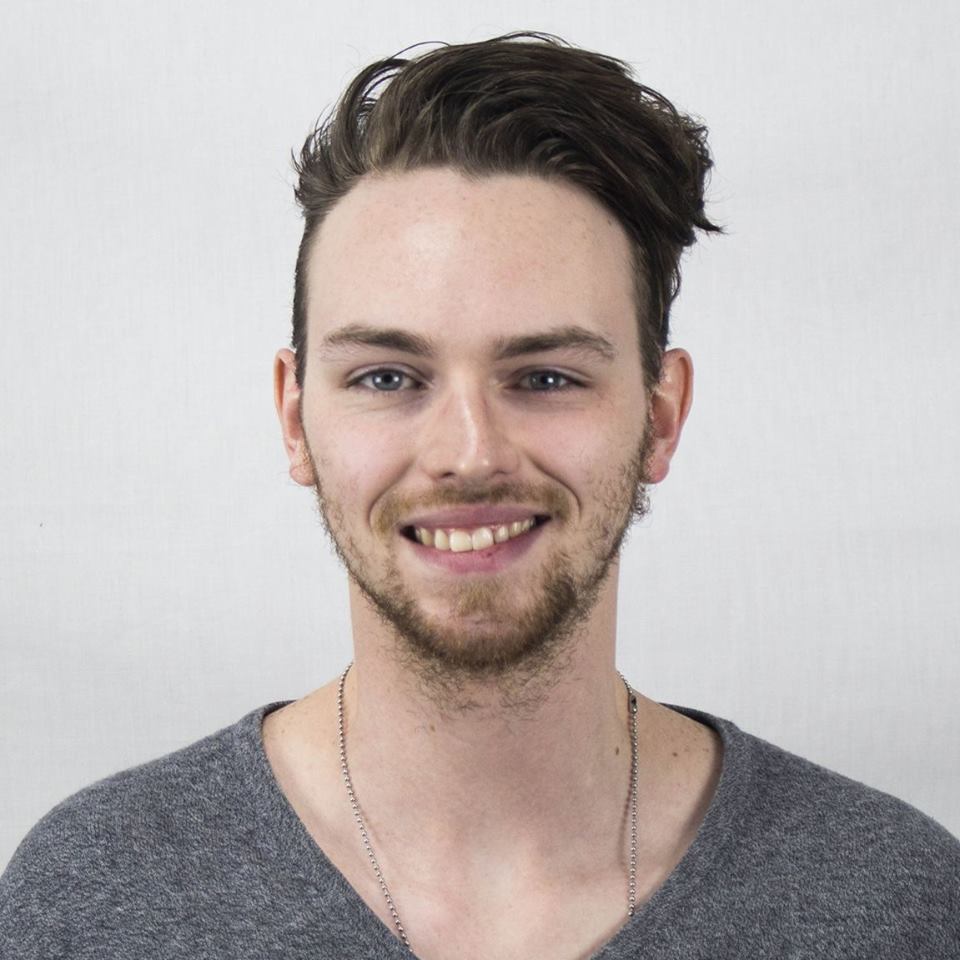 I am a Western Michigan University alum whose passion for hockey knows no limits. Dr. Pepper enthusiast. Catch me and my fellow Red Wings writers' YouTube show "The Hockey Writers Grind Line" which drops every Saturday.