As the 2018 NHL trade deadline approaches, the Detroit Red Wings once again find themselves in a position to sell. With Detroit providing the supply, the New York Islanders could step forward with the corresponding demand.
Last month, John Niyo of the Detroit News speculated that the Islanders could be a match if the Red Wings decided that it was in their best interest to part with a goalie. Niyo mentioned Jimmy Howard as a trade chip, but this was before Petr Mrazek caught fire.
I'll go a step further: Detroit and New York match up on multiple levels and could put together a blockbuster trade before the deadline. This would extend beyond a goalie switching teams and has the potential include a handful of components.
Let's dig in.
Analyzing the Demand
Why would the Islanders want to acquire players from the Red Wings? Put simply: John Tavares.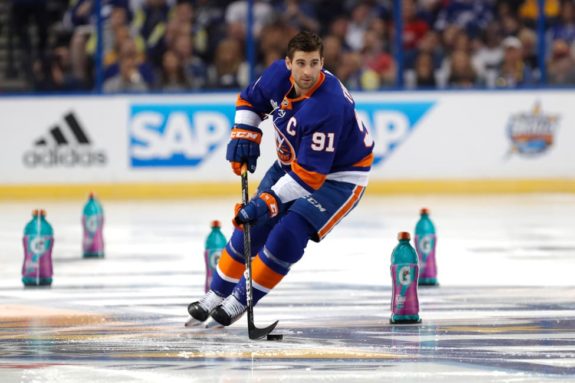 It's widely known that the franchise center is scheduled to become an unrestricted free agent at season's end. To this point in his career, the Islanders haven't won much – just one playoff series win in Tavares' nine NHL seasons. Armed with his best roster to date, general manager Garth Snow has the opportunity to prove to Tavares that he's serious about building a winner. And that's where the Red Wings come in.
Not only do the Red Wings have two goaltenders who would instantly become the starter on the island, but they also have a few defensemen on the trade block – another need of the Islanders. In addition, Detroit has the ability to retain and even take on salary to complete a deal.
If Snow can acquire a few assets to put the Islanders over the top and make them true contenders—they are presently just outside the wild-card picture—then it would become more likely that Tavares re-signs with New York. If not, then Snow would then have to consider losing him for nothing as a free agent.
Possible Red Wings-Islanders Trades
Like at your favorite fast-food joint, the transaction between the two teams could be à la carte or a combo. Detroit has defensemen and goaltenders to solve New York's trade hunger; it's just up to the Islanders whether they want to acquire multiple components from the Red Wings or just one. Let's take a look at a few options.
Mike Green-to-the-Islanders Trade
To New York: Mike Green (50 percent of salary retained)
To Detroit: 2018 first-round pick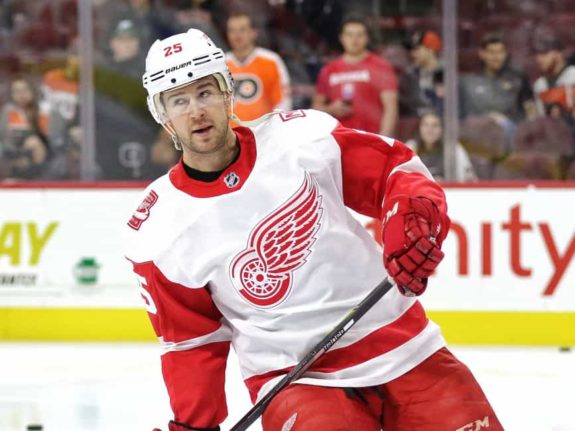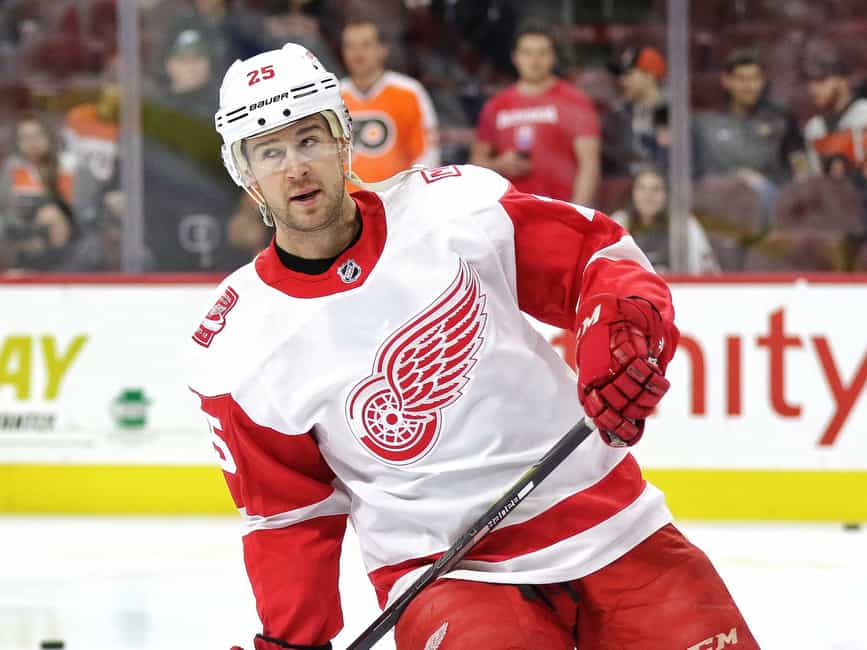 It's funny – the Islanders traded defenseman Travis Hamonic to Calgary for a first and second-round pick, but now are in need of—you guessed it—a defenseman. Now, they can use that extra opening-round selection to pick up Mike Green from the Red Wings.
Adding Green to their middle-of-the-pack power play would give it a huge boost. The veteran has been a premier power-play quarterback his entire career. Combining Green's talents with Tavares, Josh Bailey, Mathew Barzal, and Anders Lee could be deadly for opponents.
Meanwhile, the Red Wings would receive a second first-round pick and open up a roster spot (and some cap space) for a prospect like Joe Hicketts or Filip Hronek. Of the two first-round picks owned by the Islanders, the later opening round pick would likely be the one that Detroit acquires for Green. But with Calgary and New York both on the playoff bubble, there's a chance that the additional selection comes earlier in the draft than expected.
Related: State of the Red Wings Rebuild
Petr Mrazek-to-the-Islanders Trade
To New York: Petr Mrazek (50 percent of salary retained)
To Detroit: Jaroslav Halak, 2018 second-round pick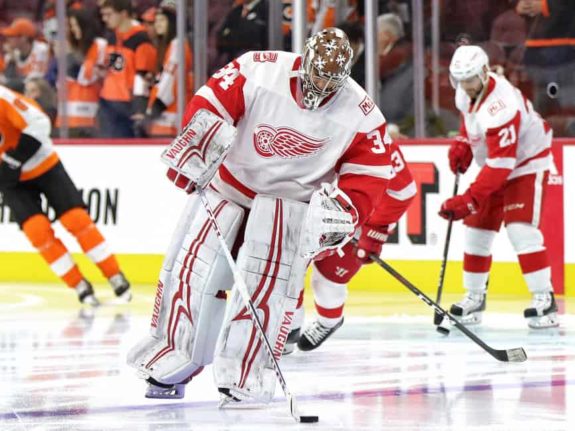 If the Red Wings are able to deal Green to another team ahead of this trade, then they would have the cap space available to retain half of Mrazek's salary and take on all of Jaroslav Halak's cap hit. That way, New York has the ability to acquire a defenseman from a third team with the open cap space – all thanks to Detroit.
In Mrazek, the Islanders would be getting a potential franchise goaltender – one that's both better and younger than Halak and Thomas Greiss. Additionally, acquiring the Czech netminder is another signal to Tavares that the Islanders are committed to the long term. Plus, New York could decide to non-tender Mrazek after the season if a cheaper option presents itself or Tavares bolts and the team needs to reload up front with the extra cap space.
Detroit would part with a potential long-term solution in net, but also receive a quality draft pick to aid the rebuilding process. Though Mrazek has shown signs of future success, the Red Wings have not. So while Mrazek has trade value, Detroit needs to maximize the return for its netminder.
If the Islanders prefer Howard to Mrazek, a deal could still work, but only work if the Red Wings retained less than half of Howard's salary. Detroit wouldn't want to pay very much—if any—for a player on another team beyond this season.
Related: Don't Expect These Red Wings to be Moved
Red Wings-Islanders Megatrade
To New York: Mike Green (50 percent of salary retained), Petr Mrazek (50 percent of salary retained), Xavier Ouellet
To Detroit: Jaroslav Halak, Joshua Ho-Sang, Dennis Seidenberg, 2018 first-round pick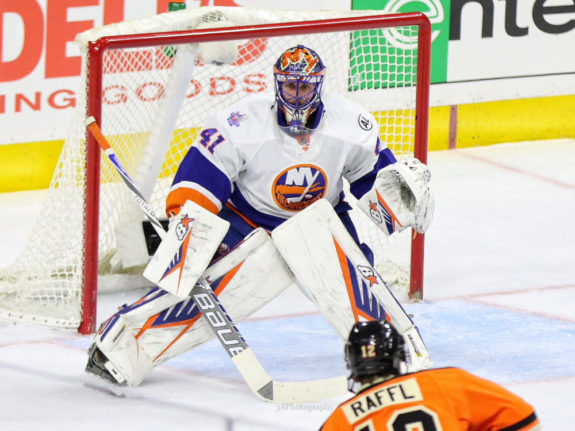 If the Red Wings and Islanders engaged in a blockbuster deal, Detroit could not only provide New York with coveted assets, but also take on salary. Both Halak and Dennis Seidenberg are pending unrestricted free agents and would only be on Detroit's payroll for a few months – if that. The Red Wings could then flip Halak to a goalie-needy team—like New York's rival, Pittsburgh—for a mid-round selection with salary retained. Seidenberg could also be flipped for a late-round draft choice, but it's unlikely that another team would want to pick him up.
In addition, the Red Wings would pick up Joshua Ho-Sang, a right-handed forward with a scoring touch plus that second first-round selection. Ho-Sang could play for the Red Wings right away, but also has the ability to be assigned to Grand Rapids if Detroit chooses to do so. Acquiring the right wing would bolster Detroit's rebuild and add to an up-and-coming forward group that already includes Dylan Larkin, Anthony Mantha, Andreas Athanasiou, Tyler Bertuzzi, Michael Rasmussen, and Evgeny Svechnikov.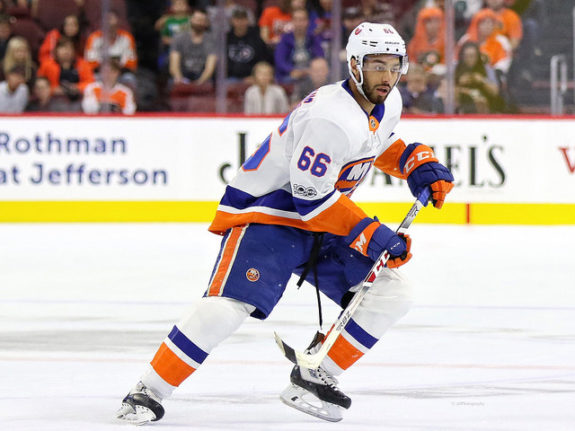 For the Islanders, they would get their power-play quarterback, starting goaltender, and a young depth defenseman in Xavier Ouellet. With Calvin De Haan and Thomas Hickey also set to become unrestricted free agents, New York could opt to let them walk with a cheaper alternative like Ouellet already on board. They'll need the extra cap space for Tavares' possible new contract plus bridge deals for both Ryan Pulock and Brock Nelson.
Giving up Ho-Sang would be a difficult choice for the Islanders. However, they also have Barzal, Anthony Beauvillier, and Michael Dal Colle joining an already young forward lineup, plus Kieffer Bellows not that far behind. There's certainly depth in place to make up for Ho-Sang's departure.
Final Word
If the Red Wings are serious about retooling their system with quality prospects, then they have a prime opportunity to do that in a trade with the Islanders. Both Green and Mrazek are coveted assets that could net Detroit quality prospects and draft picks. It's just up to the two sides to come together and get the deal done. Besides, who doesn't love a good blockbuster?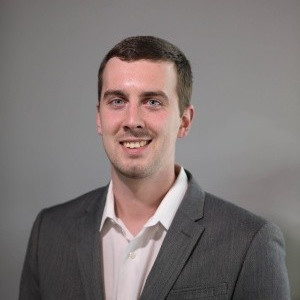 Tony Wolak is based in the Washington D.C. area and covers the Detroit Red Wings for THW. As a former junior and college hockey player, Tony has a unique perspective on Red Wings topics.