Heading into Monday's trade deadline Detroit Red Wings General Manager Ken Holland was clear that Detroit was looking to add forward depth and nothing more, and as the 3:00PM deadline passed by, Detroit had not done so.
The reason? According to Holland, prices were just too high.
"We made offers and ultimately obviously we didn't either offer enough or they didn't like what we were offering," he told Detroit's 97.1 The Ticket. "Would we have liked to have made a move or 2 today? Yeah I think you'd like to get some depth."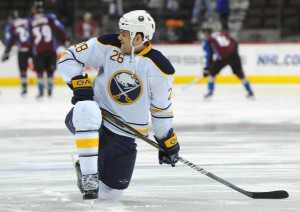 The lack of an addition is understandable. Prices were notably inflated. Buffalo's Paul Gaustad, a player the Wings were interested in, was perhaps the most noteworthy of such overvaluation, fetching a 1st round pick. For a bottom 6 player like Gaustad? Detroit wasn't about to bite on such a ridiculous thing (but Nashville did), and asking prices were similarly high across the board.
What has many Red Wings fans scratching their heads (including me) is not the deal that didn't get done, but the one that did.
Early in the day Detroit traded veteran defenseman Mike Commodore to the Tampa Bay Lightning for a conditional 7th round pick in a deal that turned out to be nothing but a favor for Commodore from Holland.
The purported reason for the move? To give youngsters Brendan Smith and Jakub Kindl more playing time before the postseason.
"We want Brendan Smith to get a few games between now and end of the year. We want Jakub Kindl to play a few games between now and end of the year. If we do that, then Commodore doesn't play," Holland told reporters shortly after the deal. "We're very high on Smith. He's young, but when the playoffs start, we expect to have Jonathan Ericsson healthy. We think our seventh and eighth defencemen are going to be Jakub Kindl and Brendan Smith."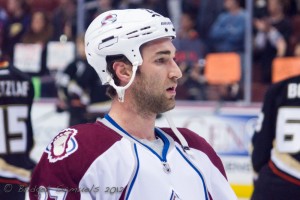 The move comes just days after the Red Wings added defenseman Kyle Quincey from the Colorado Avalanche (by way of the Tampa Bay Lightning) in exchange for a 1st round pick, a deal that pushed Commodore down the depth chart one more place.
"I played 17 games, was a healthy scratch for 30 games, that's not going to cut it," Commodore said. "I had a meeting with Kenny (general manager Holland), said I'll see it through, ride it out. I didn't ask for a trade. I'm fine either way."
The words most indicative of the nature of the trade came from Holland himself.
"It's an opportunity for Mike. I didn't feel right bringing up Brendan Smith and having Mike Commodore being passed over by Brendan Smith."
Mike Commodore, a key piece of Detroit's touted defense depth, was traded away on a day that feature news of day-to-day injuries for both Kyle Quincey & Nicklas Lidstrom, because Ken Holland didn't "feel right" about passing him over on the depth chart.
This move could come back to haunt them if Detroit encounters too many injuries come playoff time. Is anyone really comfortable relying on Brendan Smith in the postseason? He's an amazing prospect, but has almost no NHL experience, and isn't going to garner much more in the few games he'll play before the playoffs. He'll also be paired with players like Kindl and Ericsson, who are inexperienced and unimpressive respectively.
Mike Commodore possesses the experience that can be necessary for a successful playoff run. He's far from an all-star defender, but he's reliable, he has grit, and he's experienced. Can you really afford to give up such a player before you make a Stanley Cup run?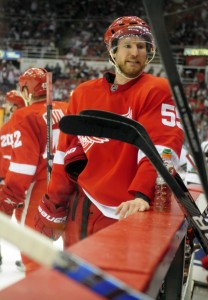 Perhaps a better question is, why would you? Detroit gets next to nothing in return for the veteran in a conditional 7th round pick (the conditions are rumored to involve how many games Commodore plays with Tampa Bay this season and whether or not they make the post season). To send a player away for a pick that will more than likely never pan out as you make a Stanley Cup run now, seems mad.
Is it what's best for Mike Commodore? Absolutely. He gets a chance to play regularly, which is what every player wants. Ken Holland seems to have forgotten that his job isn't to look out for Mike Commodore, but for his team as a whole.
Trading away an insurance player for nothing simply because it would be better for him is ludicrous, and while it's nice for Commodore, it's not Holland's job to be nice. It's his job to build a team that can win a Stanley Cup, which he has done before.
Am I saying Detroit cannot win without Mike Commodore? Absolutely not. He wasn't a utilized piece that held a large sum of value to the team. There may come a time in the playoffs where that would change. Where his value would be important to a team that loses a couple defenders to injury. Now, beyond Kindl and Smith, Detroit has only perennial AHL players to bring in.