3 pm came and passed in Philadelphia and nothing happened. Rick Nash was not packing his bags, no goalies were en route to San Jose for tomorrow night's game against the Sharks, and James van Riemsdyk was getting ready to practice with his Flyers teammates. No deals right now looks to have been the right decision, most of the speculated players the Flyers had been connected to in recent weeks would have involved mortgaging their future in an attempt to make a Stanley Cup run this spring. Columbus reportedly wanted some combination of van Riemsdyk, goaltender Sergei Bobrovsky, and rookie forwards Brayden Schenn and Sean Couturier. Bobrovsky was also involved in multiple rumors that would have swapped him for a cheap veteran goalie to backup Ilya Bryzgalov.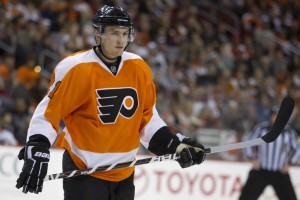 Schenn, Couturier, and van Riemsdyk all played central roles in last summer's extreme makeover of this team. Schenn was acquired in the trade that sent former captain Mike Richards to Los Angeles, Couturier was acquired as a draft pick from Columbus in the Jeff Carter deal, and van Riemsdyk inked a six year $25.5 million contract extension. Since his return from a concussion, van Riemsdyk has been playing with more of an edge, something that had been lacking from his game earlier in the year. Assuming the three of them stay in Philadelphia, they all have crucial roles in the future of  this franchise. Bobrovsky is a much more curious case, after being the starter for the majority of last season and the Flyers calling him their goaltender of the future, the Flyers went out and signed Bryzgalov to a nine year $51 million contract.
Both Bryzgalov and Bobrovsky have struggled for the majority of this season and the loss of Chris Pronger has really hurt the performance of the Flyers defense which led them to go out and acquire defensemen Nicklas Grossman and Pavel Kubina over the past few weeks to beef up the blue line. Those deals give the Flyers one of the deepest defense corps in the league but they can only do so much to help the goaltenders. Bobrovsky and Bryzgalov have to step up if the Flyers are going to have any chance at winning a Stanley Cup this season.
Grossman and Kubina both add physicality and help on the special teams for the Flyers. They also add a lot of size, both of them are listed as 6'4, and are not afraid to block shots and hit guys. Kubina also brings with him a right handed shot, something the Flyers have been missing from their blue line for years, and a level of nastiness that they have been craving since Pronger went down in November. Both of them have expiring contracts and could be resigned in the offseason, especially if they play well and Matt Carle decides to leave the team via free agency. Carle will be due a raise this summer and it remains to be seen if the Flyers will be able to afford a defenseman of his cost while addressing their other needs as well.
The fact that the Flyers decided not to acquire a goalie should help the confidence of Bryzgalov, something he has made clear he is lacking with some of the comments he has made during interviews. In his most recent performance, Bryzgalov bounced back from an awful start to stop 4 of 5 shots in a shootout win against the Calgary Flames. Bryzgalov is the key to this team. When he's playing well, the team wins. When he's not playing well, everything tends to fall apart. The fate of this team rests in his hands.