Jim Neveau, Senior NHL Columnist
Another trade deadline is now in the books in the National Hockey League, and despite the huge expectations and people calling it the league's "Christmas", it was a relatively uneventful one this year. There were plenty of low-key moves, but with the exception of one or two moves, none of them were Earth-shattering events.
With a little over a month left to go in the season, which clubs were winners and which ones were losers at the deadline? Here's a look at some of the teams that either improved their chances for success, or whose moves (or lack thereof) weren't exactly what they needed to do:
Winners: 
Boston Bruins: 
The defending Cup champions may not have had the loudest deadline day, but the acquisitions they made were sneaky good. They picked up Brian Rolston from the New York Islanders along with Mike Mottau, and they also got Greg Zanon from the Minnesota Wild. Yannick Reindeau and Marc Cantin are headed to the Isles, while Steven Kampfer is heading to Minnesota.
For starters, Rolston is still a solid offensive player who could fit the mold that Mark Recchi did for the team last year. He is old at 39 years of age, but his veteran know-how could prove to be a good asset for the Bruins come playoff time. Zanon is probably the biggest addition that they made, and the reason for that is simple: he can block a lot of shots. Granted, the B's do have Tim Thomas and Tuukka Rask patrolling the net, but when you can get a guy who is willing to sacrifice his body to minimize scoring chances, then you have acquired a solid piece.
Buffalo Sabres: 
The Sabres had a very high asking price for center Paul Gaustad, but they ended up getting their wish when the Nashville Predators ponied up a 2012 first round pick for him. They also struck gold when the Vancouver Canucks sent them rookie Cody Hodgson in exchange for Zack Kassian. Both moves aren't designed to make this team a contender moving forward, but with huge contracts on the books for Christian Ehrhoff and Ville Leino that will likely stifle much movement in free agency for Lindy Ruff's club, it is good for them that they are focusing on some more inexpensive youngsters instead of more costly veteran talent.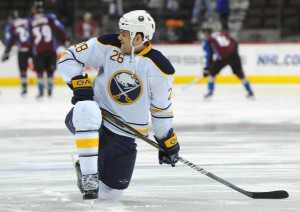 Dallas Stars: 
The Stars basically stood pat on deadline day, holding onto Sheldon Souray and Steve Ott, both of whom were the subject of intensive inquiring by other teams. The reason that they should be considered winners in this derby, however, is simple: they are a borderline playoff team, and neither of those moves would have given them enough to push them into for-sure playoff status. With that being the case, they were smart to hold onto guys who are popular with the fan base and in the locker room, and that is something that cannot be overstated on this day when plenty of teams have bet the ranch only to see the banker repossess it at season's end.
Nashville Predators: 
The Predators have always been viewed as one of the smarter teams in the NHL with David Poile at the helm, and that reputation was further burnished on Monday. He swung trades that addressed two of the team's biggest needs, landing Andrei Kostitsyn from the Canadiens and Gaustad from the Sabres. Kostitsyn gives this team another scoring threat, which is one of the biggest weaknesses that this Central Division contender is facing. In addition, getting Gaustad not only helps their depth up the middle, but it also helps them in the face-off dot, where the team wins fewer than 50% of its draws and Gaustad is one of the league's best in that department.
If nothing else, these moves prove to Shea Weber and Ryan Suter that the Predators are serious about contending for a Stanley Cup. Convincing those guys that they are in the right market may be a bigger win with these deals than the players coming in, and that is an immeasurable victory in Smashville.
San Jose Sharks: 
Daniel Winnik and TJ Galiardi both coming over from the Colorado Avalanche will be big pluses for the Sharks in a few areas. This may not include the goal scoring department, but more critically, they will benefit in their penalty killing. The Sharks currently sit in 28th position in the league in this category, but both of these players rack up significant time with the short-handed unit, and there are few things more important to a team's playoff chances than the ability to prevent mistakes (penalties) from becoming death strikes (goals).
Smart moves by a team that is still fighting for a division title with the Phoenix Coyotes, who also improved pre-deadline by acquiring Antoine Vermette.
Toronto Maple Leafs: 
The Leafs were relatively quiet outside of dealing Keith Aulie away, but that is a good thing when you consider the disdain with which Brian Burke holds the trade deadline. He views it (correctly) as more of an opportunity to make colossal mistakes rather than a chance to make huge improvements, and his lack of moves proves that he still believes that. Simply put, if there were no tremendous options available for improving the goaltending or the team's offense, then Burke made the right call in standing pat.
James Reimer may not be able to get the job done, but at the very least, Burke has shown that he has faith in the young goaltender, and that boost of confidence may be just the thing to propel him back to the level at which he was playing last season down the stretch for the Leafs.
Losers of Trade Deadline Day: 
Anaheim Ducks: 
The Ducks may have been pegged as sellers as little as a few weeks ago with the deadline approaching, but with their playoff chances increasing with their solid play as of late, they certainly had moved out of that category. Instead of being buyers or sellers, however, they turned into passive observers, and that is going to do little to either signal a rebuild is about to get underway, or if they're serious about contending this year.
That seeming lack of direction on the part of the front office lands them on this list, and it will continue to fuel speculation that they may get rid of one of their big-time forwards after the season concludes, likely without a playoff berth for the Ducks.
Calgary Flames: 
Few General Managers, with the possible exception of Glen Sather, have been ridiculed more for their performances on the first day of free agency or the trade deadline than Flames boss Jay Feaster. He continued to add to that legacy today, failing to bring in anyone to bolster the team's chances of making a run at a playoff spot and leaving the team to be carried to that promised land by red hot goaltender Miikka Kiprusoff.
His condescending remarks at his press conference following the deadline also rang hollow, as he insulted fans' intelligence by reiterating that trades were difficult, and seemingly laughing off the "ignorance" of those who think that his inaction was a bad thing. Breaking news Jay: your inaction is a bad thing, and fans are right to criticize you for not making any moves to push your team forward. Maintaining the status quo may work for a team like Toronto who has some good prospects for success going forward, but to feel that your team does also, and to mock those who don't agree, is staggeringly short-sighted.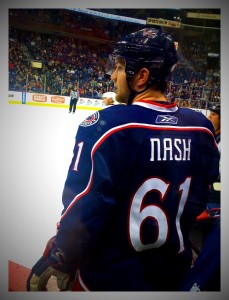 Chicago Blackhawks: 
The Blackhawks easily could have landed on the list of deadline day winners simply for getting ANYTHING for defenseman John Scott (ultimately a fifth round pick from the New York Rangers), and even the acquisition of Johnny Oduya to bolster their defensive core can be argued was a good thing. Their appearance on this list of losers isn't based solely on those moves, but rather on two other key factors.
The first of those was their inability to truly take advantage of the cap space that they had cleared by sending defenseman Brian Campbell to the Florida Panthers. Yes, the trade market was tight this season, but even a slight overpay for a talented player like a Gaustad would have been preferable to the lack of action that Stan Bowman and company displayed.
In addition, the Red Wings improved pre-deadline by acquiring Kyle Quincey, and the Predators got Kostitsyn and Gaustad as well. The Hawks are still solidly the third or fourth best team in the division, and that could spell trouble once April rolls around.
Columbus Blue Jackets: 
Initially, the Jackets were on the list of winners for not trading away Rick Nash. Obviously, he is a valuable piece that could have gotten a nice return, but GM Scott Howson wanted to make sure that he maximized his value, and he probably had better odds of doing that at the Draft in Pittsburgh than he did before the deadline.
Then, however, Howson had to open his mouth and confirm speculation that Nash had requested the trade in the first place. Now he has painted Nash as a guy who doesn't want to be in Columbus, and he has further exacerbated that problem by not following through and trading him. Using the burning bridges technique doesn't exactly increase a player's value, and Howson very well could have hamstrung himself into getting less lucrative offers by discussing the matter so candidly.
If he is still the GM of the Jackets going into the draft, it would be fair to say that Jackets Nation is going to be buzzing with discontent, and that the team likely will not be any closer to making itself relevant again in an insanely competitive Central Division.
Washington Capitals: 
George McPhee has been assailed for all sorts of reasons during his tenure at the helm of the Capitals, but his inaction on Deadline Day 2012 speaks to the uncertainty that faces him in the future in DC. With the tenuous health of Nicklas Backstrom and Mike Green an ever-more pressing concern as this team competes for a playoff spot, McPhee stood pat and showed faith that his group of guys will be able to fight through adversity and sneak into the playoffs as a seventh or eighth seed.
Granted, there weren't really any blockbuster moves available for him to try to pull off, but even still, he could have secured some depth pieces at the very least, and he failed to do that. If the Caps don't make the playoffs this season, then it might be high time for some serious regime change in the nation's capital.
Hard to Judge: 
Vancouver Canucks: 
Trading away Hodgson shocked the living daylights out of a lot of Canucks fans, but the return is potentially lucrative. They do get back forward Zack Kassian, who will for sure bolster the team's play from a physical standpoint, but his potential disciplinary issues are something that have a lot of teams concerned about his long-term NHL prospects.
As for Hodgson, he is a potential top-6 forward in this league, but with Henrik Sedin, Ryan Kesler, and now Sammy Pahlsson now ahead of him on the team's forward depth chart, he really didn't have a role to fill, so it made sense for Mike Gillis to pull the trigger on this deal. He very well could become an elite scorer, but potential was shelved for current needs in this instance, and it could either be a genius move by the Canucks' management, or it could be a huge mistake.
The Canucks also did acquire Pahlsson on a rental basis, and he very well could fill that third line center role perfectly for this team. That will hopefully keep the pressure off of him to perform at a high level, and it could be one of those cheap acquisitions that pays huge dividends in the end.
James started out for The Hockey Writers covering the Atlanta Thrashers in 2009, and has also covered the Chicago Blackhawks, served as NHL Correspondent, and is now a Managing Editor and the site's NHL Central Blogger. He also writes for The Golf Writers.