Please "Click Here" for "Notes Up Front" and the "Legend" for various topics covered below in my "Live Updated" NHL 2011 Draft Preview article – The Next Ones.
Reid Boucher
Date of birth: September 8, 1993
Place of birth: Grand Ledge, MI, USA
Ht: 5-10 Wt: 192
Shoots: L
Position: Centre/LW
NHL Draft Eligibility: 2011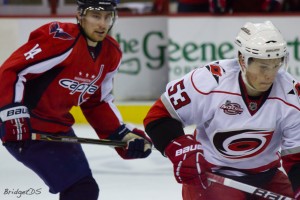 One-Timer:
Reid is ranked 113th by NHL's own Central Scouting. Reid has had his skating come into question. Reid will be thrilled to have his name called at all come draft weekend.
Two out of three ain't bad.
While he did come in at 133th amongst North American Skaters in NHL CS's final rankings and he could indeed use some work on his skating and speed, I have a strong feeling Boucher is a rising commodity and somewhat of a sleeper as NHL draft weekend quickly approaches.
I have gone out on a limb and ranked him higher than most. In fact, I have him ranked as 37th, coming in as a potential early second rounder. While I believe he'll likely end up getting drafted lower than that position, I am curious as to when and where a NHL squad will jump in and grab him.
Why then am I so big on Boucher? Plain and simple, the kid has a nose for the net that you just can't teach. He is first and foremost a pure goal scorer with outstanding hands and a quick release to go with his lethally accurate shot.  He has an uncanny aptitude to find open ice and knows how to finish when the opportunity arises, especially in clutch situations. While his skating ability has been questioned, he is very shifty to go along with some very good puck skills.
He potted 8 goals and added 2 assists for 10 points in 6 games to let everyone know he has truly arrived on the scene at this year's World Junior U18 Championships.
Reid is also one of the youngest draft eligible prospects.
If I haven't convinced you Reid is the real deal, my co-conspirator E-Mac over at The Next Ones/The Hockey Spy website states his case:
There are four things you need to know about Reid Boucher:

He is an alien. Gotta be, how else can you explain it when he appears out of nowhere at warp speed all the time and then unleashes a missile to the back of the net a nano-second later. Think about it, OK, not that looong!!!
He will be successful in the NHL if he has a feed-me type center – think, Henrik to Daniel, Backstrom to Ovie and Grimaldi to "Killer Mean" (could happen).
He is not small. Sure, he is only 5'9 but he weighs 192 lb. so he is more like a fire hydrant and has a relatively low center of gravity. So, do not fret the size thing when you are thinking about drafting him.
He is likely to be a finalist along with Matt Puempel for the 2011 Jeff Skinner Award given annually to the skater with the most ridiculous rating by NHL Central Scouting for the upcoming draft. OK, so I made that award up, however, the fact remains that this premium goal scorer is not going in the fifth round, second is much more likely, could first be possible???
Top Prospects Game: N/A
Statistics:
Scout's Honor:
"The Michigan State recruit is probably too low on the B2011DW list, but the size and lack of high-end speed will bring him down in the draft, lower than he should go in our view. Boucher could legally change his last name to "Money" and he'd be well within his rights to do so. He's one of these guys who will cruise along and not really be noticed until the puck goes near the net and then he comes alive, pounces and will fire it home. This guy is a an apex predator when it comes to scoring goals- he has elite vision, anticipation, hands and a wicked release with pinpoint accuracy. No moment is ever to daunting to this guy, who scored eight goals in the Under-18 tourney, just about all of them key and important. He may not have the breakaway speed and separation of Rocco Grimaldi, but he's a legitimate sniper with a flair for the dramatic. Those guys are gold. Made the eligibility cutoff for 2011 by one week- one of the youngest players in the class."
– Kirk Luedeke Bruins 2011 Draft Watch
"He is a pure goal scorer and has a bit of an "it" factor to him."
– HockeyProspect.com's NHL Draft Guide 2011
Bio/Interview(s)/Link(s):
International Tournaments:
2011 IIHF World U18 Championships – First Team All-Star on Team USA's gold-medal winning squad.
ETA = 3 yr
Risk-Reward Analysis:
Risk = 2.5/5   Reward = 4/5
NHL Potential:
Strengths:
*See "One Timer" section above.
Pure goal scorer
Quick release
Accurate shot
Very good puck skills
Great hands
Shifty skater
Low centre of gravity
Tenacious
Clutch player
Great positioning in the offensive zone
Flaws/Aspects He Needs To Work On:
Continue to train to increase strength and add mass to frame to handle the rigors of the NHL.
Continue to develop his neutral and defensive zone acumen.
Improve skating and increase speed.
He needs to develop the physicality aspect of his game.
Fantasy Hockey Potential: Offensive = 8.5/10   Defensive = 6/10
NHL Player(s) Comparison:
– Jeff Skinner
– HOF comparison: Brett Hull and/or Luc Robitaille – only if he fully taps into his full potential.
Video(s):
Don't blink!
Off The Iron (Interesting Notes):
A sample of his clutch scoring at this year's WJC U18s: Switzerland – winning goal with 4:51 to play; Slovakia – one goal; Germany – two goals including the winning goal; Russia – winning goal with 21 seconds left in the game; Canada – two goals including the tying goal; Sweden – tying goal with 1:29 to play in the game.
THW's The Next Ones prospect profile template design architect: Chris Ralph
Christopher Ralph is THW's prospect and draft analyst
*Follow ChrisRalphTHW on Twitter as he infiltrates, dissects and analyzes all happenings of hockey prospects and the NHL entry draft.
This document is the intellectual property of Christopher Ralph and cannot be used or duplicated in any way without expressed written consent. Any use of this document without the expressed written consent of Christopher Ralph will result in public exposure and legal prosecution.
Chris is THW's senior draft/prospect analyst and a Managing Editor. Watch for "The Next Ones" Prospect Profile series, exclusive rankings, mock drafts, as well as the annual THW NHL Entry Draft Guide. Follow @ChrisRalphYQ on Twitter as he infiltrates, dissects and analyzes all happenings of hockey prospects and the NHL entry draft. Email: cralph[at]thehockeywriters[dot]com