With the inevitable end to the Atlanta Thrashers' tenure in Georgia drawing near, there have been plenty of emotions that have been swirling about. You have the unabashed joy of Winnipeg fans, which has sometimes morphed into a Nelson Muntz-esque "HA! HA!" in the direction of Thrasher fans, and you also have the sadness of Atlanta fans that they will likely be losing their second hockey team in 30 years, which has led to some anger and bitterness as well.
All of these feelings are completely understandable, but especially on the Atlanta side of the ledger, there needs to be a slightly different perspective as to who the real villains are in this situation.
Plenty of NHL writers and Atlanta fans have placed the blame for this mess on Gary Bettman and his administration, and while they're hands certainly aren't completely clean, the reality is that Bettman has been fighting this battle with one hand behind his back. He has already put a lot of the league's prestige on the line when it comes to the Phoenix Coyotes' ownership situation, and the political capital he has expended on that has diminished his pull with the owners when it comes to the Thrashers. The league isn't in a position to take the extraordinary measure of buying the team from the Atlanta Spirit Group, and even if they were, there are many other roadblocks that would cause them to stumble.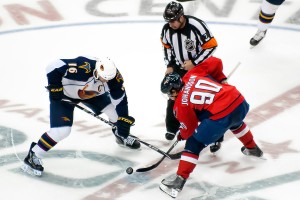 For one thing, the Spirit Group hasn't exactly been very active in trying to find owners willing to keep the team in Atlanta. They have been too busy in-fighting and back-stabbing to mount any type of serious campaign to keep the team there, and with losses piling up and an owner from Winnipeg willing to help get that toxic asset off of their hands, they have been all too willing to throw in the towel and leave the fans out to dry. This unwillingness to fight is detrimental to any case that Bettman could make to keep the Thrashers in Atlanta, and unlike the Coyotes situation where the city of Glendale has been willing to do whatever it takes to ensure that its only tenant at Jobing.com Arena stays, the league doesn't have any ammunition to fight the forces of relocation in this instance.
That being said, it is pretty clear who the real villain is here. The Spirit Group, aside from putting up only a token effort to keep the team in Georgia, has never given its asset a chance to succeed. They have nurtured a culture of losing within the organization by refusing to authorize appropriate sums of money to acquire marquee players, and they have been unable to keep big-time free agents like Ilya Kovalchuk in the fold. Add to that a penchant for trading away big-name players like Marian Hossa, and you have a recipe for disaster from a fan-relations point of view. Who on Earth is going to pay money to see such a pitiful product?
For examples of how ownership can alienate fans quickly, one need look no further than the Chicago Cubs. Living around northern Illinois, people know all about the tourists that flock to Wrigley Field during the summer, and that knowledge is something that the new ownership group took advantage of. They raised ticket prices dramatically, and while that was good in the short-term, in the long-term it is starting to take a toll. Attendance is down by quite a bit, and even at Monday's Memorial Day game there were thousands of empty seats in the stadium. Fans simply aren't willing to pay any amount of money for a team that isn't any good during a recession like this, and if that's the case at a historical landmark like Wrigley, then it would of course be the case at a place like Phillips Arena.
Another group that has been somewhat unfairly demonized in this situation is the group of fans who are excited about hockey's return to Winnipeg. Much has been made of fans populating message boards and commenting on newspaper articles about how fanbases in Phoenix and Atlanta "don't deserve a team," and while that group has been extremely vocal, they are also a minority. Most fans in Winnipeg aren't of the mindset that they want a team at any cost. They are cognizant of the fact that them getting a team means that another city is losing one, and they know all too well the feelings of pain and anguish that accompany watching a favorite team go elsewhere.
Any time a city loses a franchise, whether it's Seattle losing the Pilots or Cleveland losing the Browns, it is a sad day for whatever sports league in which that team plays. Having a team not be able to stay in a market is a blow to any league's vision for its future, and the Atlanta situation is no exception. Thrashers fans certainly deserved a fate better than the one being shoved down their throats by the inept owners of the team, but it is with those individuals that the blame should lie. The NHL has its hands tied, and while it's the trendy thing to take a dump on the league, they really haven't had a choice in this matter. Shame on you Atlanta Spirit Group, and shame on anybody who hasn't given Atlanta or its fans a fighting chance.
James started out for The Hockey Writers covering the Atlanta Thrashers in 2009, and has also covered the Chicago Blackhawks, served as NHL Correspondent, and is now a Managing Editor and the site's NHL Central Blogger. He also writes for The Golf Writers.