Spokane's Brenden Kichton –  Don't forget me this year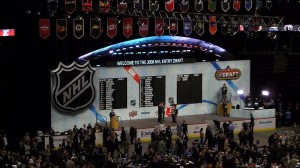 Every year as June nears hockey's top prospects nervously await their future hoping that a team takes a chance on them in the draft.  As each NHL team approaches the podium to make their selection round after round players listen attentively for their name to be called.  One round passes.  Another round passes.  As the seventh and final round begins and ends, two-hundred or more players will find a home with an NHL club but many others leave the draft disappointed and discouraged.    The drafting process is not easy and General Managers will tell you themselves that it mistakes are commonly made.
Back in 2003, Travis Zajac was passed over two-hundred ninety-two times by thirty NHL GMs as he entered his first draft.  Fast forward one year later to June 26th, 2004 and Zajac didn't have to wait long before hearing his name called.  Zajac improved his point totals by 60 points as he finished with 112 points and was the New Jersey Devils' 2004 first round selection (20th overall).  Zajac provides hope to those players who were passed over in their initial draft year.
Entering this year, teams will have a more complete scouting report on defensive prospect Brendan Kichton of the Spokane Chiefs as he enters his second entry draft.  The third year WHLer improved on his sophomore numbers by an amazing 63 points to finish in a tie for first in defenseman scoring with the WHL Defenseman of the Year and Colorado Avalanche prospect Stefan Elliott.  Kichton admits that he was very disappointed after not being selected last year but he was not totally surprised by the outcome either as he was not too pleased with his 2009-10 performance. 
Despite Kichton's lackluster 2009-10 season, Brenden Kichton received a training camp invite from the Detroit Red Wings but unfortunately broke his hand only to be returned to Spokane.  The Red Wings' have always had a good eye for talent but did not see enough of the young prospect to warrant giving him a contract. The biggest obstacle for Kichton has always been opportunity and time on ice and it was never more apparent than last year.  Two seasons ago Spokane relied heavily on veteran defencemen Jared Spurgeon, Stefan Ulmer and Jared Cowen to carry the offensive output leaving Kichton only limited offensive minutes.  The Chiefs entered the 2010-11 season depleted offensively after losing forwards Kyle Beach and Mitch Wahl and there was ice time to be had for Kichton when Spurgeon (Minnesota Wild) and Ulmer (Switzerland) left to play professionally.  Kichton took advantage of the opportunity and surged in all aspects of the game leaving many NHL teams (including Detroit) kicking themselves for not taking a late round flyer on him.
Kichton owns a full tool box of skills and displayed each and every one of them in all areas of the rink during this past season.  The native of Spruce Grove, Alberta sat atop most offensive categories for WHL defenseman at the completion of the season.  The talented rearguard has excellent vision and hockey sense with the ability to quarterback the powerplay with great confidence.  Kichton attempts to model his game after Brian Rafalski and Mike Green as he thrives to contribute offensively with his smooth transition game.  However, Kichton has been quick to point out that his strengths are not just in the offensive zone.  Brenden is a solid defender and extremely efficient at shutting down the opposition's top players which is impressive given that he is a bit undersized (5'11", 185 lbs).  Over the past year Kichton has shown that his work ethic is among one of his best attributes as he never takes a shift off. 
The smooth-skating Kichton competed all season with the WHL's top defencemen including teammate Jared Cowen, Saskatoon's Stefan Elliott, Kootenay's Brayden McNabb and Kelowna's Tyson Barrie.  Brenden showed that he belongs among the leagues elite as he tied for first in WHL defenseman points with Elliott and stood alone in second for goals by a defenseman (23).  Kichton's peripheral stats will certainly put a smile on scouts' face this offseason as he loaded up with 58 assists (7th in WHL), 33 powerplay assists (3rd in WHL) and a finished with a remarkable plus-55 rating (3rd in WHL).  Spokane has learned quickly that Kichton emerged as a vital piece of the Spokane Chiefs this past season and scouts will surely take notice of this late-bloomer this time around.  The 2011 Entry Draft is quickly approaching and Kichton will appear on many teams' draft lists.  He may be a bit late arriving to the party but the this kid showed that he can play and made it clear that he didn't like getting passed over by all thirty teams last season.
Follow Brendan Ross on Twitter @rossyyoungblood