In Pittsburgh, the general consensus is that Mike Johnston won't be around for much longer as head coach. Despite the Penguins' record of 10-7 and a recent streak that any team in the NHL would love to have, something isn't right with this team. When they're winning, they don't look particularly good. When they're losing, they look horrifically bad. From a numbers standpoint, the Penguins are a bottom-of-the-barrel team in both scoring and multiple possession metrics. So far, their saving grace has been goaltending but how long can you rely on Marc-Andre Fleury to cover up so many mishaps?
While speaking with TSN 1050, Bob McKenzie stated that he believes Jim Rutherford will search out a trade to bolster this defense prior to honing in on the coaching staff. I agree that this is the most likely scenario but I also believe that the time will come for the Penguins to cut ties with Johnston anyway. From a pure X's and O's standpoint, I think he's a good coach, However, from a personnel and player usage standpoint, I think he's simply in over his head with an NHL team that boasts this kind of star power. He also continues to leave young, fresh legs in the press box during back-to-back situations, which is when guys like Rob Scuderi could benefit greatly from a night off. It's insanely frustrating for those that watch this team and most likely impacts players the same way.
Of course, if you're going to release a coach of his duties, you have to consider who will replace him. That's where things get tricky right now. There aren't a lot of options floating around in November.
Is  Johnston the Best of the Rest?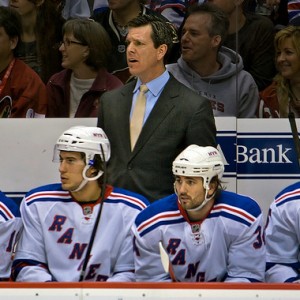 The primary name that you'll hear in these conversations right now is Mike Sullivan. Sullivan, currently the head coach for Penguins' affiliate Wilkes-Barre Scranton in the AHL, has been a head coach with the Boston Bruins and assistant coach with Tampa Bay, New York and Vancouver. His success within the Penguins organization has everyone wondering if he's fit to take the reigns for the big club in Pittsburgh.
While Sullivan's Penguins have won 10 of 11 in the AHL and seem to be hitting on all cylinders right now, keep in mind that they're winning in a similar way to that of the NHL Penguins. they're giving up a lot of shots and riding hot goaltending. Does that mean we'll witness more of the same if he would take over for Johnston? Not necessarily. But, there's certainly a possibility of that being the case and that's concerning for me.
Jaques Martin is another name from within the organization that could potentially take over. In his last season as assistant coach alongside Dan Bylsma the team went 51-24-7 before losing to the New York Rangers in the second round of the playoffs. Martin is well-respected among the hockey community but doesn't boast the best of resume's when it comes to being a head coach. Over his last six seasons at the helm with various clubs, he missed the playoffs three times and was fired by the Montreal Canadiens in 2011 due to a rough start and disappointing playoff exits in the prior two seasons.
The most groomed NHL coach waiting for a phone call right now is Randy Carlyle, former head coach of the Toronto Maple Leafs and Anaheim Ducks. With the Ducks, Carlyle provided results, with Anaheim making the playoffs in five of six years and winning the Stanley Cup in 2007. He may be the Penguins' best bet right now but it's important to note his coaching style, which is a defensive-minded and physical approach. Does that mesh with this roster?
There are other coaches out there, such as Mike Keenan and Guy Boucher, that are coaching in other leagues and may consider making the jump if their contracts allow such an event. However, none of them screams immediate success. Maybe Sullivan can be Bylsma 2.0 and lead the Penguins to glory after being hired from their AHL affiliate. Or, maybe Carlyle adjusts his approach to fit this roster and finds success in a redemption tour after failing with a poorly built Maple Leafs team. There's also the possibility that Johnston proves us all wrong and proves to be the right man for the job. Whatever the end result, it's obvious that the Penguins aren't in a position to simply fire Johnston without considering who is available to take over.
If Change is Made, the Penguins Need a Clean Slate
When the Penguins cleaned house just one year ago, they made drastic changes to the coaching staff and management teams. If they decide that a change is necessary behind the bench, they need to go all-in, which means avoiding the temptation of promoting Rick Tocchet to head coach.
When Tocchet was hired in Pittsburgh, he was widely regarded as someone who could get the best out of a guy like Steve Downie and help this power play unit succeed. Well, Downie took even more badly timed penalties than normal and the Penguins' power play is nearly the worst in the league. There has been a lot of debate recently about who's running the show on that unit but there's no arguing that Tocchet was the man when they began struggling last season.
As I said previously, I do believe a change is coming and whether or not they wait until after making a trade to bolster this defense remains to be seen. When that change comes, it'll be more important than ever that Rutherford makes the right decision. If he doesn't, despite the offensive depth he has built here and the overall success he has had with re-tooling, he could be on the hot seat shortly after.
Pittsburgh Penguins writer for TheHockeyWriters.Com and PittsburghHockeyNow.Com. Youth hockey coach, and student of the game.