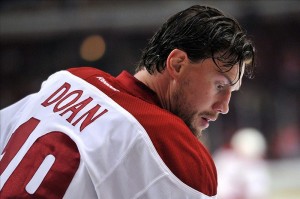 At least Shane Doan now knows why he fell ill during a recent Phoenix Coyotes road trip.  The veteran captain, a fixture with the franchise since they were still the original Winnipeg Jets, has contracted Rocky Mountain Spotted Fever.  The Coyotes made the official announcement Friday afternoon after receiving much awaited lab test results from team doctors.  Doan began experiencing flu like symptoms, including headache and fever, when the Coyotes were on the final stop of a Western Canada road trip in Vancouver earlier this month.  He has now missed six straight games and is staying behind in Arizona during the Coyotes current road swing through Eastern Canada.  There is currently no timetable for his return to the ice, although he did get in a light skate Friday.  Coyotes GM Don Maloney said that the 37 year old captain is feeling better every day.
New Puck Daddy: Shane Doan has Rocky Mountain Spotted Fever (an actual illness) http://t.co/UiOvxPcVcA

— Greg Wyshynski (@wyshynski) December 21, 2013
Making an Appearance
Doan also felt well enough to attend the Coyotes home game on December 14 versus Carolina.  He held a press conference during the second intermission to update fans and the media on his health.  Doan stated that he sought medical attention in Vancouver at the onset of his illness, that prescribed medications seemed to be helping him feel better, and that he was even able to complete a ten minute workout earlier that day on an exercise bike.
Even though Coyotes players and fans miss their captain, they can also breathe a collective sigh of relief that Doan wasted no time getting to the doctor's office.  According to the CDC website, "Rocky Mountain spotted fever can be a severe or even fatal illness if not treated in the first few days of symptoms."  In addition to the headache and fever, symptoms may also include muscle pain, abdominal pain, and vomiting.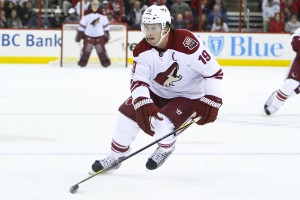 Impact of Shane Doan's Absence From the Lineup
The Coyotes are struggling offensively without their captain.  They have only managed one regulation goal in each of the last three games (ending in two regulation losses and one shootout loss), and are only 2 for 16 on the power play over the last five games. Before Doan fell ill, their power play was among the best in the NHL this season.  Teammates say that Shane Doan's absence is felt both on and off the ice, and that other veterans need to step up to fill the void until he is well enough to resume playing.
"It's good to see him around and just know he's getting better," said defenseman Keith Yandle.  "Obviously you miss him on the ice and in the locker room . . . Everyone's got to step up and fill his big shoes."