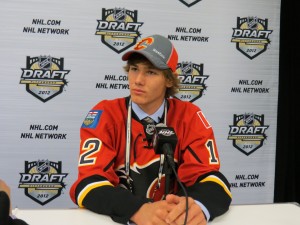 The Calgary Flames entered the 2012 NHL Draft with six draft picks. They left Consol Energy Center on Saturday evening with seven new players and most likely a bit of satisfaction in how they pulled the weekend off.
Calgary trades their first round pick (14th overall) to Buffalo for Nashville's first round pick (21st overall, acquired in the Paul Gaustad trade) and their own second round pick (42nd overall).

With the 21st overall selection, Calgary selects C Mark Jankowski from Stanstead College.

With the 42nd overall selection, Calgary selects D Patrick Sieloff from the U.S. National Development Team.
Alright, these three moves can't really be separated, because they're essentially one big move. Calgary headed into Pittsburgh with zero second round picks and sat in a draft where the consensus was that the talent dropped off after the top 10 or so. Drafting 14th, they apparently targeted Mark Jankowski, a skilled center from a prep school in Quebec. According to interviews following the first round, Flames scouts were extremely taken with many elements of Jankowski's game, particularly his progression and growth (physical and otherwise) over the past year. An anecdote circulated involving Flames assistant general manager John Weisbrod traveling to see Jankowski play by driving through a snowstorm. In short: they liked him.
The thing is that Calgary was drafting 14th overall and everyone else seemed to under-value Jankowski, at least compared to where the Flames rated him. Central Scouting rated him 43rd among North American skaters. Future Considerations rated him 44th overall. Our own Chris Ralph's Next Ones ratings put him 34th overall. And with no second round pick, the Flames pulled the trigger on a deal to trade down to 21st AND gain a second from Buffalo, coincidentally the team they sent their own second rounder to at last year's draft.
And by trading down, it appears the Flames got the guy they wanted (Jankowski), an offensively-talented 17-year-old with a lot of potential, and a very promising bruising defender in Patrick Sieloff (ranked 31st among North American skaters by Central Scouting). Jankowski is headed to the Dubuque Fighting Saints in the USHL next season before heading to Providence College in the NCAA, while Sieloff will head to the OHL's Windsor Spitfires.
With the 75th overall selection, Calgary selects G Jon Gillies from the USHL's Indiana

Flames third round choice Jon Gillies (Lisa McRitchie/Kukla's Korner)

Ice.
The Flames only have WHLer Laurent Brossoit in terms of junior-aged goalies, so picking the 6-5, 215 pound Gillies represents a longer-term investment. He's headed to Providence College next season (he'll be joined by Mark Jankowski after a year) and a four-year stint in a very competitive Hockey East conference could be very good for Gillies. Gillies is very big but rather than relying on sheer size, he's more of a reflex and positioning goalie. He's a bit unpolished, but shows promise.
With the 105th overall selection, Calgary selects D Brett Kulak from the WHL's Vancouver Giants.
What a shocker, Calgary takes a WHL defenseman. Rated 55th among North American skaters by Central Scouting, Kulak is an offensively-minded defender who isn't too shabby in his own zone. THW's Chris Ralph had him as the 29th best player in the draft. He joins Portland's Tyler Wotherspoon as Calgary's WHL defensive prospects.
With the 124th overall selection, Calgary selects D Ryan Culkin from the QMJHL's Quebec Remparts.
Representing Calgary's first foray into the QMJHL since 2006's selection of forward Hugo Carpentier (and their first defenseman from the Q since Adam Pardy in 2004), Culkin is surprisingly found at 124. Why so surprising? Future Considerations rated him 89th and NHL Central Scouting tabbed him as the 66th North American skater. A defensively responsible, two-way blueliner, Culkin has good numbers in a very offensively-potent league.
With the 165th overall selection, Calgary selects LW Coda Gordon from the WHL's Swift Current Broncos.
In a move that reminds a bit of Calgary's choice of Michael Ferland in the fifth round in 2010, the energetic Coda Gordon is selected in the sixth round from Swift Current. Lacking a bit in consistency and skating, Gordon is otherwise a fine two-way player with some upside. He fell a bit, having been rated 61st among North American skaters by Central Scouting, 54th overall by Future Considerations and 78th by our own Chris Ralph.
With the 186th overall selection, Calgary selects C Matthew Deblouw from the USHL's Muskegon Lumberjacks.

With their last pick of the weekend, the Flames went back to the USHL well and selected Deblouw, an energetic pivot with rather underwhelming offensive numbers but a bit of promise. He's headed to the University of Michigan next season, so he's a few years away, but he'll have time to develop. He was rated as the 51st best North American skater by Central Scouting.
Weekend Take-Aways
Much like in the 2005 and 2010 drafts, the Flames once again drafted only North Americans. They dabbled in Europeans last year, but otherwise seem content to supplement Canadian talent with American college players. The club also went very heavily into the USHL for the first time. The Flames have chosen USHLers before, but really only John Gaudreau and Bill Arnold have recently made it seem like that's a good development route for their players, particularly for players headed into the NCAA.
The Flames also went heavily into players that scouting bios described as having good hockey sense. It could be that the hockey club values that above all else; skating, passing and shooting can be drilled and practiced, but hockey sense seems to be something more innate and much harder to teach.
Moreover, it appears that the Flames are willing to be patient with player development. While the club chose seven different players, three of them are headed to the NCAA. One of these is their first rounder, who's spending a year in the USHL before he hits the NCAA. That means he could be up to five years away from turning pro. It's extremely unlikely that anyone from the 2012 draft class will be joining the Flames next season (ala Sven Baertschi), but Calgary appears content to continue assembling assets in the draft and letting them develop as they may.
Ryan Pike has covered the Calgary Flames and the NHL Draft extensively since 2010 as a Senior Writer for The Hockey Writers and Senior Contributing Editor of FlamesNation.ca. A member of the Professional Hockey Writers Association, he lives in Calgary.