Amidst the boos at the CONSOL Energy Center in Pittsburgh, Brian Burke announced his fifth overall selection and newest Toronto Maple Leafs future star:
 "And with our first selection in the 2012 Entry Draft, the Toronto Maple Leafs are pleased to select from the Moose Jaw Warriors of the Western Hockey League and the Canadian Hockey League, Morgan Rielly" 
Burke told reporters that Rielly would have been his pick if he had the top pick.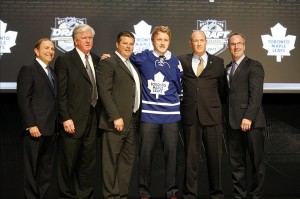 1st pick, 1st Round – 5th Overall
Morgan Rielly – Defense
Moose Jaw Warriors – WHL
Born: Mar 9 1994 — Vancouver, BC
Height 6.00 — Weight 190 — Shoots L
See his full #NextOnes profile here.
From TSN:
Pierre McGuire: "The Big thing about this player, explosive skating ability, great playmaking ability, he's going to upgrade the Maple Leafs powerplay, Huge." Even went on to say "this is a tremendous pick for the Toronto Maple Leafs"

Bob McKenzie: "He's got tremendous ability; He's a rusher, not a crusher."
Fans and media alike were hoping for one of the several forward prospects with the fifth overall pick, but Brian Burke went the other way and picked a player who "knows were the weight room is".  Rielly also knows offense which could make him the perfect pick.  A native of Vancouver, B.C. and former Notre Dame grad, Rielly adds to the depth of the Maple Leafs blue line.  He could be one of the reasons that Luke Schenn was sent to Philadelphia.  It is worthwhile to note that eight of the first ten selections if the 2012 NHL Entry Draft were defenseman and that Brian Burke and team passed on notable prospects such as Mikhail Grigorenko, Filip Forsberg and Teuvo Teravainen.   This is a terrific pick for a club who is growing into a playoff bound team, albeit at a pace much slower than what many Leafs fans are hoping for.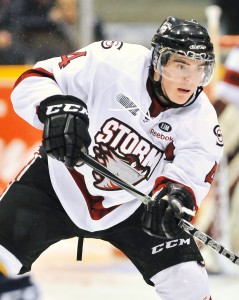 2nd Pick, 2nd Round – 35th overall
Matthew Finn – Defense
Guelph Storm – OHL
Born Feb 24 1994 — Toronto, ONT
Height 6.00 — Weight 197 — Shoots L
See his #NextOnes profile here.
Rated at eighteenth by ISS, and The Hockey News, Finn was a steal at the 35th overall selection.  This 6'0 also has some offensive flare and a high degree of hockey IQ.  He can participate in the fisticuffs if necessary, but Finn is more of a positional type of blue liner.  Originally the negative buzz on Finn was that he wasn't conditioned.  However, this former Toronto Marlboro minor midget has turned it all around and has climbed up the draft chart.  He joins his Guelph Storm teammate and Goalie Garrett Sparks as part of the NHL organization just down Highway 401.  This pick also solidifies Toronto's blue line for years to come as they have Jake Gardiner, Stuart Percy, Jesse Blacker & Korbinian Holzer all waiting in the wings.  Add Rielly and Finn and the prospects on the blue line look good.
3rd Pick, 5th Round – 126th overall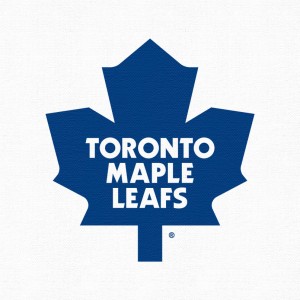 Dominic Toninato – Forward
Fargo Force – USHL & Duluth H.S. – Minnesota H.S. Hockey.
Born Mar 9 1994 — Duluth, MN
Height 6.01 — Weight 170
Another kid from the State of Hockey: Minnesota.  Toninato was a dominant offensive player on his Duluth, Minnesota H.S. team with 61 points in 25 games, but in order to make it at the next level he will have to put on more size.  He plans to join the NCAA's University of Minnesota Duluth after playing a season in the USHL.  Amazingly this kid shares a birthday with the fifth overall pick, Morgan Rielly.  Toninato becomes the third Minnesota H.S. Player that Brian Burke and company has chosen in the past rwo Drafts.

 I love that if you take out the Nina and put in the Ron, this guy's name IS TORONTO.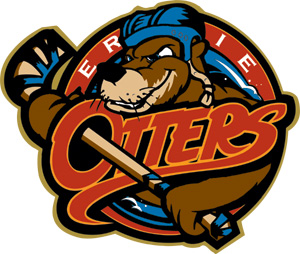 4th Pick, 6th round – 156th overall
Connor Brown – Right Wing
Erie Otters – OHL
Born Jan 14 1994 — Toronto, ONT
Height 5.11 — Weight 170 — Shoots R
Connor Brown is another kid who needs to fill out if he wants to make the jump to the pro game.  But as he exemplified in the OHL this past season, his rookie year, he does have a propensity for offense.  He led the Otters in goals (25) and points (53), although, much of that was due to the fact that Leafs up and comers Greg McKegg was shipped to London part way through the year and Sondre Olden missed time due to injury.  With just fourteen minutes in penalties this past season, Connor Brown should not be confused with Mike Brown.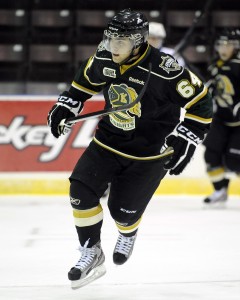 5th Pick, 6th Round – 157th overall
Ryan Rupert – Center
London Knights – OHL
Born Jun 2 1994 — Grand Bend, ONT
Height 5.10 — Weight 180 — Shoots L
One Pick Later, the Leafs selected Ryan Rupert of the London Knights who has a large Youtube presence.  Rupert is smallish at just 5'10, but as you can see from the video below this doesn't seem to get in the way of how he plays.  He is a bulldog type of player with a penchant for the tough stuff, not dissimilar from former Leafs pick Bradley Ross.  Although he isn't the most talented offensive player in the draft, he can score. He managed 15 points in the 19 games that the London Knights played on their run to the Memorial Cup playoffs this year.  Rupert has a twin brother, Matt, who will also likely secure an invite to TML Training camp later this summer.  Clearly this pick is a sign that you need mustard in your bottom six.  Rupert is an agitator who will bring that down the road.
Dave Morrison of the Leafs scouting staff provided this quote to the National Post.
"He just epitomizes the kind of player that likes to win and he'll do whatever it takes to win a hockey game. We were thrilled. Even though he's small, he's built pretty well and he'll go through a wall for you."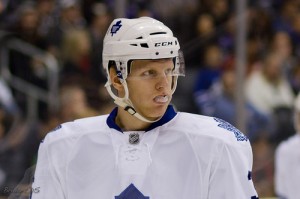 6th Pick, 7th Round – 209th overall
Viktor Loov – Defenseman
Sodertalje SK, Swedish Elite League
Born Nov 16 1992
Height 6.00 — Weight 185 — Shoots L
With their final selection, the Toronto Maple Leafs went off the board selecting soon to be 20 year old Victor Loov, a 6'0 Defenseman from Sweden.  The Leafs have had luck in late rounds with blossoming Swedish defenders.  Carl Gunnarsson and the recently signed Petter Granberg who hopes to make a push this season are examples of that.  At the 209 slot, you should be taking risks in hopes that higher upside will prevail.
The Leafs scouting staff described Loov to the National Post.
 "I put him in a little bit of a Jesse Blacker mold. He's a real good skater, speed, a lot of energy in his game, gets the puck up quick and a high compete level."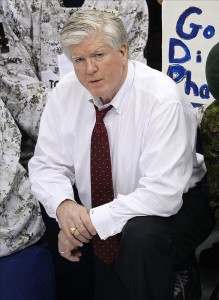 So that's that.
It was a big draft for the Leafs to be sure.  Toronto ended up drafting three Defenseman, one Center and two wingers;  proving that you don't draft for positional needs, you draft for the future of your franchise.  From an origins standpoint, they walked away with  four Canadians, one American and one Swede, three of which are from the OHL, one from the WHL and one from the Swedish Elite League.
The Leafs also made two trades on Draft weekend, acquiring James Van Riemsdyk from the Philadelphia Flyers for Luke Schenn and shipping maligned goaltender Jonas Gustavsson to Winnipeg for a conditional seventh round pick.
So what will Don Cherry think of these new Leafs?  I'll go out on a limb and predict he'll be happy with this draft.
Twitter: @StonemanStephen | Email: stoneford@yahoo.com | Stephen's archive
For every Maple Leafs article on THW, follow @THW_MapleLeafs  on Twitter