Entering the 2015-16 season, the Montreal Canadiens had set lofty expectations, having won the Atlantic Division in 2014-15, their third straight 100-point campaign.
Needless to say, after a second-round defeat against the Tampa Bay Lightning last spring, there was reason to believe the best was around the corner. Unfortunately, that reason just wasn't good enough as the Habs fell well short of even realistic standards for a successful season, shattering many predictions in the process.
Here are mine, for your reading laughter… uh, pleasure.
5. Alex Galchenyuk Won't Play the Entire Year at Center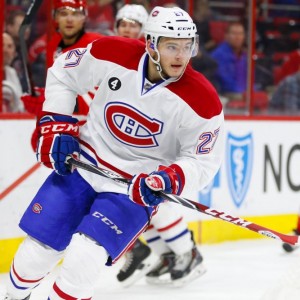 This prediction came after the announcement that the Habs would be playing Alex Galchenyuk at center… and three seasons of Michel Therrien behind the bench.
Fans are well-acquainted with Therrien's approach to lines, i.e., "Why have four, when you can have four dozen?" So, the prediction that Galchenyuk wouldn't play all 82 games at center was a relatively easy one to make.
So, after, yes, being moved away from center for presumably not scoring 100 points by Thanksgiving, Galchenyuk returned for good with the February injury to David Desharnais… and with reckless abandon as well. He scored 16 goals over his last 22 games to reach 30—10 more than last year.
The question is now: Will Galchenyuk stay at center all of next season? With Therrien behind the bench, it's only a good bet (and not a foregone conclusion) if he continues scoring at the same pace.

4. Alexander Semin Won't Be a Bust
On the surface, this prediction, that Alexander Semin wouldn't be a bust, turned out much the same as the Russian winger did as a Hab.
Considering he was made a healthy scratch after the Habs lost their first game of the season, only played 15 total, scored just once and had his contract terminated, it's fair to say that, no, it didn't work out.
However, that doesn't mean it was a bad signing in theory. Nor does it mean Semin is a bad player. He's currently finding some measure of success back in the Kontinental Hockey League. All it really means is Semin and Therrien didn't mesh.
In many ways, you could say Semin was never going to work out here, coming in with a reputation as a player who didn't give it his all. In other, more accurate ways, you could say Semin was never going to work out playing for Therrien, once he heard him speak with a Russian accent (Andrei Markov gets a pass, because he never speaks).
Therrien was seemingly going to make sure of he didn't work out, anyway.
File this one as a mistake if you must. I am personally still holding out hope Semin will sweep in to the Habs' rescue and carry them into the playoffs single handedly. It's probably not going to happen now that the postseason has started, but, if you've already lost, why not go all in at this point?
3. Tomas Plekanec Won't Be Traded
In fairness, this prediction was made on the basis that the Habs wouldn't be sellers at the trade deadline. And in my defense in that one regard, no one is really sure what they were either, probably not even general manager Marc Bergevin. He's still questioning all that is holy following Devante Smith-Pelly's late-season successful stretch in New Jersey.
Nevertheless, Tomas Plekanec's fate was seemingly sealed once he signed his contract extension early in the season. No longer a pending unrestricted free agent, he was most certainly going to stay put.

Tomas Plekanec's 2-yr extension with MTL has AAV of $6M — $7M in first yr and $5M in second yr.

— Bob McKenzie (@TSNBobMcKenzie) October 16, 2015
2. Canadiens Will Win Season Series Against Lightning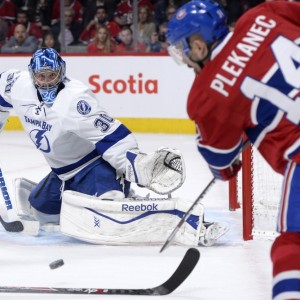 In the ongoing, see-saw battle that is quickly becoming the Canadiens-Lightning rivalry, the Habs actually swept Tampa this season with four victories. One of those even came as Montreal was in full free-fall mode in late December.
This prediction was only worth putting on the list because the Habs got swept by the Lightning last year, which was only noteworthy in turn because Montreal had been coming off a sweep of Tampa (minus Ben Bishop) the previous playoffs.
Obviously, the Habs avoided the complete sweep last season by salvaging some respectability in their second-round series after going down three games to none and then winning two straight. Thankfully, the monkey seems completely off their collective back now.
In the interest of full disclosure though, this prediction was made under the assumption that Montreal would win the Atlantic again. And we all know how that turned out.
1. Canadiens Will Win Presidents' Trophy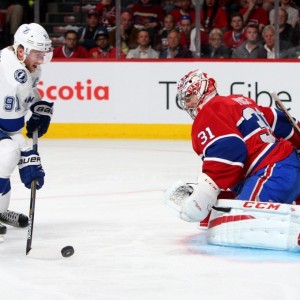 There's really no good way to sugarcoat this last prediction. This one was way off, with the Canadiens falling so far from grace that they didn't just miss the Presidents' Trophy, but the playoffs as well.
There's no point trotting out the Carey Price excuse either, because it's been done to death at this point. The bottom line is Montreal was bad. Even taking into account the team's low PDO, which indicates a lack of bounces, the Habs just weren't getting good-enough goaltending or goal-scoring chances to compete.
It's all a shame, because the team's improved analytics pointed to a better fate. So, yeah, there might have been a period where the lack of luck was the main reason for the lack of success. That period might have been the initial collapse, right after Price got injured for good, at which point the Habs were playing solid enough, but just weren't getting results.
However, that swoon down the standings gave way to perhaps a drop in morale and then some legitimately pitiful on-ice showings, including two straight 5-2 losses to the Columbus Blue Jackets in late January.
Who knows what would have happened had some of those bounces gone their way that December not to remember? But ask that question and you start down a rabbit hole reserved for what ifs. And it's probably better to learn from what went wrong than daydream about what could have been.
Wonderland only exists in fiction for a reason. Just don't tell management as they've seemingly bought in completely and are starting on the sequel.