There were a lot of tough decisions that didn't work out early on in the history of the Columbus Blue Jackets. Exhibit A being their trades of Jeff Carter in 2011 and 2012.
Carter was a budding star. In his early 20s, he was a bonafide elite goal scorer with the Philadelphia Flyers. His coming out party was the 2008-09 season, in which he scored 46 goals and 84 points. He followed that with two seasons with over 30 goals. He had just signed a long-term deal and was still young enough to have offensive upside, a valuable commodity on the trade market.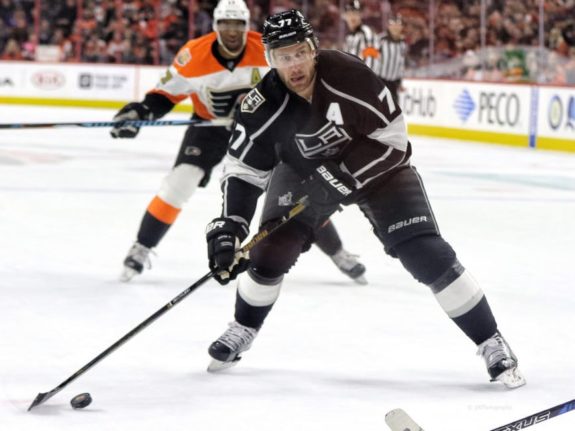 The Blue Jackets were willing to pay a high price to acquire Carter at the 2011 NHL Entry Draft, and they did. That price was a young Jakub Voracek (a former sixth-overall pick), the eighth-overall pick and a third-round pick in that draft. The Flyers didn't waste those picks, turning the eighth-overall pick into perennial Selke Trophy candidate and one-time winner Sean Couturier and the third-round pick into a decent depth forward in Nick Cousins. Voracek went on to become one of the best playmakers in the world, leading the Flyers over the next decade. Talk about a valuable return for an asset.
Related: The First Jeff Carter Trade Revisited
---
Latest News & Highlights
---
However, at the time, the deal didn't look horrendous for the Blue Jackets. In Carter, they received a player who they thought could be the legitimate first-line center that they'd never had to flank their franchise star, Rick Nash. And he was in the first year of a long-term contract at a reasonable cap-hit to boot. But of course, there was more to the story, which led to a trade out of Ohio less than a year later.
The Second Carter Trade
This was a marriage that may have been doomed from the start. Carter came to Columbus in an awful demeanor, as he was furious at the Flyers for dealing in bad faith. They had just signed him to an 11-year contract extension to stay in Philadelphia and then traded him before it even kicked in. So there he was, trapped in a mammoth contract extension and exiled to a city that he didn't choose to live in. Eleven years is a long time to be stuck anywhere, and you'd be furious too.
"Obviously when I got traded from Philly, it was hard on me, something that I didn't expect. Over time, you get over that. I came in here [Columbus] with an open mind. There were a lot of expectations around the team, from the fans and the city and stuff like that. For whatever reason, it didn't really work out that way, and things just started to snowball from there."

Jeff Carter on why things didn't work out in his time in Columbus
So naturally, Carter just didn't fit with the Blue Jackets. All things considered, his production wasn't awful. He was on pace for 31 goals and 52 points through a full season. However, his attitude became a problem, and so the Blue Jackets decided to move on, shipping him to the Los Angeles Kings at the 2011 trade deadline.
Going to Los Angeles
Going to Columbus
Jeff Carter
Jack Johnson
2013 1st-Round Pick
(#27 – Marko Dano)
In return for Carter, the Blue Jackets got a former third-overall draft pick in defenseman Jack Johnson and a first-round pick in the 2013 NHL Draft, which the Blue Jackets used to select Marko Dano. I will grant you that Johnson had some good times in Ohio — but he was not the franchise-altering piece that was hoped for when the Blue Jackets traded for Carter.
Why the Blue Jackets Lost this Trade
At the end of the day, it wasn't necessarily the second deal itself that was bad, more so the evolution of trades that turned this return from okay to subpar. The Blue Jackets definitely bought high and sold low on Carter.
| | |
| --- | --- |
| Given up by Columbus | Received by Columbus |
| Jakub Voracek | Less than one year of Jeff Carter |
| 2011 8th overall pick – Sean Couturier | Jack Johnson |
| 2011 68th overall pick – Nick Cousins | 2013 27th overall pick – Marko Dano |
On paper, you wouldn't have traded Voracek and assets that became Couturier and Cousins for less than a year of Carter, along with Johnson and Dano. Plain and simple.
The headline return for the Blue Jackets was Johnson. The peak of his time in Columbus was a standout performance against the Penguins in the 2014 playoffs. He was the team's best player in the six-game series, scoring seven points and logging over 30 minutes of ice time in half of those games. He was a decent top-four defender at times for the club, but by the end of his seven seasons in Ohio, he had lost that status. Most of his notoriety came in the form of a lesson to NHLers in not letting their parents handle their finances. In short, he was far from franchise-altering.
Carter, of course, went on to become a big part of not one but two Stanley Cup-winning teams with the Kings. Mark this trade as another example of the Blue Jackets getting hurt while trying to take a big swing at some big talent in the early years of their history.
---
---