With the 2023 NHL Draft just around the corner, it's time to look back on the Vancouver Canucks' 2022 draft class and find out how their 2022-23 seasons went. All in all, general manager Patrick Allvin and company made six selections over the seven rounds and added three defencemen, two forwards, and one goaltender to the pipeline.
Surprisingly, even though the Canucks didn't have a second-round pick and had to wait until 80th overall to make their second selection, this class could eventually become one of their best over the past decade. Maybe it's too early to declare that right now, but judging by the phenomenal seasons some of the later picks had, it might become a reality in the not-so-distant future. So with all that said, let's take a gander at how these six fared in 2022-23.
1st Round, 15th Overall – Jonathan Lekkerimäki, Right Wing
If you've read my previous prospect reports or just are a frequent user of Twitter, you know that Jonathan Lekkerimaki had a rough go of it in his draft-plus-one (D+1) year. Between a bout of Mono, a concussion, and most recently a foot injury, he had a hard time getting into a rhythm and building upon his draft year that saw him score 20 goals and 35 points in the Allsvenskan and seven goals and nine points in the Swedish Hockey League (SHL). Luckily, it appears those injuries are behind him, as he's currently making hay in the Allsvenskan playoffs where he has four goals and 13 points in 12 games.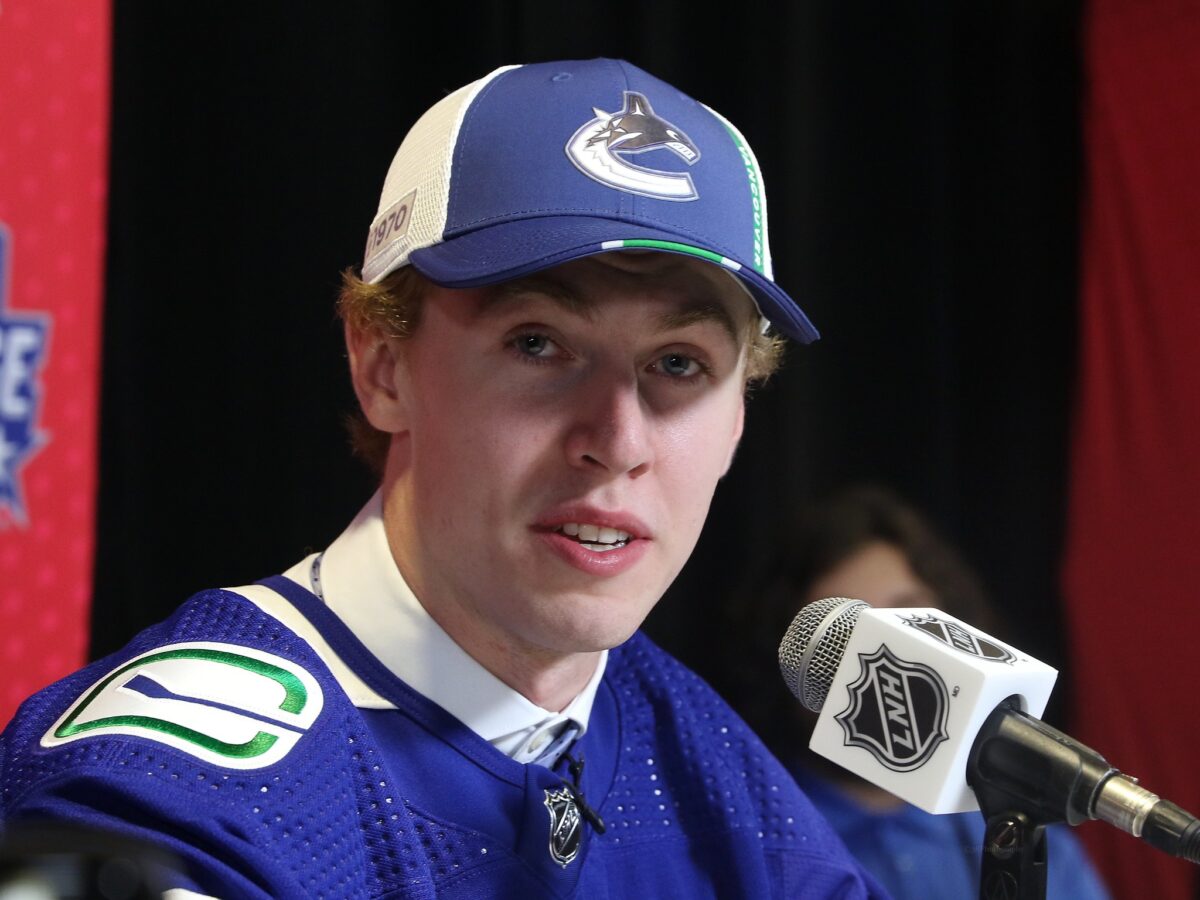 Now playing in the Allsvenskan Final against Markus Naslund and Daniel and Henrik Sedins' old team, MoDo, Lekkerimaki could end up being a huge reason why Djurgardens is back in the SHL next season. They have some work to do though, as they are currently down 3-1 in their best-of-seven series. He had a monster game in Game 4, putting up four assists in the third period, but ultimately it wasn't enough as his team fell 7-6. Now they face elimination, and another season in the Allsvenskan, with Game 5 set to go on Wednesday (April 26).
Even if Djurgardens doesn't get promoted to the SHL, Lekkerimaki's strong showing in the pressure-filled atmosphere that is the postseason should quell any concerns about his game and whether he was the correct choice at 15th overall. Yes, the Canucks could have gone with his teammate Noah Ostlund (16th), Joakim Kemell (17th), or the surprisingly potent Jimmy Snuggerud (23rd), but ultimately I still believe in his ceiling as a top-line winger. His shot is NHL-caliber and his offensive instincts have started to showcase themselves more often since he returned from injury. For the sake of his continued development, hopefully, his team can somehow get back into their series and play in the SHL next season.
3rd Round, 80th Overall – Elias Pettersson, Left Defence
Elias Pettersson, better known around Canucks Nation as "D-Petey", has surprised a lot of people since he was drafted and has arguably become one of the organization's top defensive prospects. Splitting his time between the J20 Nationell and the SHL, he scored six goals and 22 points in 57 games and put himself on the map as a legitimate prospect with his showing at the 2023 World Juniors where he had three assists in seven games. Now signed to a three-year entry-level contract (ELC), the day commentators are dreading could be just a few seasons down the road as they will have to figure out a way to distinguish between him and the Canucks' superstar pivot who just put up 102 points.
Related: Canucks 2022-23 Report Cards: Dakota Joshua
---
Latest News & Highlights
---
At 6-foot-3, 196 pounds, Pettersson has the size and mobility to compete in the NHL. He's described as a two-way force with a modern defensive defenceman skillset who's not afraid to be physical to shut down his opponent. While he's not of the right-shot variety, he could still be a great partner for Quinn Hughes down the road as a poor man's Devon Toews capable of providing offence as well as suffocating defence. Poised to spend a full season in the SHL in 2023-24, he will be an interesting prospect to follow as he continues to develop.
4th Round, 112th Overall – Daimon Gardner, Center
As we move deeper into the 2022 Draft, we get to 6-foot-4 center Daimon Gardner and his breakout season in the United States Hockey League (USHL) with the Tri-City Storm. After a preseason MCL tear almost derailed his D+1 year, he came back with a vengeance and ended his first full campaign with 11 goals and 41 points in 43 games (from 'USHL Stock Watch: Daimon Gardner healthy, hitting the scoresheet with Tri-City Storm', EP Rinkside, 2/2/23).
Now entering the Clark Cup Playoffs as one of the Storm's key players, he will be relied upon to use his playoff-ready skillset to swing the tide against the Sioux City Musketeers in the first round. With home-ice advantage in the best-of-three series, his brand of strength and physicality could be enough to keep his team's Clark Cup dreams alive and push them to the second round. Game 1 goes on Monday (April 24) at Viaero Center in Kearney, Nebraska, with Games 3 and (potentially) 4 on April 25 and 26 respectively.
5th Round, 144th Overall – Ty Young, Goaltender
The only goaltender to be drafted by the Canucks in 2022, Ty Young was an Ian Clark pick through and through as the 6-foot-3 netminder embodies a lot of what the Canucks goaltending coach likes to see in his students. Splitting time with New Jersey Devils draft pick Tyler Brennan, he recorded a 3.89 goals-against average (GAA) and .889 save percentage (SV%) in 34 appearances with the Prince George Cougars this season.
Young also got into eight games in the playoffs, leading his team to a 4-2 series win over the Tri-City Americans before getting shelled by the Seattle Thunderbirds in a sweep. He allowed 24 goals over the four games, but given the Thunderbirds employ the likes of Dylan Guenther, Brad Lambert, and Reid Schaefer, just to name a few, he and his team were definitely overmatched going in.
After being drafted, Young worked a lot with Clark and Abbotsford Canucks goaltending coach Marko Torenius to improve his quickness and mobility in the crease.
"All throughout the summer after development camp, I was really working on mobility, doing lots of yoga sessions and stuff to work on that and really focusing on the faster feet. Taking a bit more information on the ice and not being so jittery."
Still raw in his positioning and overall mechanics, Young has a long road ahead before he becomes a legitimate prospect in the goaltending world. But with Thatcher Demko manning the nets as the starter and Arturs Silovs his heir apparent, the Canucks can afford to take their time with Young. With Brennan poised to possibly join the AHL ranks in Utica next season, he could find himself the de facto starter in Prince George in 2023-24, which should give him plenty of opportunity to continue to refine his game.
6th Round, 176th Overall – Jackson Dorrington, Left Defence
Playing for the same school as now-NHLer Aidan McDonough, Jackson Dorrington had a decent freshman year with the Northeastern Huskies in 2022-23. He didn't score any goals but put up six assists in 35 games and finished the season an impressive plus-4 in the plus/minus column – all while playing on the right side as a left-shot defenceman. Known for his intimidating physical game and non-nonsense defending, he played some of his best hockey during the Beanpot in February, which Northeastern ended up winning.
7th Round, 208th Overall – Kirill Kudryavtsev, Left Defence
Finally, we have arguably the most impressive of the bunch, Kirill Kudryavtsev. The other prospect from this draft signed to an ELC this year, the 6-foot, 201-pound Russian had a breakout season with the Soo Greyhounds notching a career-high eight goals and 50 points in 67 games. Wearing an "A" on his sweater for the first time, he also showcased his leadership abilities throughout the season, catching the eye of his general manager Kyle Raftis.
"Season has been great, playing big minutes on a very young team this year and has really taken his game to another level. You can see how much more confident he is this year compared to last year where he didn't get as much credit as he deserved as we had a very veteran blue line…Wearing a letter with us as he's a great example both on and off the ice for our young players" (from 'Vancouver Canucks sign defensive prospect Kirill Kudryavtsev to entry-level deal', The Province, 3/10/23).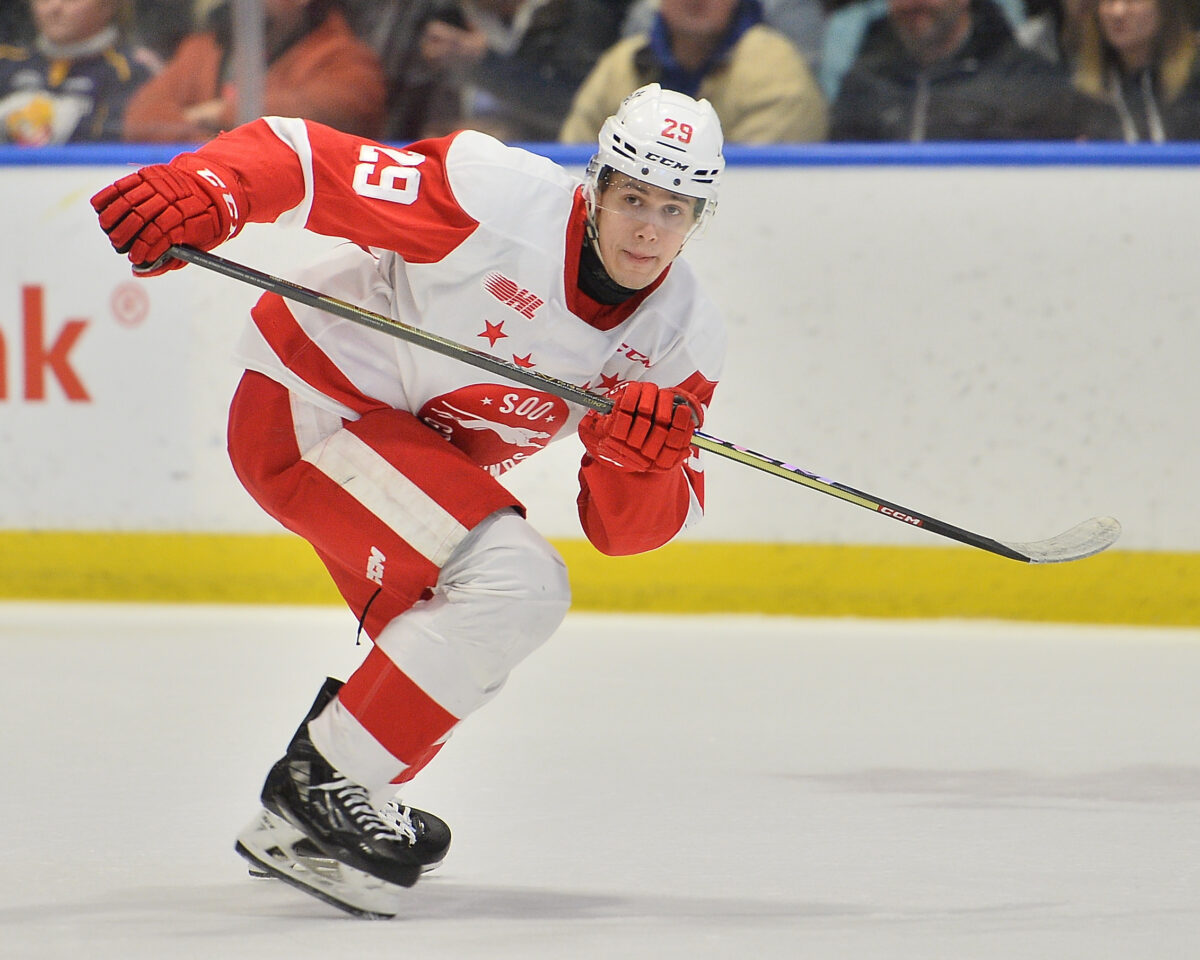 A solid all-around defender, Kudryavtsev could end up being one of the steals of the later rounds, similar to McDonough in 2019. With the Canucks' need for defensive prospects with NHL potential, he has been a surprising addition to the prospect pool that has since added other intriguing pieces in Akito Hirose and Cole McWard. While likely still a few seasons away from contending for a spot on an NHL blue line, we could see him play some minutes in Abbotsford as soon as the American Hockey League playoffs next season.
That does it for our first look back at the 2022 Draft. Given the success of many of the players during the 2022-23 season, fans should be excited for the future of this draft class. Stay tuned for next week, as we will continue this series with the 2021 Draft.