After a career that lasted 474 regular-season games, Seattle Kraken forward Joonas Donskoi announced his retirement from the NHL at 31 years old. The decision came after he suffered a concussion in last year's preseason, which forced him to miss the entire 2022-23 campaign. Here is a look back at his NHL journey.
Signing With The Sharks
In 2015, Donskoi signed his first NHL contract with the San Jose Sharks. Originally drafted by the Florida Panthers in the fourth round of the 2010 NHL Draft, the Panthers chose to relinquish his rights, which made him a free agent at the time. He was coming off a dominant season for club and country, which included winning the Jari Kurri Award given to Liiga's Playoff MVP. This piqued the interest of Doug Wilson and the Sharks as they signed him to a two-year entry-level contract on May 19, 2015.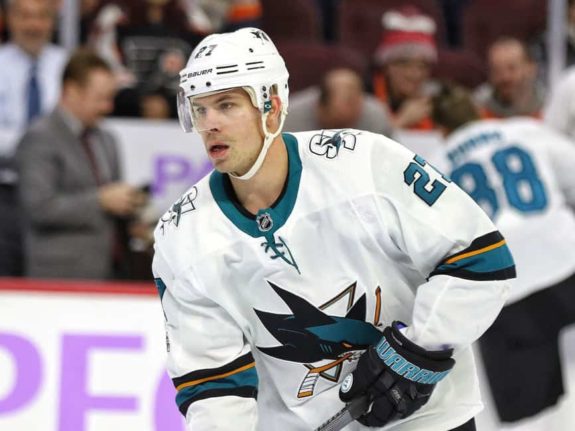 Donskoi hit the ground running in his first NHL season, posting 36 points in 76 regular-season games. He followed up this success by helping San Jose make their first-ever Stanley Cup Final, scoring the game-winning overtime goal in Game 3 of the series. Overall, he finished the playoffs with 12 points in 24 games showing that he could deliver when his team needed him most.
Over the next three seasons, Donskoi played over 200 games with the Sharks, scoring 34 goals and recording 86 points. During his time in San Jose, he was also part of Team Finland at the 2016 World Cup of Hockey, playing in all three games. His time, however, with the Sharks was short as he signed a four-year deal in free agency with the Colorado Avalanche during the 2019 offseason.
Cashes In With Colorado
After posting his second consecutive 14-goal season, Joe Sakic and the Avalanche signed him to a four-year deal worth $15.6 million. Colorado had a front-seat view of what the Finnish winger was capable of as the Sharks had eliminated the Avalanche in Game 7 of the second round, with Donskoi scoring the series winner. A young team that featured Nathan MacKinnon, Cale Makar, and Mikko Rantanen, Colorado felt that he was one of the missing pieces needed to turn them into a contender.
Related: Avalanche Benefitting From Joonas Donskoi's Solid Play
---
Latest News & Highlights
---
Over the next two seasons, Donskoi played 116 regular-season games with the Avalanche, scoring 33 goals and recording 64 points. Playing mostly on the team's third line, he also made 19 playoff appearances, recording 11 points during that time. Just like his time with the Sharks, his career with Colorado was brief, as he was picked in the expansion draft by the Seattle Kraken, becoming part of their inaugural team in 2021.
An Original Kraken
Heading into the 2021-22 season, expectations were high for Donskoi. He had set a new career high with 17 goals the year prior and had recorded his fourth straight season of 30-plus points. Unfortunately, he struggled in Seattle, only scoring twice and recording his second-lowest point total of his career with 22 points. Things went from bad to worse as he suffered a concussion in the 2022-23 preseason, which kept him out of the lineup for the entire season and eventually led to his retirement from the NHL.
Despite not being a part of the team on the ice, Donskoi and his family were a major part of the organization in the community. They attend community events throughout the season and were very keen on giving back to the city. This is arguably what he will be remembered for in Seattle, as based on fan comments, he became a fan favourite despite not playing a game this past season.
A Solid Career Comes to a Close
While Donskoi's career was short, he showed a willingness to fight for every opportunity. Whether it was earning a contract after having his draft right relinquished or continually coming back from injury throughout his career, he continued to show that he would do whatever it took to stay in the NHL. The only fourth-rounder from his draft class to surpass 200 career points, his career may have been short but was definitely memorable.