Elliotte Friedman has long been considered one of the most trusted sources when it comes to inside information and the NHL. His 31 Thoughts posts are among the most popular of reads by NHL fans and when he mentions something in his column, people tend to listen. In his latest edition, he took a couple of his thoughts to focus on the Edmonton Oilers.
Among rumors that the Oilers would be looking to trade Anton Slepyshev, there was a portion of his column that revolved around how dangerous or not dangerous the Oilers could still be this season. At No. 9, Friedman mentioned, "Two weeks ago, one Western Conference GM said the Oilers still worried him."  To emphasize his point, "Any team with Connor McDavid is a threat," he warned.
What Did This GM Mean?
Where I believe Friedman was going with this was that there are a few general managers that haven't counted the Oilers out of things, even if fans, some in Edmonton, may have.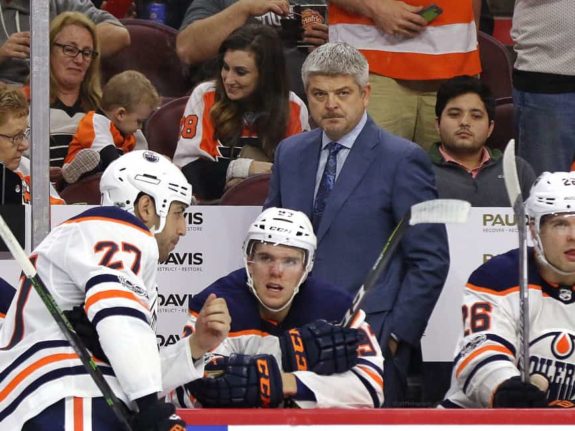 Heading into Thursday's game against the St. Louis Blues, the Oilers find themselves still near the bottom of the Western Conference but only six points out and a handful of wins from being right back in the thick of things. There are multiple teams between them and the final playoff spot and the task won't be easy but Friedman suggests there are some teams who believe the Oilers are starting to find their rhythm and surge at the right time. These GM's believe that any team with the skill and firepower the Oilers possess just need to get going and those multiple teams should look out.
Edmonton is looking for their third-consecutive win tonight and it would be the first time they've accomplished that feat this season. If they could manage it, there might be newfound confidence within the locker room that the team could make a run.
Plus, with the best player in the world on your roster and finally healthy, nothing is impossible, right?
Are These Worried Teams Right?
If one looks at the struggles of the Oilers' team this season, it's easy to blame their poor record on three things:
Goaltending
Cam Talbot was not the Talbot of last season when things got rolling in 2017. Then, to make matters worse, he went down to an injury and while Laurent Brossoit had moments of capability, he was anything but consistent. Talbot is back and in his most recent start against the San Jose Sharks looked strong.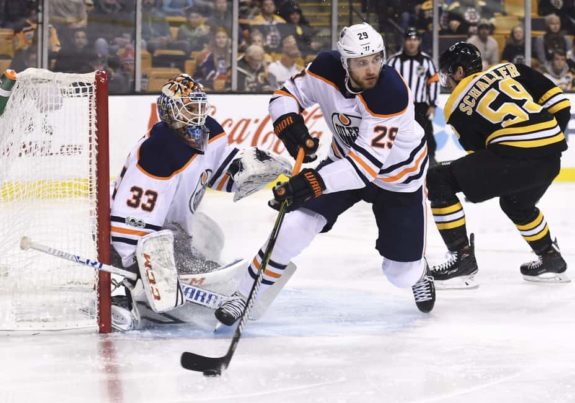 If Talbot can round back into a form that resembled near what he offered the team last season, weak goals and surprise losses might be all but eliminated. Those goals have cost the team at least a couple wins this season already. They have perhaps somewhat under-explained the Oilers poor record.
Special Teams
The powerplay and penalty kill for the Oilers has been atrocious. There's only one team with a worse record a man down than the Oilers and that's the New York Islanders. For the Oilers, the results have to get better at some point. If the team can figure out a way to improve their penalty kill, even in the slightest, it could reap major rewards.
Sitting at 73% this season, the Oilers last year killed penalties at a rate of 80.7%. A returning Andrej Sekera to the lineup on Thursday might help.
So too, the Oilers powerplay needs work but as players begin to steadily find their games, which they are, the powerplay should see a natural improvement. Edmonton sits 23rd in the NHL this season at 16.8%. Last season they finished fifth, converting at a 22.9% clip.
Line Combinations
It appears the Oilers have finally found some line combinations that click. It took nearly 25 games for the Oilers to realize they didn't have the depth they needed. A couple astute moves and call-ups including guys like Jesse Puljujarvi and Brandon Davidson have changed the makeup of the team.
Players like Milan Lucic, Leon Draisaitl and Ryan Nugent-Hopkins are providing depth and giving the Oilers what they need. Over the last 11 games, things are starting to click in a way they haven't all season.
Related: NHL Trade Rumors: Penguins, Senators and More
Not Getting Too Far Ahead of Ourselves
The Oilers will be facing a team that owned them in the month of November. All of this speculation the Oilers might be ready to make a push could be all for nothing if the team can't figure out a way to combat a Blues' squad that has had their way with them up to this point.
This is a real test. The Oilers are looking to change their fate against a team that hasn't been kind to them and the Oilers are looking to win three in a row. They want to keep the streak alive and they have something to prove.
If they do, perhaps that rival GM is right. It might be time to look out for the Edmonton Oilers.