The Ohio State men's hockey team's late-season schedule seems to be doing the Buckeyes some favors. Six of the team's final eight regular season games come against Michigan State and Michigan, the two teams at the bottom of the Big Ten standings.
Those consecutive tilts against the Spartans and Wolverines present a great opportunity to rack up wins when the Buckeyes need all they can get, both in the league standings and to try to strengthen their status in the NCAA tournament picture.
Buckeyes on the bubble. A 3-1 finish (2 vs Mich st, 2 at Wisconsin) would help. Obviously BigTen tourney is left & they could win that https://t.co/rpfKIBOMfH

— Bucci Mane (@Buccigross) February 28, 2017
Ohio State started the six-game stretch well with a sweep of Michigan State in East Lansing, then over the weekend welcomed rival Michigan to Columbus. The Buckeyes appeared poised for another sweep, but inconsistencies and an uncharacteristic struggle to score led to a split.
Starting Strong
Ohio State began Friday's series opener with purpose, controlling the early play against the Wolverines and tallying seven of the game's first eight shots on goal.
"Any time it's a Michigan-Ohio State rivalry, you're gonna be amped up and we were right from the get-go," Ohio State sophomore Dakota Joshua said.
While Michigan struck first at the 12:12 mark of the first period and enjoyed a bit of a surge, Ohio State regained momentum with a strong finish to the frame. David Gust netted a power play goal with less than one second left in the first to tie the score.
"The start was really good and we haven't really been having that the last month and then they scored a goal and we didn't fold our tents or anything like that," Ohio State junior Kevin Miller said. "We came back hard and it was a big goal by [Gust]."
Late-period goals like Gust's can be demoralizing for an opponent, so just imagine what two in the same game are like. The Wolverines don't have to wonder because they lived it. Buckeye captain Nick Schilkey scored his 24th goal of the season with 6.5 seconds left in the second period Friday to give Ohio State a 4-2 lead, which turned out to be the final score.
⭕️🙌! Nick Schlikey picked up his 24th goal of the season in OSU's 4-2 win over UM, scoring with 7 seconds left in the 2nd period. #GoBucks pic.twitter.com/aQkfzDif9N

— Ohio State Men's Hockey (@OhioStateMHKY) February 25, 2017
"You score with [0.1 seconds left] and you score with six seconds, it's a heartbreaker for the other team," Ohio State head coach Steve Rohlik said after Friday's win. "Certainly it was, to me, the difference in the game."
Saturday Struggles
After those very timely goals on Friday, the Buckeyes could not find the net at all in Saturday's series finale. Michigan goalie Zach Nagelvoort made 42 saves to shut out Ohio State in the Wolverines' 1-0 victory.
"I thought tonight we chased it from the start. First period I don't think we played very well. The second two periods, I don't know, shots were 30-some to 12. We just didn't do enough," Rohlik said after Saturday's game. "Give credit to Michigan, give credit to their goaltender. They did what they had to do to come in here and win a game."
The teams each tallied 11 shots on goal in the first period while the Buckeyes committed several turnovers that led to opportunities for the Wolverines, including one on Nick Pastujov's goal that turned out to be the game's only goal.
"I don't think it was anything but our guys, for some reason, making a couple of bad mistakes … you can't do that this time of year and we had some bad turnovers," Rohlik said. "Mistakes happen in a hockey game, these guys are human, but we just gotta limit those."
ICYMI: Highlights from last night's 1-0 shutout victory at No. 12 Ohio State. #GoBlue https://t.co/kxUqtdPcdE

— Michigan Hockey (@umichhockey) February 26, 2017
Despite outshooting Michigan 42-23 in the game and 31-12 over the last two periods, Ohio State was shut out for the first time this season. The Buckeyes are one of the highest-scoring teams in the country, averaging nearly four goals per game, which makes Saturday's result even more surprising. In addition to their 42 shots on goal, the Buckeyes saw 15 shots blocked and 21 more miss the net. After generating so many shots and several good scoring chances, you can imagine that it would be hard for them to avoid frustration.
"You worry when you're not getting the chances but of course, they're so close at times at scrums in front of the net and you wonder why they're just not going," Schilkey said after Saturday's loss. "It's just kind of how it goes sometimes."
Late-Game Discipline
Considering Ohio State has been pretty good at scoring goals this season, it's not a stretch to write Saturday's loss off as a bit of a fluke in which the Buckeyes just couldn't get the bounces they needed. However, the weekend did see a more troubling trend continue for the team. With just under seven minutes to play in Friday's game, Sasha Larocque was assessed two minor penalties, giving Michigan a four-minute power play to try to make up its two-goal deficit. The good thing for Ohio State is that their penalty kill was great during that stretch and kept Michigan off the scoreboard. The bad thing is that the Wolverines even had that chance at such a crucial point in the game and that it's not the first time the Buckeyes gave an opponent that type of opportunity.
One week earlier, Ohio State led Michigan State 3-2 when Joshua took a penalty in the game's final two minutes to give the Spartans a power play, but the Buckeyes hung on for the win. The weekend prior to that series, Ohio State seemed poised for a sweep of Minnesota. After winning Friday's game, the Buckeyes led the second game of the series 5-4 with 9:00 to play when Luke Stork was assessed a major penalty for hitting from behind. The Gophers scored twice on the ensuing five-minute power play en route to a 6-5 win.
ICYMI: @GopherHockey beats Ohio State in a 6-5 victory on Saturday night. https://t.co/mhW1GlYpUo

— Minnesota on BTN (@MinnesotaOnBTN) February 12, 2017
Moving Forward
It goes without saying, but we'll say it anyway: Ohio State can't keep taking penalties while trying to close out games, and we saw why in that loss to Minnesota. Sure, it's great that the team's penalty killers stepped up against Michigan State and Michigan, but it's unwise to continue to tempt fate in that fashion.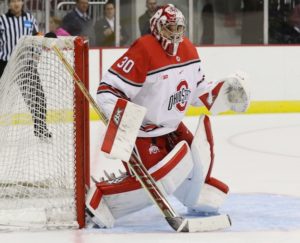 Overall, the Buckeyes need to play with more consistency than they did against the Wolverines. They started Friday's game strong and were clearly the better team, but failed to duplicate that start on Saturday. While Ohio State controlled the play many times throughout the weekend, they surrendered several grade-A chances to Michigan, including those resulting from the aforementioned turnovers in Saturday's game and multiple opportunities in the third period Friday that required Buckeye goalie Christian Frey to make big saves. Frey made those saves, but if you're Ohio State, it's better not to allow the chances in the first place.
"At times we can be a very good hockey team and then at times you can see the inconsistency and it's almost like we depend on [Matt Tomkins or Frey in the net]," Rohlik said after Friday's game. "We gave up way too many good opportunities later in the game and, I mean, [Frey] made some ridiculous saves."
So Ohio State needs to perform more consistently but is running out of time to do so. The Buckeyes welcome Michigan State to Columbus this weekend before their final regular season series one week later at Wisconsin.